Food fuels our bodies, reflects our histories and exemplifies our cultures. Local food options on O'ahu are plentiful and representative of the various ethnic and cultural backgrounds of the island's residents. This shortlist of our 2018 top five nominations for best local food restaurants (in no particular order) can serve as a guide to experiencing the best in local cuisine.
---
Ono Seafood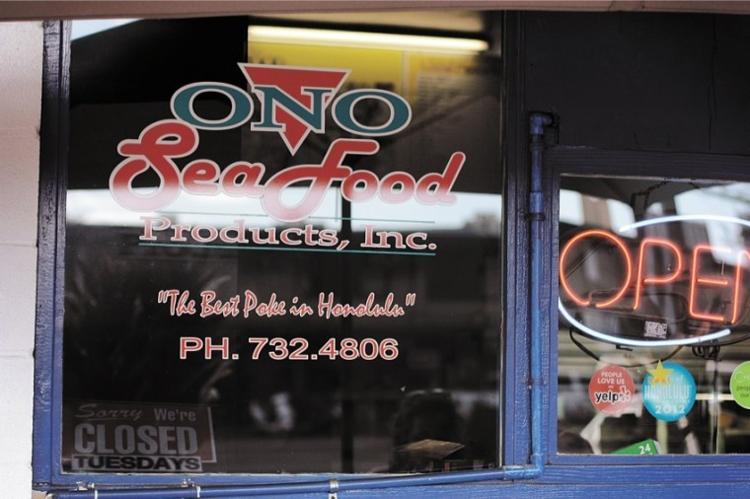 The very popular Ono Seafood offers up eight selections of poke (Hawaiian chilled raw fish salad over rice), five being ahi (tuna) selections and the others being tako (octopus). To order, guests first select their desired bowl size, then select white or brown rice followed by a poke flavor. Prices start at $8.50 for a regular bowl and $10.50 for a large. A combo of any two poke flavors can be selected for 50 cents more.
Ono Seafood also offers poke trays and sashimi platters for pre-order that are sold by weight: ahi poke is $20 per pound, tako poke is $17 per pound, half-pound sashimi trays are $13 and 1 to 3-pound sashimi trays are sold at market price.
Ono Seafood's small interior consists only of a line queue wrapping in front of the service counter and two drink cabinets. Outside there is limited seating and parking available, but the quality food products warrant visiting Ono Seafood.
---
Highway Inn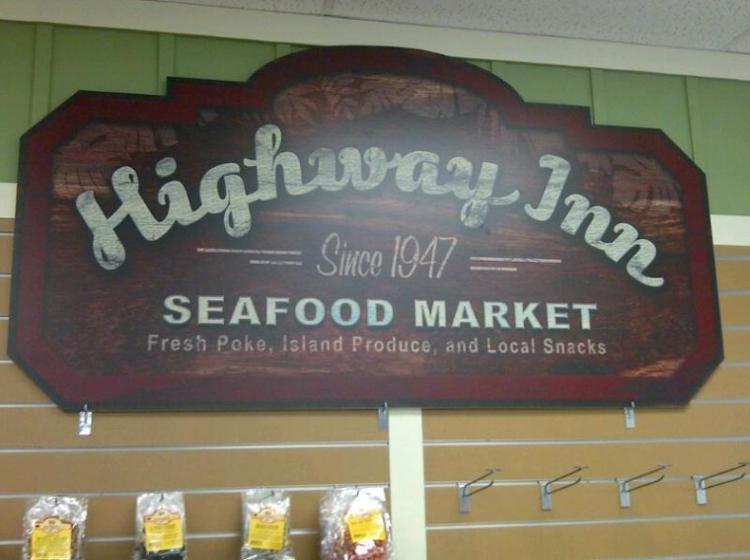 Highway Inn offers a large menu of local Hawaiian food options, including pūpūs (appetizers), salads, à la carte entrées, burgers, combo plates, poke bowls, side dishes, desserts and more.
The variety of foods range from traditional Hawaiian offerings like chicken or pork laulau (meats wrapped in taro lū'au leaves and steamed) and kālua pig to fusion options like "Hawaiian style nachos" and edamame poke. Local favorites such as loco moco and hamburger steaks can also be found on Highway Inn's menu. All the traditional options can be ordered à la carte, excluding ohana (family) or double portions, for under $10. However, several traditional options can be ordered as a combo plate ranging from $13.95 to $15.95 with poi or rice, 'uala (Hawaiian purple sweet potato), a side of lomi lomi salmon, potato mac salad or salad topped with liliko'i dressing and haupia (a gelatinous coconut pudding) for dessert. All local favorites come with a side of rice, but substitutions for other sides can be made at varying premiums.
The interior of the SALT location has a large dining room of tables and countertop seating wrapping around a partially exposed central kitchen. Most of the furnishings are in brown tones with some avocado green walls and minimal kelly green accents. The dining room of the older Waipahu location has cream-colored walls and bright orange accents throughout. Both locations have accessible parking, but the SALT location has a parking garage with 90 minutes of free parking with validation from Highway Inn.
---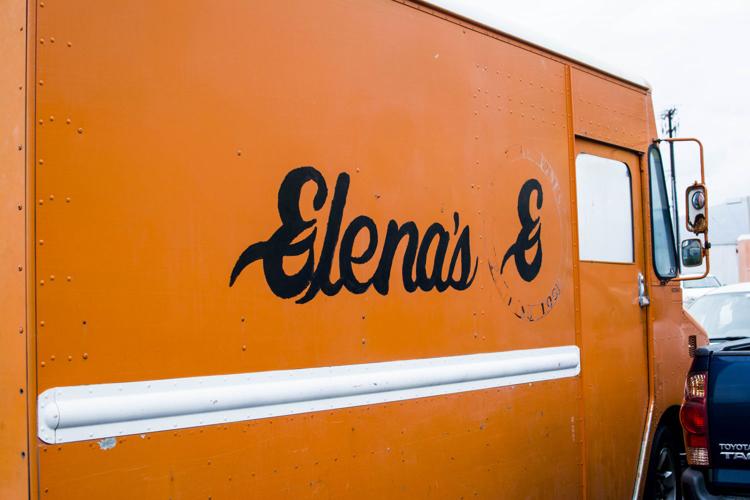 Elena's Home of Finest Filipino Food
Elena's Home of Finest Filipino Food was opened in 1974 by the Butuyan family who emigrated from Pangasinan in the Philippines to Waipahu in 1969. The family operates the main Waipahu store and three food trucks, one of which stops in downtown Honolulu every Thursday.
Their most popular dish is the pork adobo fried rice omelette, which takes flavorful slow-cooked pork, stir-frys it with white rice and blankets it in a crepe-thin egg. Other omelette varieties are also offered, such as chicken adobo, lechon (fried pork belly with tomatoes and onions), dinuguan (Filipino blood sausage) and gisantes (a pork, green pea, and tomato dish). Popular Filipino foods like lumpia (fried spring rolls), pansit (stir-fried rice noodles with vegetables and pork) and sari sari (crispy pork and baby shrimp soup with eggplant, squash and water spinach) are also on the menu. There are also desserts like halo-halo (shave ice and evaporated milk layered with red bean, purple sweet potato, tapioca and other sweets) for $4.99, banana lumpia (banana-filled fried spring rolls) for $4.00 or $4.99 with ice cream and flan à la mode (a sponge cake custard with a caramel top layer and ice cream on the side) for $4.99.
The Waipahu restaurant interior has bright orange walls and ample seating. Outside the restaurant is an easily accessible parking lot.
---
Helena's Hawaiian Food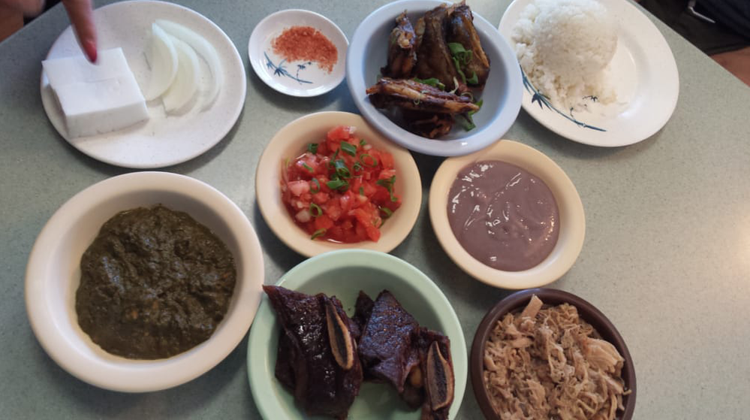 This restaurant's long history of serving Hawaiian food goes back to 1946, but it has been at its current location since the 1990s. Helena's offers a relatively small, focused menu, only offering traditional Hawaiian options.
A few menu items are laulau for $4.75, lū'au chicken (chicken cooked with taro lū'au leaves and coconut milk) for $4.50 and fried butterfish collar for $6. A mainstay item is the kālua pig. The preparation gives it an extra authentic flair: The pig is cooked underground in an imu (a type of underground oven). Entrée combo sets range between $11.50 and $24.50 and are offered with a choice of small poi (a kalo root porridge), large poi or two scoops of white rice. Helena's Hawaiian Food operates on a cash-only basis.
The interior of Helena's offers a spacious dining room with grey square tables with white or taupe-colored walls decorated with framed photos and achievements the restaurant has acquired over the years. Outside the front door is usually a line of chairs for the guest queue, since the restaurant gets a heavy lunch rush. The parking lot is very small an guests will most likely have to park in the adjacent areas off of School Street during the lunch rush.
---
Rainbow Drive-In
Rainbow Drive-In is located just mauka (towards the mountains) of Waikīkī on Kapahulu Avenue and offers plates, sandwiches, breakfast items, desserts, chili dogs and daily specials like barbecue ahi on Tuesdays, pork long rice on Mondays and Fridays and fried saimin with barbecue beef on Mondays. Miscellaneous sides like tater tots, onion rings, french fries and a chili bowl with rice also find their home on the Rainbow Drive-In menu.
The majority of the menu is easily understandable, with brief descriptions appearing beneath items like the loco moco (rice topped with a hamburger patty, fried egg and brown gravy) which may need explanation. The entire menu is priced under $10.
Rainbow Drive-In has no interior dining space. About 10 picnic tables are available under the awnings as seating next to the car stalls of the modest parking lot. Additional parking can be found in the adjacent streets off of Kapahulu Avenue. Rainbow Drive-In also owns RainbowTiki, the merchandise and shave ice shop next door to the drive in.
Rainbow Drive-In's founders, the Ifuku family, started the Ifuku Family Foundation, an organization that awards annual grants to Hawai'i-based nonprofit organizations and schools.
A diverse selection of affordable food and a company dedicated to helping others makes Rainbow Drive-In worth visiting.