How do you get around town? While Oʻahu 's transportation options include TheBus, taxi and ride-sharing services, Seoul has something the Gathering Place does not: public trains. 
The Seoul Metro, one of the railway systems in Korea, was established on Sept. 1, 1981 with the mission of "developing urban transportation and improving public welfare," according to the corporation's official website. 
Operating eight subway lines and part of a ninth, Seoul Metro offers patrons a ride to several stations throughout the peninsula's capital. It is not the only train system, however; other companies such as Korail, who operates the KTX, Korea's bullet train, and Metro 9, are in charge of different lines.
Since arriving in Seoul, my main mode of transportation (excluding walking) has been the Seoul Metro. 
I frequently use Line 2, which offers easy access to places like Hongdae, the Dongdaemun Design Plaza and Jamsil, where Lotte World recreation complex and Lotte Mall are located. 
Utilizing the metro for the first time can be intimidating, but thanks to similarities with American rail systems (and English translations), any dedicated rider will find themselves adjusting to the metro in due time. 
'Ticket To Ride': Introducing Transportation Cards  
Although anyone can explore the subway stations, which often house boutiques, flower shops, food kiosks and convenience stores, riders must pay to ride the metro. According to Seoul Metro's website, "General" (adult) riders pay 1,250 Korean won, a little over $1. Teenagers pay 720 won, about 60 cents, and for children, 450 won, roughly 40 cents. Senior citizens, handicapped persons, children under the age of six and "men and women of national merit" ride for free. Additional fare is charged based on a distance scale, paid once the rider reaches their destination.
While some can purchase single journey, group or commuter tickets, many use transportation cards. 
Explained by Visit Korea, transportation cards are used to access the bus and subways in different cities and locations. These cards can be purchased from kiosks near convenience stores, at subway stations and at airports. 
There are three types of transportation cards: Korea Tour Card, Tmoney and Cashbee. Each card has different benefits. For example, the Korea Tour Card, which I use to ride the subway, is "exclusive to  international tourists." It can also be used to ride the bus and offers discounts to places such as Everland amusement park and the National Museum of Modern and Contemporary Art. It costs 4,000 won ($3.40) to purchase.
The Tmoney card, which I use to access the bus, can also be used at convenience stores to pay for purchases. Cashbee cards also have similar capabilities, with both having starting prices of 2,500 won ($2.10). 
All transportation cards are empty upon purchase. You will need to load them with money prior to first use. In my experience, you can load and reload Korea Tour and Tmoney cards via kiosk at any subway station within the Seoul metropolitan area. Along with Cashbee, Tmoney cards can also be reloaded at any convenience store. 
Riding the train 
Once a transportation card is acquired and loaded, you can now ride the train. 
To do so, you must figure out which line you are using and in which direction you are headed. Since destinations vary per passenger, I suggest downloading KakaoMap or Naver Map, which offer instructions on how to get to and from a specific location. Each subway station houses multiple trains that follow different lines. Thankfully, the signs in the subway include English translations, so it is not difficult to find your way to a particular line or train.  
After determining where you are headed, you will find yourself standing across a row of turnstiles. These machines process your fee. To enter, you scan your transportation card. Upon doing so, a screen will light up, displaying the amount of money taken out and how much you have left on your card. From here, you can push through the turnstile and continue toward your train.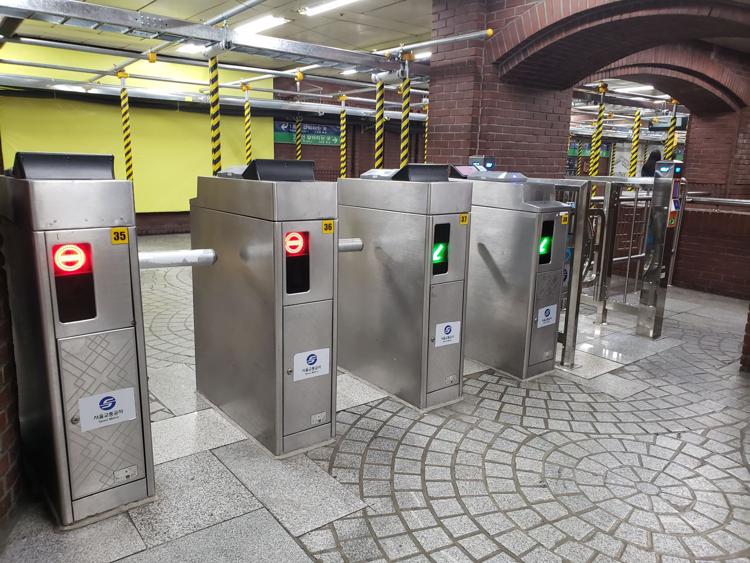 In Korea, the tracks are blocked off by a platform screen door, which stays closed when no train is at the station. This is to prevent people from falling and getting injured. The platform screen door has sliding entrances that line up with the cars on the train. 
When a train arrives, the doors open, which allow riders to enter and leave. People must move quickly, as the platform door will not open again once the train doors close. If you are unable to board the train before the doors close, you will need to wait for the next one, which will arrive within the next few minutes. 
Once on board, you may either take an open seat, or choose to stand. There are handles people can grab to maintain their balance throughout the ride. Like TheBus, Seoul Metro trains have designated seats for the elderly, injured persons and pregnant women. Most cars will have four TVs that display the next station. The name of the next station is also announced over the intercom in Korean, English, Japanese and Mandarin. Directions on how and where to transfer to different subway lines are also given. 
Once you arrive at your station, you get off the train and follow the signs to your designated exit. Prior to leaving the station, you will find yourself at another row of turnstiles. You must scan your transportation card again to pay for any additional fares before continuing your adventures in Seoul.