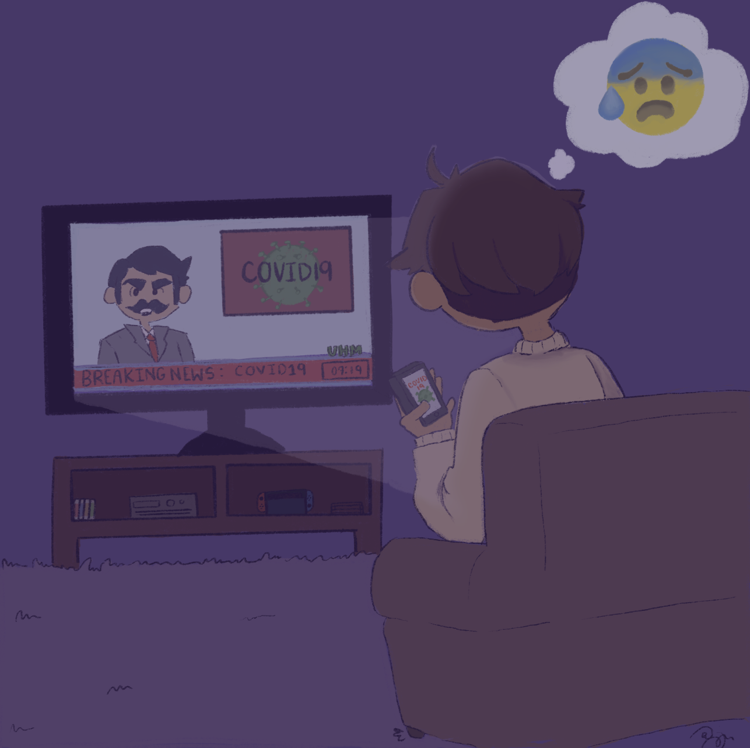 It seems the COVID-19 pandemic has tripled its threat in the past couple of weeks. The snowball of news updates, school shut-downs, work-from-home/stay home orders, and the fight for toilet paper continues to inundate us with more panic and fear. 
As a future social worker and journalist, I have found finding the words to address this situation difficult. Every time I sit down to write, I search for words that would move readers to feel inspired or safe; however those words fail to exist because I myself am struggling in the unknown as well. What I do know is that right now is the perfect time to be still. 
Practicing mindfulness and stillness in the middle of chaos sounds profound and poetic, but hard to do. The action of inaction goes against our survival instincts, especially today. However, after speaking to Dr. Thao Le and students in my meditation course, it has become clear that finding stillness in this moment is more important than ever. 
Le is a professor for the Human Development and Family Services Department (HDFS) at UH Mānoa and received her master's in public health from the University of California Berkeley and her doctorate in psychology from UC Davis. 
While she has expertise in adolescent development, she has done studies and directed courses and programs in mindfulness and meditation to aid adolescents who may be suicidal or dealing with other mental or physical issues. At UHM, she teaches HDFS courses, one of them being HDFS 435: Mindfulness and Skillful Living. She teaches students about the purposes, uses, techniques and intentions of meditation. 
"Fear is more contagious than this whole virus," Le said. 
She adds insight to how fear affects our physical health.
"This virus is causing distress and havoc, but constant fear suppresses your immune system. All the resources used to manage the fear are not there to manage the immune system." 
Instead, she encourages people to "try to put things in context and do not do the number watching game." 
HDFS students in this course expressed their frustrations towards the inundation of news and COVID-19 centered conversations.   
"There are millions of people on this planet and not one person is not talking about the virus...It is something you should not dwell 100% of the time on otherwise it will make you sick," senior Kalani Akau said.
While some people like Akau have distanced themselves from conversations about it, others have removed themselves from the social media scene. 
"I deleted all my social media. I just kind of wanted to disconnect and take the time to seclude myself. It was becoming irritating," Sharise Lee said. 
Lee has worked in an adolescent day treatment and is a mother on top of being a full-time student. She has the additional stress of caring for her family. 
"Grocery runs are stressful as a mom when everyone is buying and hoarding," Lee said. 
Le discussed ways for students to change their perspective on this pandemic by saying, "Everyone is very resilient. It seems like everyone seems okay. We are naturally adaptive." 
She posed three questions to think about: What am I grateful for, what is this moment in time trying to teach me, and what are our priorities?
Le is correct in saying that we are an adaptive and resilient population. Many have seen this time in a broader perspective and as beneficial in certain ways. 
Others also alluded to the bigger picture of greater issues and topics that still exist. 
"It shows everybody what is really important to us. When something directly affects us, it gets our attention. We need to be proactive about things we still have time to control," HDFS student Nohea Vaughan-Darval said, referring to the issues of climate change and the decline of natural resources. Her meditation practice in this course has aligned with her heritage and knowledge of Hawaiian history and culture. 
Courtney Middap, a senior student athlete from Australia, brought up the topic of healthcare and the lack of universal coverage. Middap also expressed that the stay-at-home mandate is a small sacrifice in comparison to the health risks we are presented with in this time. 
"It is important people realize that healthcare is so important," Middap said. 
Having discourse on topics not related to a global health crisis is like resisting a magnetic attraction; we are constantly looking for sensationalized news and headlines. I understand the attraction to the conversation completely, but I believe that one of my responsibilities as a student, friend, family member, and writer is to create a space for better conversations. 
As a part of her course, Le created an application called "Mindful Aloha" available on the App Store that has a variety of different meditations including mindful breathing, loving kindness, mindfulness of emotions, and mindful eating. 
The durations range from five to twenty minutes. While this app is convenient and free of charge, I asked her for guidance for those who have never meditated before. She offered four ways to approach this practice of stillness and mindfulness.
Meditation is about cultivating greater awareness of your mental and emotional habits. Try to notice the habits to catastrophize all the news coverage. Pay attention to how your mind and body react to it. 
Do not bring expectations into meditation. It's not a cure or a quick fix: Approaching meditation with the expectation that all negative emotions will be resolved and anticipating immediate relief will get in the way of being still. Research on meditation shows that even five minutes of daily meditation has yielded benefits. "After four weeks of meditating at least five times a week for twenty minutes a day is when you begin to understand what meditation is about: awareness," Le said.  Awareness is a mental skill that has to be built.
Use one or more of the five senses to be in the moment and gently bring yourself back to the present moment: It is natural for our minds to wander, especially in times of distress. That is perfectly fine. Cultivate patience and kindness towards yourself when you catch your drifting mind and focus on the breath, physical sensations, smells, sounds, or other senses to stay in the present moment. 
Accept the emotions at hand. Understand that it is okay to feel fear, anger and sadness. These, among other emotions, are a part of being human. Try to separate the true feelings from the irrational thoughts. For example, if I am feeling fear, I can acknowledge that emotion. It is perfectly normal. However, the irrational thought would be, "I am going to die from this pandemic." We do not have control of anything - not even our emotions! All we can do is be aware. 
I want to orient discussions and people toward positivity even when it seems impossible. We have the responsibility as one of 195 other countries, one of 50 other states, and one of eight Hawaiian islands to protect each other physically, spiritually and emotionally. And oddly, a way we can protect each other right now is to stay where we are and be still.