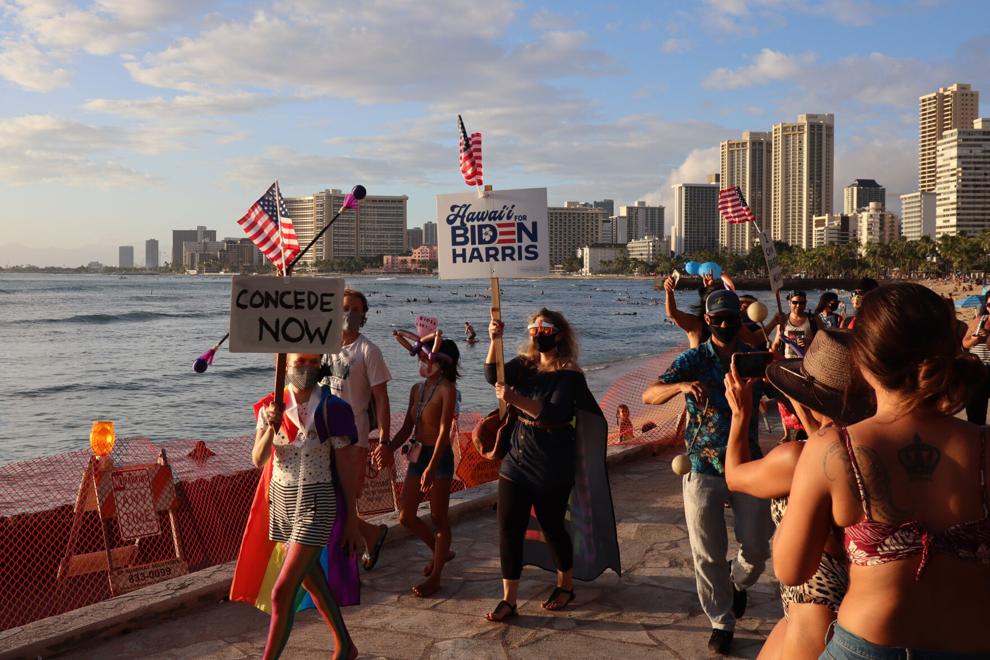 Citizens across America cheered, honked their car horns and celebrated on Nov. 7 when Associated Press announced Joe Biden as the 46th President of the United States with running mate Kamala Harris.
Hawai'i was no exception as people took to the streets to celebrate the Biden-Harris victory.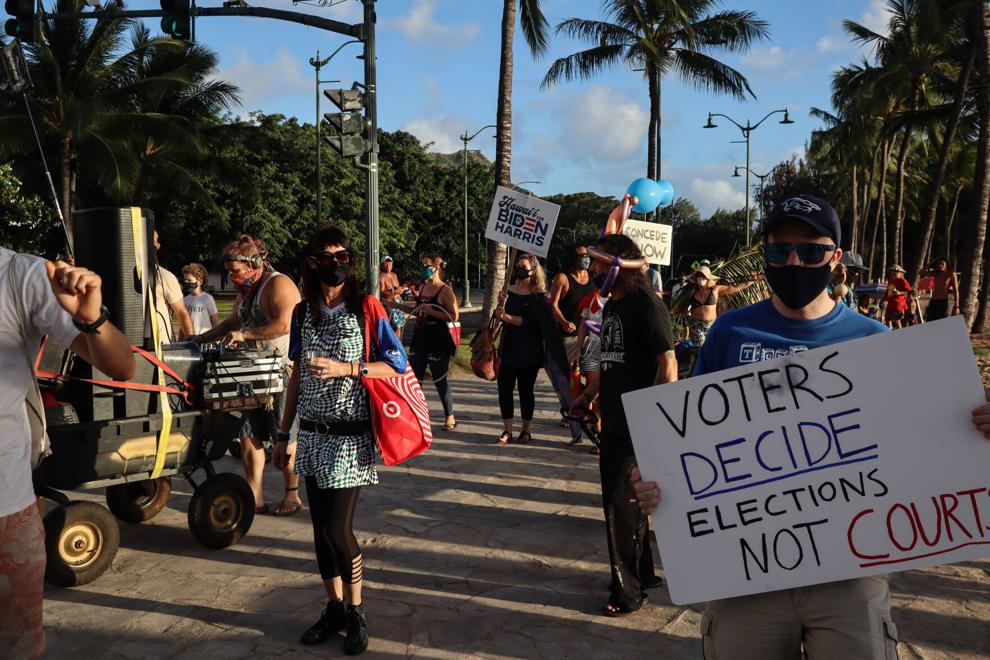 "With everything that this country was collectively experiencing, from the mainland to all the way out here to us in the Pacific, I think everyone was just overjoyed to breathe freely again," Landon Hannaford, a participant in an impromptu Biden celebratory march at Waikiki beach, said.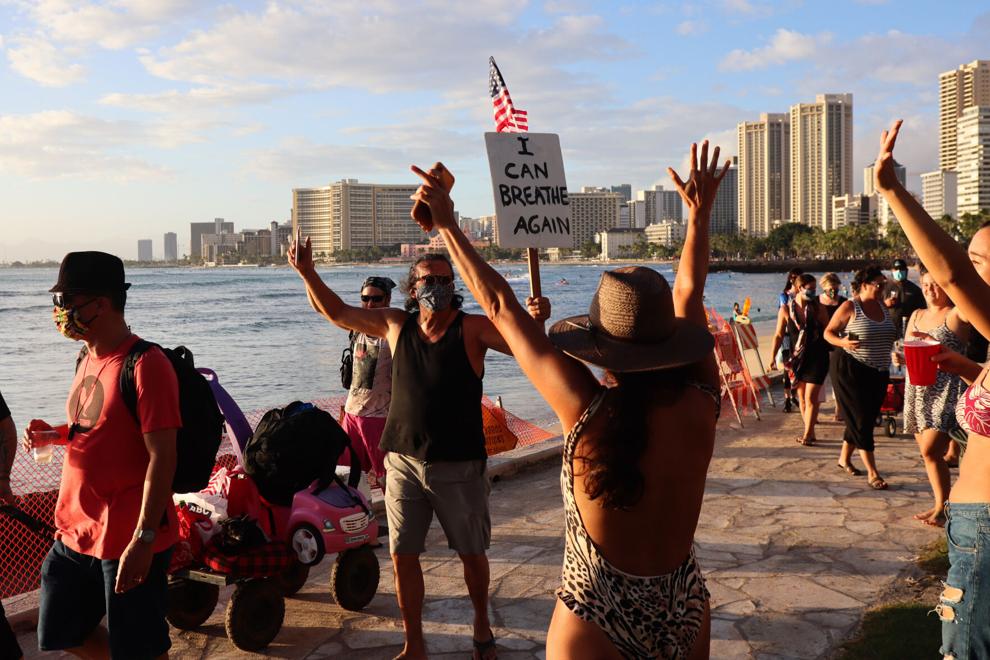 The group was organized quickly at 10 a.m. on Saturday, and quickly gained traction by other citizens as they played loud music and danced down the beach. 
"Our organizer was inspired by the street parade in Philadelphia, which was what kindled the idea out here," Hannaford explained.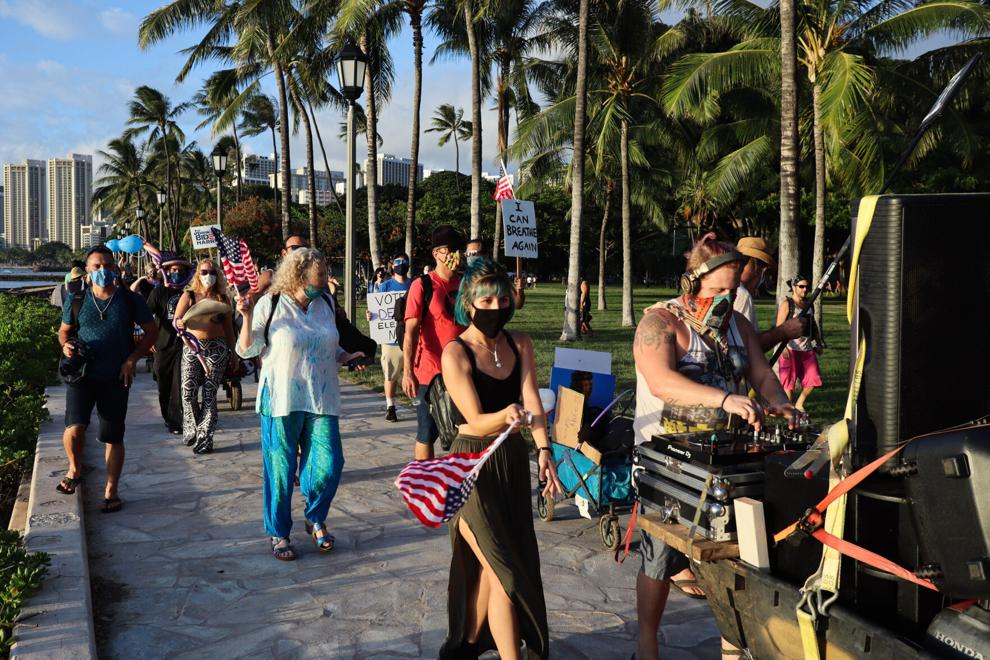 He also mentioned how impressive it was to see everyone "following the law in a positive manner by taking COVID-19 restrictions seriously and keeping a mask on at all times."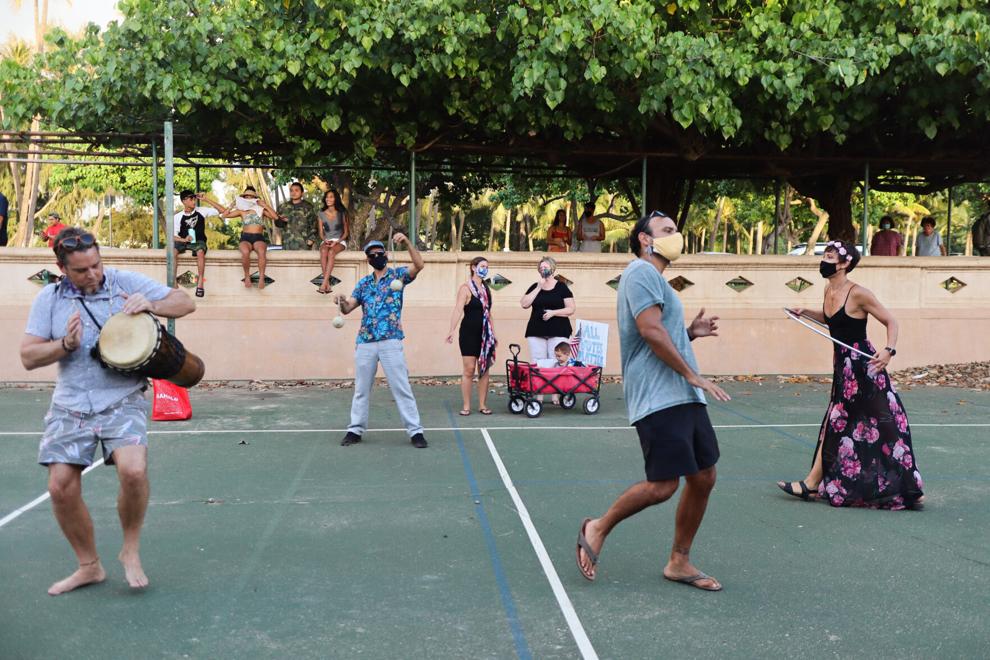 Other major cities around the U.S. broke out in celebration as well, filling streets with thousands of people. In the more notoriously liberal neighborhoods of New York, such as Brooklyn and Greenwich Village, crowds sang "We Are The Champions" by Queen, while people in their apartments banged on pots and pans to rejoice. In Los Angeles, Venice Blvd. was swarming with citizens standing on cars and yelling for Trump to accept defeat.
In opposition of Biden, over 100 protestors gathered to support President Trump outside the Hawaii State Capitol Building on the afternoon of Nov. 7. The protestors waved large Trump 2020 and American flags on the street while cars driving by honked their car horns in support.
In an interview on KHON2 News.Hawaiʻi Senator Brian Schatz, Hawaiʻi Congressional Representative Ed Case, and Representative-elect Kai Kahele shared positive sentiments and hope for progress about the Presidential election results.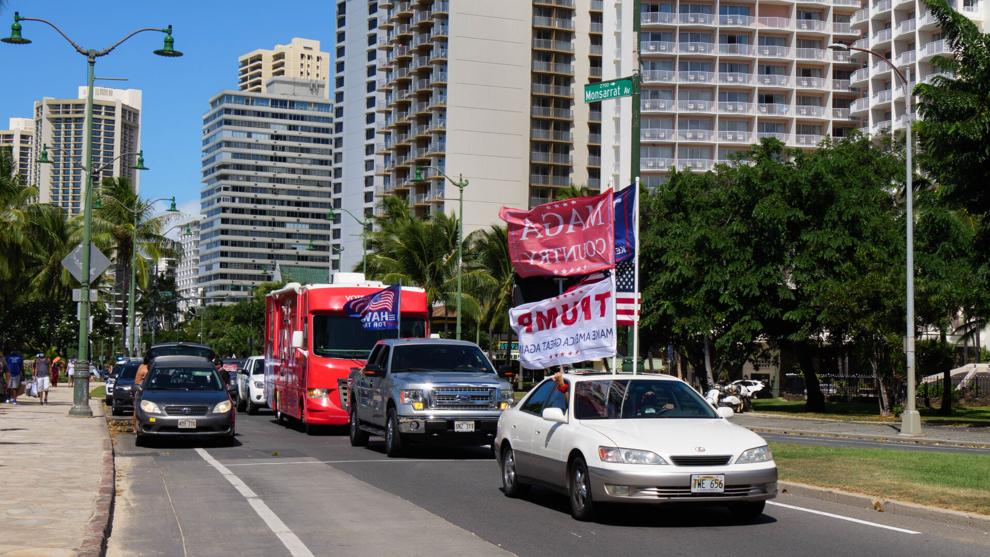 The chairs of the Democratic Party and the Republican Party of Hawaiʻi gave contrasting statements to KHON2 about the election results. Shirlene Ostrov, chair of the Hawaiʻi Republican Party, stressed the need for truth and transparency in the vote tallying process. Tyler Dos Santos-Tam, chairman of the Democratic Party of Hawaiʻi, saw Harris' historic victory as a celebration of diversity.
Harris is the first woman, first woman of color and first daughter of immigrants to be elected Vice President in U.S. history.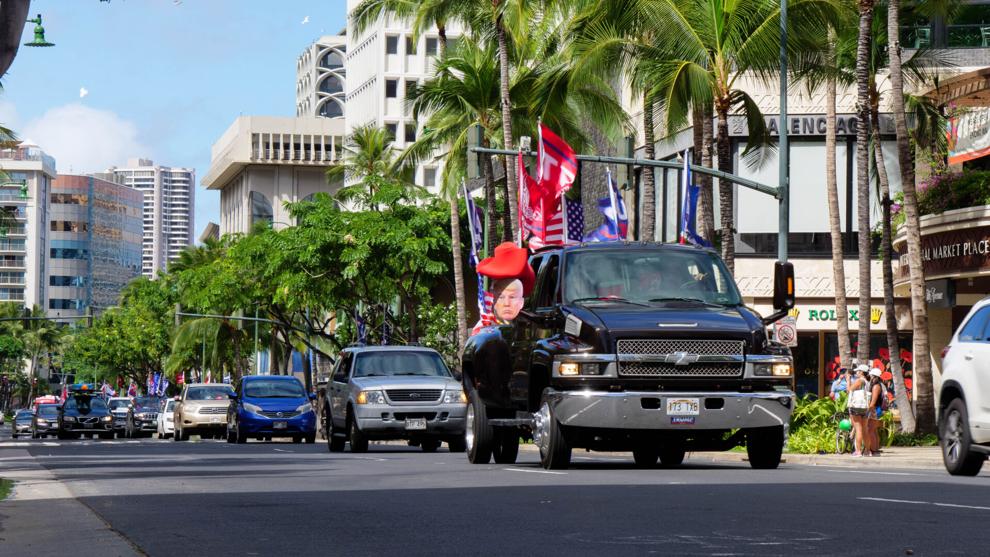 Tumult is anticipated on the path to the swearing-in of the next President. President Trump is poised to contest the election results, through legal action and recounts in battleground states, according to the New York Times.  
Biden and Harris address America
Speaking from Delaware to the nation for the first time as President-elect on Nov. 7, Biden pledged "to be a president who seeks not to divide, but unify, who doesn't see red states and blue states, only sees the United States." 
Biden emphasized restoring unity, bipartisanship and "the soul of America" throughout his speech, amid cheers, applause and honking cars. 
"Folks, I'm a proud Democrat," Biden said. "But I will govern as an American President. I'll work as hard for those who didn't vote for me as those who did."
He acknowledged voters for showing up in historic numbers. Biden has received over 75 million votes and counting, as of Nov. 7.
He also made sure to congratulate Harris, calling her election to Vice President a "long overdue" moment for America. 
Harris said that while she will be the first woman to be Vice President, she "will not be the last." She expressed gratitude for the "generations of women…who throughout our nation's history, have paved the way for this moment tonight." 
"Every little girl watching tonight sees that this is a country of possibilities," Harris said.
Biden said that the word "possibilities" defines America.
While recognizing the disappointment of those who voted for President Trump, Biden called for civility and cooperation going forward.
"It's time to put away the harsh rhetoric, lower the temperature, see each other again, listen to each other again," he said. "And to make progress, we have to stop treating our opponents as our enemies. They are not our enemies, they're Americans."
Starting with a science-based approach to "getting COVID under control," Biden also vowed to prioritize healthcare, racial justice and climate change as President. He will start building a team to implement his COVID plan as soon as Monday, Nov. 9. 
"We will lead not only by the example of our power, but by the power of our example," Biden said.
Before the fireworks went off and Biden and Harris were joined by their families onstage, Biden closed his speech with a hymn dedicated to his deceased son, Beau Biden, and the hundreds of thousands of Americans who lost their lives to the coronavirus this year.
Biden and Harris' Nov. 7 speeches are available to view on C-SPAN.