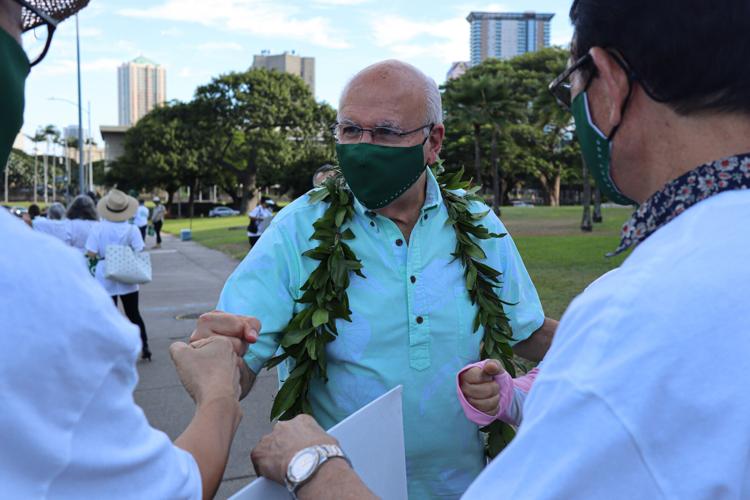 With record-breaking turnout from Hawaiʻi voters, Rick Blangiardi defeats Keith Amemiya in the mayoral race for the city and county of Honolulu.
In the first long-awaited print out of the night, results showed Blangiardi received 210,775 votes compared to Amemiya 143,246 votes. 
In an interview with Hawaii News Now soon after the results were released, Blangiardi said "My heart runs over with appreciation." 
Both Blangiardi and Amemiya focused on wanting to push the city forward into innovation, as well as push the state into fighting back against climate change.
"The problems facing us in trying to fix the city of Honolulu in 2021… have nothing to do with being republican, democrat, or anything, other than the problems that we are facing," Blangiardi said. "Homelessness is not a party. Rail is not a party. Affordable housing is not a party. Infrastructure is not a party. Elderly care is not a party, and neither is public safety." 
Blangiardi will be taking over during a time of crisis, as Hawaiʻi is desperately trying to claw back from the coronavirus pandemic ravaging the economy. "This is a major shift that we're in right now," Blangiardi said. "We've got to learn to live with this disease. But these are things happening right before our eyes that I don't know if we fully understand right now, but I think that it lends itself to the potential of things we can do."
On his lack of experience as a politician, Blangiardi sees it as a positive. "There's a lot of things that if you're not a politician and not being compromised, you can be decisive and gain trust and get it done."
"It's about business experience, leadership… it's about decision making and the people you put around you… That's the job of the CEO of the city."