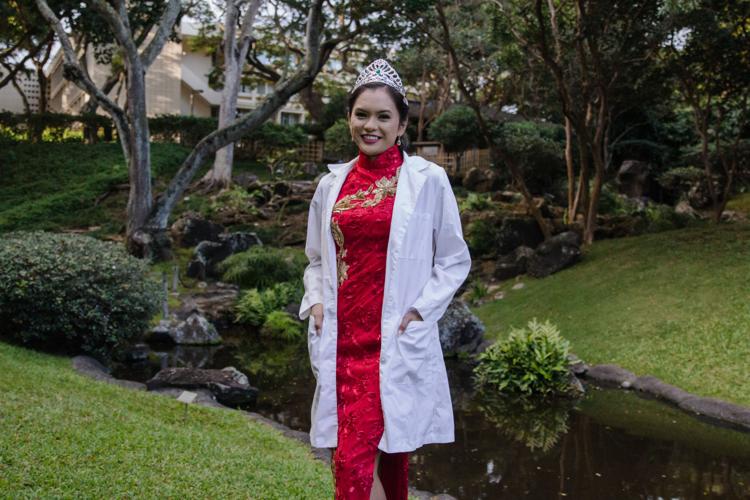 The Chinese Chamber of Commerce of Hawaii defines the Narcissus Queen as a woman who best represents Hawai'i-Chinese culture and carries herself with poise, intellect and strong morals. University of Hawai'i at Mānoa senior Tiana Wong exemplifies these ideals and more.
Born to Matt and Lei Wong and raised in Kailua, Tiana is the youngest of three siblings. Little did Tiana know that family connections would lead her to fulfill not just one legacy, but two.
Currently, Wong is a biochemistry major with the prospects of becoming an emergency room physician, a career she dreamt of having after being inspired by her late uncle.
As a child, Wong was introduced to la'au lapa'au, Hawaiian herbal medicine, an interest of her late uncle. Due to his passing, he was unable to continue his research in the field, a mission Wong decided to take on. As a student at UH Mānoa, Wong was able to get involved in a la'au lapa'au program through the Nā Pua No'eau Center for Gifted and Talented Native Hawaiian Children.
"My ultimate goal is to incorporate my studies and give my patients the option to use Western medicine or naturopathic medicine. And, hopefully, to incorporate it in hospitals, at least here in Hawai'i," Wong said.
Along with a major in biochemistry, Wong is also pursuing a minor in dance, a passion stemming from her childhood.
Wong grew up with a love of performing. "I remember putting on shows for my family," she said. "I'd make them all sit down while I sang to Christina Aguilera, pretending it was like a full-on concert."
She became interested in dancing when she voluntereed with Heartbeat, a program that allows both children and adults with special needs to learn how to dance. She said of Heartbeat students, "They are so positive that nothing can affect them." 
Though she is no longer working with the program, it allowed her to get involved with the Special Olympics, for which she is still a volunteer.
Even as a child, Wong was immersed in pageant culture. Her mother Lei ran for Miss Hawaii's Outstanding Teen and was crowned. In 2014, Wong's sister ran for Narcissus Queen and was crowned 2nd Princess. 
"I saw how much fun she had," Wong said. "How much she grew and learned about her culture and I decided I wanted to do it as well."
Growing up in Hawai'i, Wong recalled being exposed to Hawaiian culture as she was heavily involved in hula and other cultural practices. However, Wong felt that she did not know much about her Chinese heritage or culture, despite being half-Chinese. 
She believed that running for the Narcissus Queen crown could help her get closer to her culture. 
Wong began training for the crown in the summer of 2018. She recalled sewing embellishments onto her gown with her mother and sister, rehearsing her dances and practicing answering interview questions in preparation for the pageant.
Since taking the crown, Wong has admitted to gaining popularity on her social media. "My phone has been non-stop, blowing up on Facebook," Wong said. "It's been nice to see all these people acknowledging my accomplishments. I didn't think it was gonna be a really big deal … but my life has definitely changed for the best." 
Wong reported connecting with some relatives she had previously not known about before the pageant.
As for Wong's plans to continue competing in pageants, "I definitely have thought about it," Wong said. "For now, just me enjoying this journey as Narcissus Queen is something I really want to focus on. But, who knows? You're gonna have to stay tuned to see about that one."