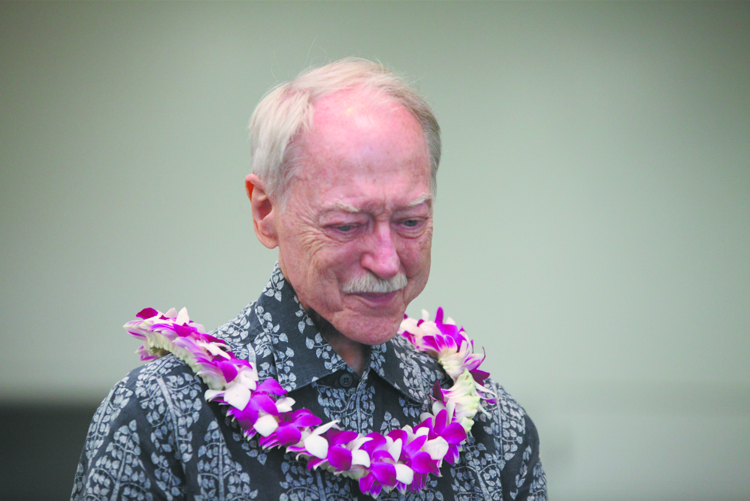 Ask John Morton what his plans are for retirement. His answer is simple.
"I'm going to do whatever I want, whenever I want," he said. 
After nearly half a century of serving as vice president of community colleges, Morton leaves behind his legacy at the steps of the University of Hawai'i.
Morton was at the forefront when STAR launched. STAR is the University of Hawai'i's system students use to create an academic pathway to graduation through the Guided Pathway System. He also implemented Hawai'i Promise, a last dollar scholarship for UH community college students, and  was involved in the Hawai'i Employment and Training that provides assistance for college accessibility.
Why did he not want to hit the 50 year mark? It has no meaning to him.
"It's time." Morton said. "I can still function pretty well, but you have to pass on to the next generation of leaders."
Fondest Memories and Accomplishments
Though Morton advocates for higher education, he holds community colleges closest to his heart.
He reminisced on a graduation on Moloka'i where a mother, daughter and grandmother all graduated at the same time.
"That sort of captured what the community colleges represents, is the opportunity to get higher education when you're right out of high school, or halfway through life, or nearing retirement, or a different purpose for wanting higher education and the [Moloka'i Education Center] was there for that family and the community colleges are there for the people of Hawai'i."
Some validation
On May 16, Morton received recognition at the Board of Regents meeting at Leeward Community College. His eyes were tearful, and he received an embrace from UH President David Lassner.
"I've been pretty comfortable and proud of some of the things that I've been able to do as a part of the community colleges," he said. "To have that validated by President Lassner clearly looking like he was going to miss me. OK, maybe I'm not misleading myself, that I have made a difference and that made me feel good about that."
Early years
Morton grew up in the small town of Dyersville, Iowa, that was home to fewer than 2,000 people and where the 1989 baseball movie "Field of Dreams" was filmed. 
He had the freedom to leave the house to do "spontaneous kid stuff" and come home before dinner. 
That's how it's supposed to be, according to Morton.
When Morton's mother took him to his first baseball game at two years old, he became a Chicago White Sox fan. 
Though baseball is his favorite sport, he never played professionally.
"I wish I was good enough to play professionally," he laughed. "I played all the way through high school. I can hit, but I'm not fast enough to compete in that level."
Morton's interests leaned more toward science. His curiosity for everything lead him to academia. 
In the 1960s Morton attended the University of Illinois, where he received a bachelor's in chemistry and a master's in political science.
He also fell in love with social justice during the civil rights movement.
Morton met his wife, who is a Japanese American from Hawai'i, at a student organization.
"I asked her out soon as she figured out which one I was," Morton said. "She said yes, and our first date was to a genetics lecture from a Nobel recipient." 
Morton moved to Hawai'i in an effort to prove to his father-in-law that he could adapt to island life by working a graveyard shift at the pineapple cannery.
Later he attended UH Mānoa, where he received his doctorate in communications and information science. 
The Bucket List
Morton no longer has to ask himself about the date of the next Board of Regents meeting or if the Legislature is in session.
His plans are to learn more ingredients for cooking, languages and music and to travel the world.
On his personal list, he's planning a trip to Antarctica.
"It's sort of like this job. I didn't plan it, but it worked out pretty well," he said. "So in some cases, I'm going to do the exact same thing. Be available to make decisions that sound like fun as we go through these retirement years."