For 13 University of Hawai'i student and alumni artists, a blank, wooden construction barrier became a canvas.
After the barriers surrounding the law school's construction site along Dole Street went up this past October, Associate Law Dean Denise Antolini approached Gaye Chan, chair of the art department, to transform the scene.
Chan sent out an email to all 2D art students in the MFA program, in their last year in the BFA program, and recent graduates.
"Except for one student who was proposing something that weather-wise wouldn't work, everyone who proposed something ended up being in the project," Chan said.
The mural collection, titled "ART AT LARGE: Taking art out off the studios," aimed to take artwork into a public space and provide a new challenge for artists.
One student without previous experience working on a scale this large, struggled with the painting.
"I didn't plan it as well as other people did," said fourth-year BFA student Emily Boehm. "My friend Sheanae put it out on a grid. A lot of the plant paintings I do, I kind of do it with freedom of movement, or automatic drawing. I did a lot more removal and repainting than a lot of people because I'd try something and realize it didn't really work."
Alina Kawai, a recent BFA graduate, was one of only two artists who had worked on similar, larger scale projects. She took this opportunity to create a piece that she has had in mind.
"It's fun working in a super large scale," Kawai said. "I wanted to paint this image a while back before the mural started. So I've had sketches, like small, mini-sketches, from prior that I'd been working on. Then this came up so it was actually a good opportunity for it."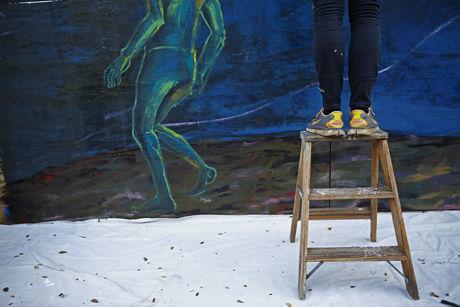 Chan said offers of student artist opportunities come to her all the time. Her criteria for accepting a project includes looking at the educational impact, whether the students are being exploited and whether it would strengthen the students' portfolios.
"I'm very careful about choosing the ones that will enhance the students' learning and provide them with visibility that they wouldn't get otherwise," Chan said. "For this one, the location is really great and we can't really have students doing that in the classroom because we simply don't have the space."
Another deciding factor for this particular project was funding for supplies.
"Without [the sponsors] we wouldn't have anything to paint with," Chan said.
POW!WOW! Hawai'i donated leftover paint and provided Chan and the artists with advice. Trecker & Fritz Attorneys at Law provided funding for additional paint and materials.
The original request was for art pieces with themes of Hawai'i justice, however Chan had a different idea.
"The students are working for free and it didn't seem fair that they had to develop a whole new type of work for a client who's not paying them," Chan said. "I want them to strengthen their own research and their exploration."
For Kawai, this meant tapping into her recurring night theme and interest in time.
"I went to Maui and up to Haleakalā and I saw the milky way and I was like blown away by it," Kawai said. "I thought it was so beautiful and I'm thinking people don't really see this anymore. I guess people in the past had a really nice view in the sky and living in town you don't really see that much anymore."
Boehm wanted to step away from the charcoal drawings she's been focusing on for her BFA and turned to her enjoyment of drawing plants.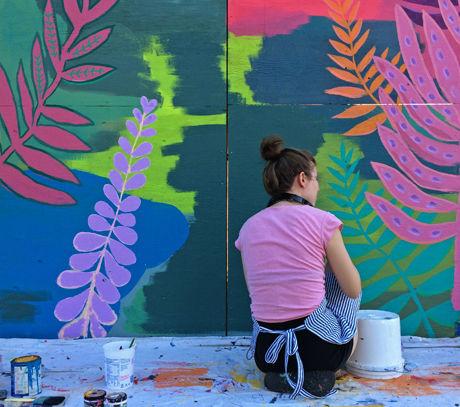 "If I do this charcoal, dark, depressing stuff on such a large scale people would be like 'oh, art is so depressing,'" Boehm said. "I think a lot of people, when they think about visual art and art school art, it's like really down and depressing and serious so I wanted to do something more perky and fresh and colorful."
This public space, though temporary, also provided the artists with an active engagement with the campus community.
"It felt like a good opportunity to be able to show what the art department is doing," Boehm said. "You can interact with people and talk to them about art and ask if they have any questions or whatever and have people driving by see that there is a large art culture on campus. People would go by and give us shakes and tell us it's awesome. It's definitely a different kind of feedback and having that community interaction was really cool."
The mural can be seen on campus until the building is completed in the summer of 2017.