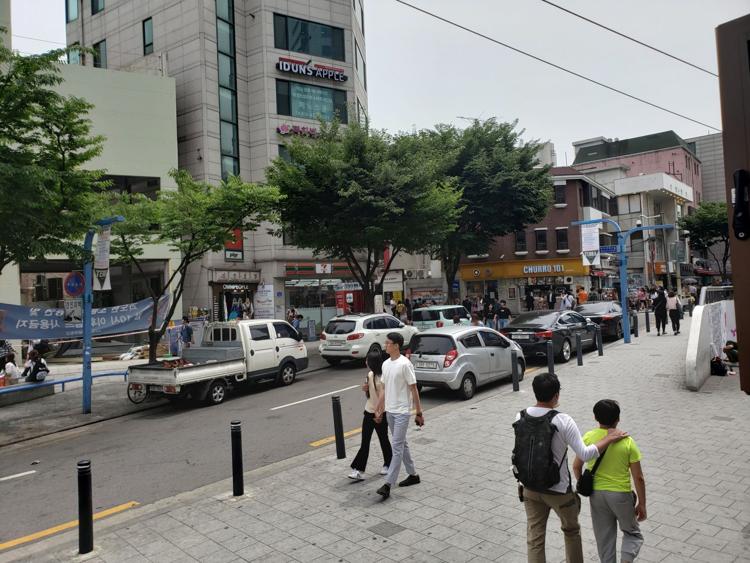 Hearing a person yelling in the street? Fairly normal. But hearing the same person again the next morning, belting lyrics to a Korean song you don't recognize? Not so much.
But as I walked down Yanghwa Road in Hongdae, a neighborhood in Seoul, South Korea, I reminded myself that nothing is entirely "normal."
Alongside its "interesting" characters, Hongdae is known for "its youthful and romantic ambience, underground culture, and freedom of self-expression," according to the Korea Tourism Organization. Having spent almost an entire afternoon in the area with a group of classmates, I understand why Hongdae is considered a popular tourist spot, especially for those with a taste for adventure (and a lot of walking).
Cafes, galore 
While walking along Hongik University Street in Hongdae, the first thing you'll notice is the abundance of brand-name stores and food establishments, such as the LINE Friends, BT21 (the brand name given to the mascots of Korean pop group BTS) and Kakao Friends shops and Gong Cha (or by its literal translation - "Ball Tea"), a bubble tea joint.
One of the first places my classmates and I checked out was the LINE Friends and BT21 shop, which can be seen from the Hongik University Station bus stop. The store consists of three stories: the street level, which has LINE Friends products like phone cases and other accessories, the second level, which is full of BT21 merchandise such as shirts, passport cases, blankets and pajamas, and the basement: the cafe.
The cafe is decorated with both LINE Friends and BT21 characters for patrons to take photos with. The walls are decked out with artwork and neon signs, paired with wooden, metal and cushioned chairs pushed against wooden tables. The cafe sells coffee and soda, which comes with ice cream, as well as french fries and chicken wings (which were spicy, according to a friend).
I did not stay in the cafe for long, as I wanted to purchase a BT21 phone case, though I was able to record a quick video of the inside.
The road somewhat taken
Although the main road has enough to keep you occupied for a few hours, the real treat is getting lost on the various side streets (Thank goodness for Naver Maps). Along almost every strip of road, boutiques display their summer clothing, which include dresses, cream blouses and jumpers. Make-up establishments such as Nature Republic, innisfree and Etude House blast Korean and American pop, hoping to attract customers.  
Here is a quick video I took while walking out of an innisfree store:
The side roads also hold public spaces in which people can perform for monetary purposes, also known as "busking." I wasn't able to capture photos or video of buskers, though I remember an older man singing a ballad and a group of young women dancing to Blackpink's song "Kill This Love."
While looking for our next stop, I spotted a lone artist named YoYo Jin creating a mural with a thick, black marker. He was recording himself while completing his artwork, with some passersby taking photos.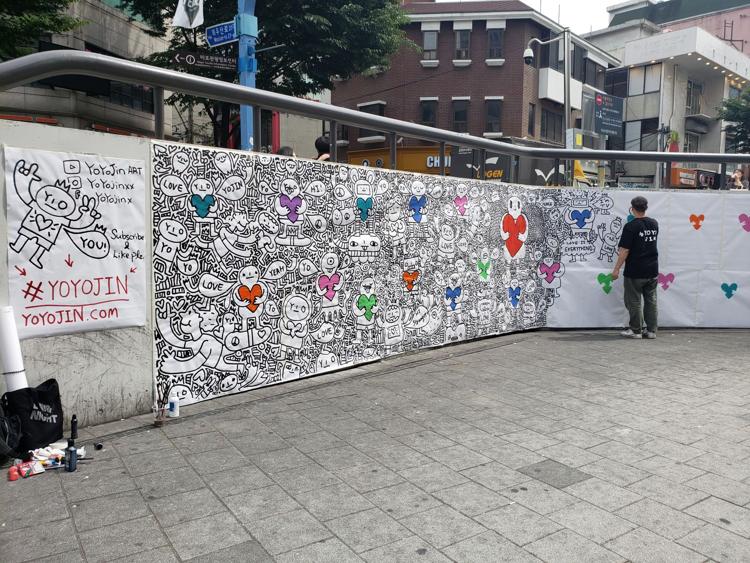 All play and no work (but you may lose some coins)
While walking along one of the side roads, we stumbled upon an arcade, which featured claw games.
To access the machine, you insert either a bill or coin before playing. Like the ones in Hawai'i, the amount of attempts you get depends on how many coins or bills you insert. I tried my hand at one of the stations, which had KaKaoTalk characters for prizes. I knew I had no use for any plushies, but knowing that the opportunity to play was there, I went for it.
I didn't get the plush, but I walked away from that arcade knowing that I will still have extra space in my luggage for something else.
Food: A topic to be explored
Shopping would not be complete without food. Thankfully, Hongdae has a plethora of cafes, restaurants and kiosks that sell hot dogs and other Korean street food such as tteokbokki (spicy rice cake), twigim (fried food similar to tempura) and gye-ran bbang (egg bread).
My classmates and I did not stop for any street food during our visit to Hongdae; however, I know Korean food is a fairly popular topic. I plan to dedicate a day to trying out Seoul's street food, so keep an eye out for that article within the next few months.
Have any questions about South Korea while I am here? Send your inquiries to opinions@kaleo.org and I will see if I can answer them.