It started with a dream, a dream that has carried a legacy for many decades. 
Today is Martin Luther King Jr. Day, a holiday held annually on the third Monday of January. 
According to History.com, Martin Luther King Jr. was a "social activist and Baptist minister" who "sought equality and human rights for African Americans, the economically disadvantaged and all victims of injustice through peaceful protest." His involvement in the Montgomery Bus Boycott and the 1963 March on Washington, as well as his "I Have a Dream" speech, are some of the many notable events of King's legacy in the fight for equal and civil rights. 
While many are aware of his contributions on the continent, many may not know that King shared a bit of his dream at the University of Hawaiʻi at Mānoa. As stated in an archived Ka Leo O Hawaiʻi article, King visited the university on Feb. 19, 1964 and gave a speech on desegregation at the Andrews Outdoor Theatre.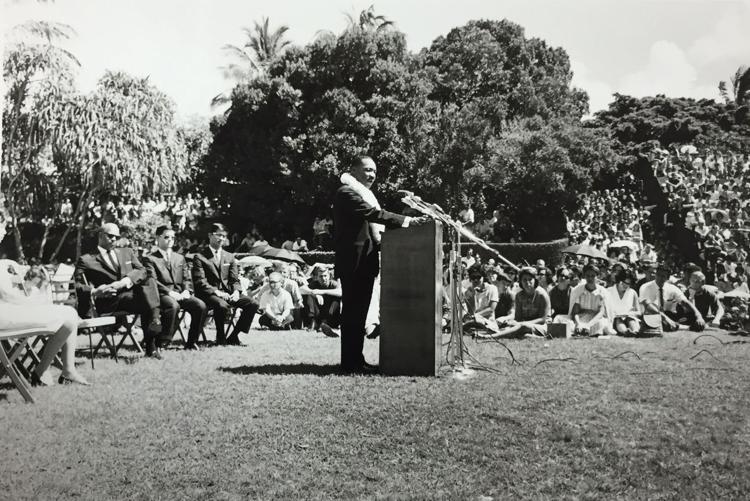 His attendance was a part of "Civil Rights Week," and garnered "the largest audience and the most enthusiasm of any of those who heard the four speakers on campus during the week." The article also notes that "a good number of University students present cut their classes to hear Dr. King." 
For those who seek to honor King's memory, the Hawaii Martin Luther King, Jr. Coalition is hosting the "Dr. Martin Luther King, Jr. Parade & Unity Rally." According to the event's Facebook page, it starts at Magic Island and ends at Queen Kapiʻolani Regional Park.
The event will begin at 9 a.m., with organizations forming up at 7:30 a.m., before concluding at 4 p.m. The Unity Rally will feature "music, dance, poetry, art, food, community booths, playground and camaraderie into the afternoon." 
For more information, please see the parade's Facebook event post.