Using inventive methods to convey the relationship between mind and matter, ceramic artist Wayne Higby draws on landscape in his work displayed in "Earth, Sky, Time, Light, Space: The Ceramic Art of Wayne Higby," an exhibition being shown in the University of Hawaiʻi at Mānoa's Art Building until Feb. 17.
Having grown up in Colorado Springs, Colorado, Higby's surroundings as a youth helped to shape his art.
The influence of landscape is clear in his work, from the rivers and bays depicted on his smaller ceramic pieces to the large-scale "EarthCloud" – which features 12,000 hand cut tiles – on display at Alfred University in New York, where Higby teaches. Photos of "EarthCloud" are part of his exhibit at UH Mānoa.
Higby has taught at Alfred University since 1973, and said that with teaching comes "a powerful experience of permission and encouragement." Surrounded by artists, he uses this positive environment to fuel his work and combat doubt. "There's a permission to keep going," he said. "We do it for each other." While Higby recognizes that doubt is often a challenge artists face, he believes it can be used positively. "Doubt is the springboard," he said.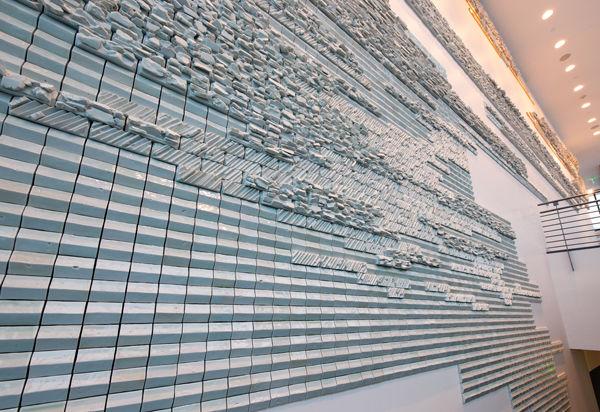 Higby's journey in teaching started as a result of his traveling around the world for several months at the age of twenty. "I saw so many things but also realized I had some opportunity . . . The kind of opportunity that not everyone has," Higby said. Along with his role as a professor, he is now the director of the recently built Alfred Ceramic Art Museum at Alfred University.
Higby has also taught substantially in the People's Republic of China. As a result, he was named an Honorary Professor of Art at Shanghai University and was the first foreign national to become an Honorary Citizen of Jingdezhen, a city famous for its porcelain. China's influence is evident in Higby's work. He incorporates celadon glazing in his pieces, which produces a jade green color. This type of glazing originated in China before spreading to other parts of Asia. Higby also incorporates the raku technique, which evolved from its roots in the sancai technique of China. Raku pieces are made using short-firings and were traditionally used in the Japanese tea ceremony. However, Higby's work was "never meant to be utilitarian," but is instead "emotional, visual, and intuitive."
"All artists work as autobiographical," Higby said. He explains that everyone is limited by a physical boundary, a body, but there is also a "spiritual, mental, or intellectual space" people occupy. Through his work, he seeks to relate to the human condition beyond its physicality. "We have imagination," Higby said. "To experience art you have to give yourself up to be present."