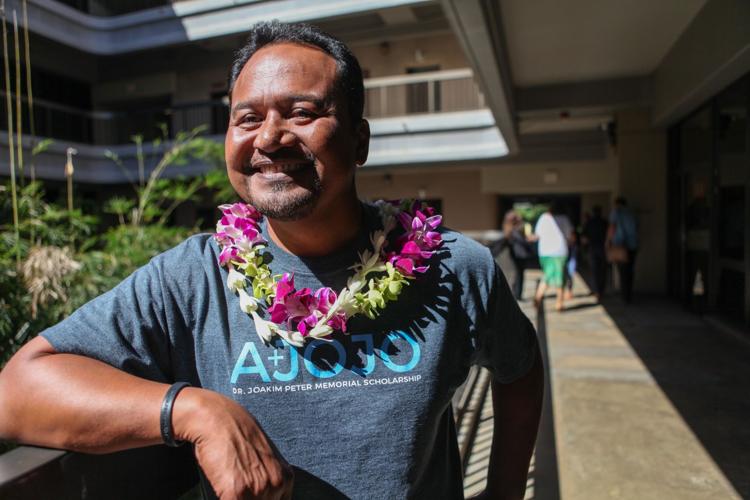 Vidalino Raatior, a professor at San Jose State University, spoke to 20 students and faculty at the University of Hawai'i at Mānoa on Oct. 28 about his journey as a scholar while reflecting on the Micronesian youth learning in American schools.
He asked everyone one question: What does success look like?
Raatior said in the American education system that success is defined by going to college immediately after graduating from high school. He wants to debunk that, and encourage Micronesian students to attend college when they're ready.
"I wanted to be a role model for other Micronesians to strive for their goals," Raatior said.
Early life
The mentality to strive for education was heavily pushed by Raatior's family. He didn't learn how to speak English until he got into the American education system with a little help from some of the 1980s TV shows. 
Raatior had a long educational road. As he grew up on the state of Chuuk in the Federated States of Micronesia, he traveled across the Pacific Ocean working toward his doctoral degree.
He received his bachelor's degree in communications at the University of Guam, a master's in school administration from the director of the Pacific at the University of San Francisco. Finally, his doctoral degree in education at UH Mānoa. 
Raatior taught at Xavier High School in Chuuk, worked at UH Hilo as director of the Pacific Islander Student Center, and currently teaches at San Jose State University. 
Raatior noticed his culture slowly slipping away when he was in New York. He said he vividly remembers noticing homeless people in the subways to ignoring them like the rest of the population.
To break a bad habit, he conducted a social experiment for school work by becoming homeless himself. With only his ID in his pocket, Raatior slept in the subways during the winter.
"I needed to reclaim my humanity before I went back to teach Micronesians students."
Micronesians in higher education
Micronesia is geographic region on the far west of the Pacific Ocean that encompasses the Republic of Palau, Guam, the Commonwealth of the Northern Mariana Islands (Saipan, Tinian and Rota), the Republic of the Marshall Islands, the Federated States of Micronesia (Pohnpei, Chuuk, Yap and Kosrae), the Republic of Kiribati and the Republic of Nauru. 
Through the Compact of Free Association, a strategic military agreement between the U.S. and the Republic of Palau, the Republic of the Marshall Islands and the Federated States of Micronesia, members of these nations can legally immigrate to the U.S. visa-free for healthcare, education and other services.
But the COFA funding is set to expire in 2023. If not passed, some of the funding that initially goes to K-12 schools will be cut with a possibility of teachers laid off.
Raatior said Micronesian parents will have no other choice but to send their children to schools in the U.S.
In Hawai'i, one of the challenges Micronesians face is stereotyping and discrimination. 
Raatior said that younger Micronesians do not want to identity as such because of the negative connotations.
"If you ever see a student and they say that they're Micronesian, know that it's a struggle for them," Raatior said. "So lessen that (struggle) by asking them 'which island?'"
During his presentation, Raatior compared two photos, canoe house and a school, which he called a cement building, in Chuuk. He said students are taken away from their culture and to learn a foreign culture to relearn a different type of education.
"The wrong approach is taking students away from these really cool and comfortable huts and put them into cement blocks, educate them so we can send them away," Raatior said.
To move forward, Raatior said to encourage college graduates in the diaspora to teach in their home islands, build strong community and language and develop a backup plan incase the funding for COFA is discontinued.
"A good educator is not just passing on knowledge, but that teacher is pulling out knowledge in a student what they already know and making connections with what the teacher is trying to pass on. 
Inspiring youth
As students and faculty keen in, UH Mānoa social work major Austin Haleyalpiy, sat close to Raatior.
"It puts things into perspective for me. It reminds me to be humble and stick to my roots, it reminds me  that my people have sustained for so long without 'formal education', it reminds me that even I should obtain a degree, that is not necessarily a measure of my success," Haleyalpiy said.
"For me, being successful means that I can sleep at night knowing that I have given back to my community. Success to me, means I can sit and enjoy a drink knowing that my family is OK and that  I am continuing to do my part."
In a room full of UH faculty and students, Micronesian students were not the only ones to attend.
Solo Togiaso, a Samoan Pacific Islands Studies major at UH Mānoa, related her identity and struggles with Raatior's experience.
"He really raised some important issues that relates to me," Togiaso said. "He shared in his presentation on how important it is for Pacific Islander students, whichever island your from, to know that you belong to these spaces (higher education). It encouraged me to continue my education, but also to never forget where I come from."