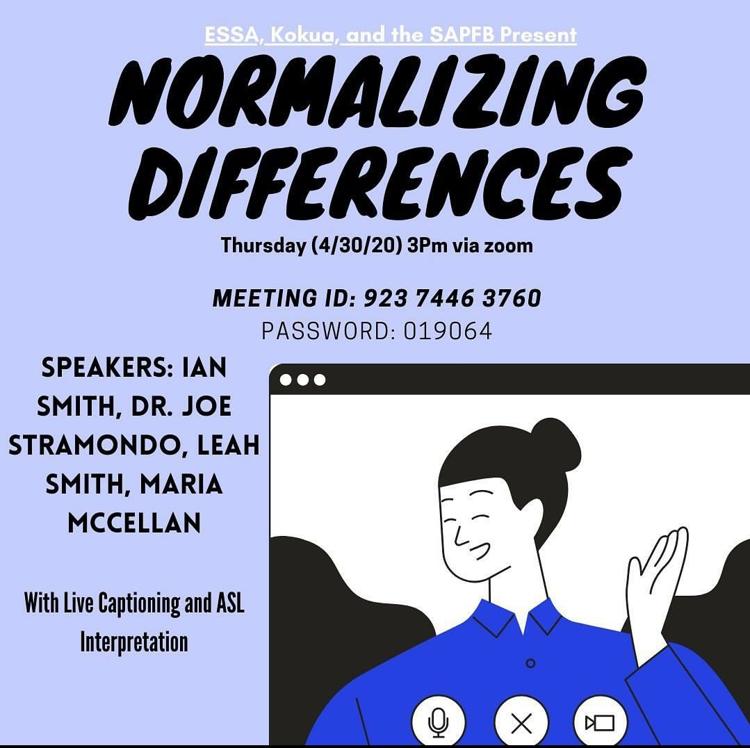 University of Hawai'i at Mānoa junior, Ethnic Studies major and Ethnic Studies Student Association president Maria McClellan has always been outspoken about her physical disability. 
"I don't have any filter when it comes to medical things," McClellan said. 
McClellan has Morquio syndrome, which, according to the Children's Hospital of Philadelphia, is a rare inherited birth defect that affects how the body breaks down glycosaminoglycans, or sugar chains, that aid the building of things like bone, skin and connective tissue. This causes glycosaminoglycans to collect within the body and cause damage overtime. 
Even though Morquio is considered a birth defect, McClellan wants to point out that it does not occur as a result of delivery. 
McClellan has talked about her disability for many years, starting in the third grade when she missed the first month of school due to surgery. 
"My teacher was getting a lot of questions (from my classmates) about 'What happened to Maria? Why wasn't Maria here?,'" McClellan said. "She asked me if I'd be willing to talk to them about why I was absent for so long. It was the first time I've been ever asked about my disability because it's progressive."
From then, McClellan continued talking about Morquio throughout her schooling and established a conference about the syndrome, which has recently gotten its "non-profit" status officialized. 
Although she is open to talking about Morquio, McClellan has not seen a strong presence within the disability community. 
"I don't really know a whole lot of people with disabilities, necessarily. I'm originally from the mainland so it's a little different but here, there's a strong community sense but I don't think it is there within the disability community,"  McClellan said. "We have to integrate the two communities together. I wanted to bring both sides of that together."
It was this observation and passion for normalizing disability that inspired her to organize "Normalizing Differences," a round-table event that took place on April 30 via Zoom. 
"For me, it was wanting to, in a way, celebrate or acknowledge that we all have differences, even if you don't have a disability. We should celebrate that; we should accept that. That should be the norm instead of it being stigmatized," McClellan said. "I use a wheelchair. I have a service dog. I have all these other things on top of it. That shouldn't really be a sore thumb out there. I just always envisioned just being out there - and not being like 'Oh my god, you're out in public? What are you doing out at the store alone?' That should never be a question because you don't ask that of anybody else."
The event was presented by ESSA, UHM's Kokua Program, and the Student Activity & Program Fee Board and featured speakers Ian Smith, Dr. Joe Stramondo and Leah Smith, with McClellan as the moderator. It also had Communication Access Realtime Translation, or CART, and an ASL translator. 
Taking steps to normalize differences 
Despite being the moderator, McClellan felt the conversation came more naturally. 
"I didn't really feel like I was necessarily the moderator because the three other speakers that were there were people I know. It felt like a conversation more than anything, from my point of view," McClellan said. "I shared (the event) on my Facebook; they shared it on their Facebook. I wasn't expecting anybody from the community to join in at all. It became much different than I thought." 
Ruben Campos attended the event. He recently received his doctorate in anthropology and is a graduate assistant and instructor in the Ethnic Studies Department. 
Campos believes the event was powerful and a great resource for those who seek to be allies of communities they are not a part of.
"As a person who doesn't identify as disabled, it was an amazing event to be a part of. Largely because as being part of (ESSA) for years, I've always engaged with communities and organizing and activism - with communities I don't belong to. Just trying to excel at being an ally to many groups," Campos said. "I think it accomplished its goal of normalizing difference, not by beating the same nail on the head of the pathological or the view that doctors have on disabilities. There was a lot of stuff that wasn't meant for the wider audience, like ethnic studies and the non-disabled audience, that made it much more lively and powerful." 
When asked about what she hoped participants took away, McClellan said she hopes that people are more aware and acknowledging of those with disabilities, as well as know the importance of destigmatizing differences. 
"More acknowledgment that we exist and awareness. At this event, I tried to make it as accessible as I could. I had a sign interpreter and CART where they typed whatever was being said. Those are things that nobody thinks about but it helps to add accessibility," McClellan said. "I just hope people are more aware of their surroundings in their day-to-day life."