Fashion happens 24/7. Pictured are three suggestions: an outfit to workout in, an outfit for going out in the day and one for going out at night. Sometimes it's difficult to pull a whole outfit together, but with the right accessories, it's quite easy.
______________________________________________________
MORNING FASHION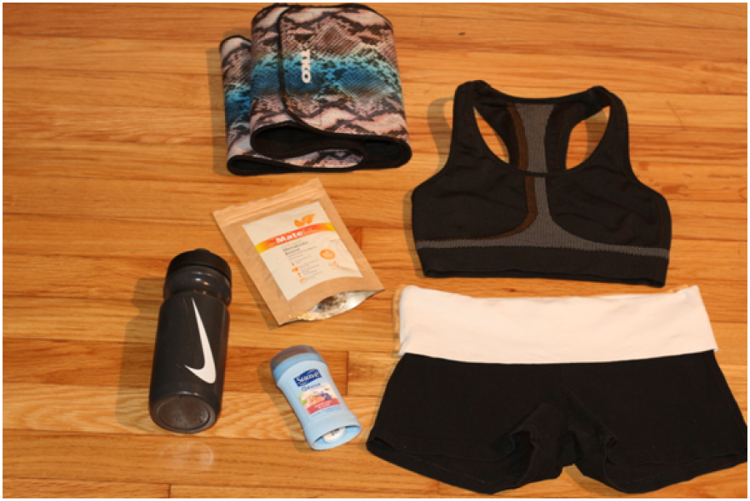 Nike: Water Bottle & Belly Wrap
Ross: Bellyband
Longs: Deodorant
Forever 21: Contrast Yoga Shorts
Oakley: Sports Bra
MateFit: Metabolism Boosting Tea
Fashion begins with confidence in your body. I like to start the day with a workout, and cute workout clothes help! Eating healthy is the new craze, and many of my friends have been posting pictures of detox teas such as TinyTea and Queen B Detox.
I decided to try out MateFit. A cup of the metabolism-boosting tea is consumed after breakfast and lunch, and the detox tea is taken after eating dinner. I think it's definitely helping my digestive system. I really like that it gives natural energy without the negative effects of drinking coffee or energy drinks in the morning. I've stocked up on a lot of Forever 21 workout gear (contrast yoga shorts pictured), and I like to pair them with a sports bra. I've also been trying out a bellyband from Ross that supports weight loss in the tummy area while also providing back support.
______________________________________________________
AFTERNOON FASHION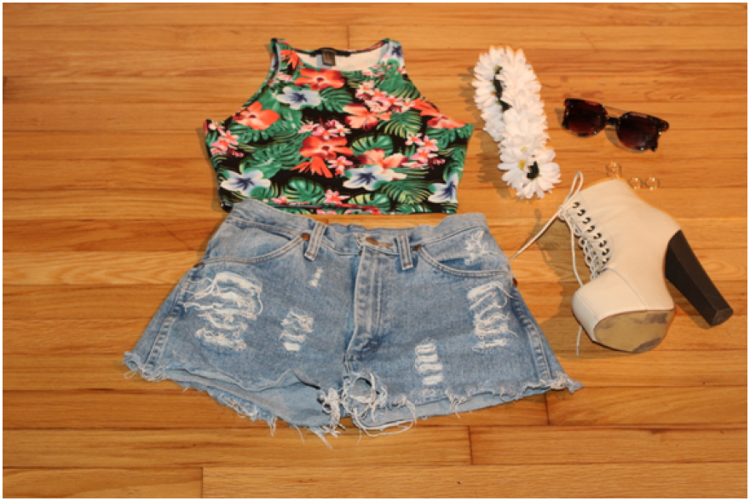 Forever 21: Floral Crop Top & Floral Sunglasses
Ebay: Distressed High-Waisted Shorts & Imitation Jeffrey Campbell Lita Platform Shoes
Tee's: Flower Headband
I am in love with crop tops paired with high-waisted shorts or skater skirts. This crop top by Forever 21 just came out, and I love it! Circle sunglasses like the floral print ones I got from Forever 21 are currently trendy.
From Ebay, I scored a Jeffrey Campbell imitation of the Lita platform heels. In addition, I got a high-waisted denim shorts and distressed them myself*. I also made the headband for that extra spring look.
*Be on the lookout for a make-it-yourself high-waisted shorts DIY!
______________________________________________________
NIGHT FASHION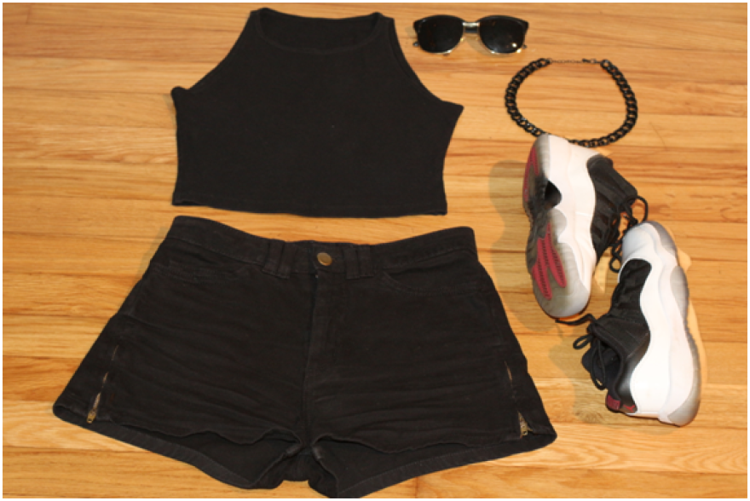 Forever 21: Crop Top & Chain Necklace
American Apparel: High-Waisted Shorts
Nike: Air Jordan Retro 11 Low XI Reverse Conord Tuxedo
Ebay: Sunglasses
Although I'm so short (4-foot-11) and should be wearing heels for extra height when I go out, my feet can only handle wearing chunky heels or Nike shoes. I am definitely a fan of wearing all-black everything since it's so easy to style up or down.
Pictured is a crop top and chunky necklace from Forever 21. Also pictured are high-waisted shorts by American Apparel. I love pairing this short with crop tops or bodysuits.
"Be fierce. Be fashionable. Be fun."
XOX,
Taryn