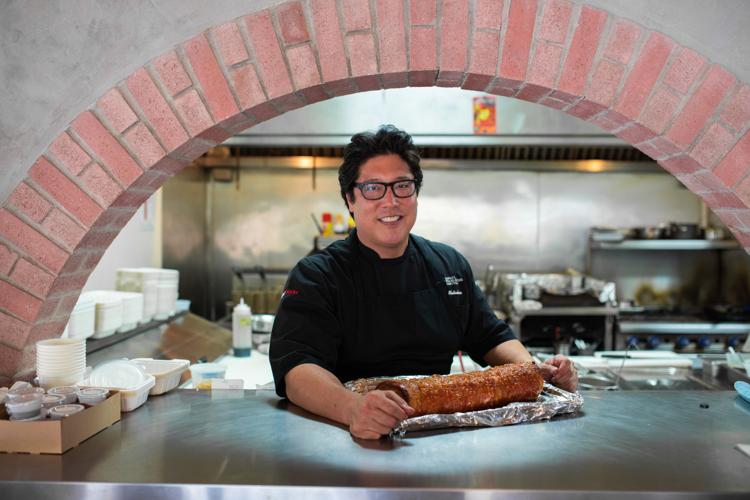 When chef Jon Matsubara opened Feast in Mānoa, he said it was the most terrifying thing he has ever done. As he transitioned from opening and running five-star restaurants to owning a smaller 40-seater business in Hawaiʻi, Matsubara is focused on offering the Mānoa community well prepared, local fusion food at a reasonable cost. This includes $5 Fridays for University of Hawaiʻi students, which Matsubara said will be offered within a month.
"I always believe that we can serve the same level of cuisine, and not have to charge an arm and a leg for it," Matsubara said.
Guests can expect a homey welcome when entering the restaurant. The light gleamed on the Spanish-style tile floors as the restaurant presents a fast casual concept of over-the-counter servers. 
It's overarching walls place a "travel to Europe" vibe. The walls are decorated with Japansese-style paintings to showcase local artists in Mānoa. 
The restaurant's motto–"Refined Grinds."
"We wanted to create a dining room that's kind of like my house," Matsubara said. "It's eclectic, it's kind of Mediterranien that meets Japanese paintings, that meets a local boy cooking in the back."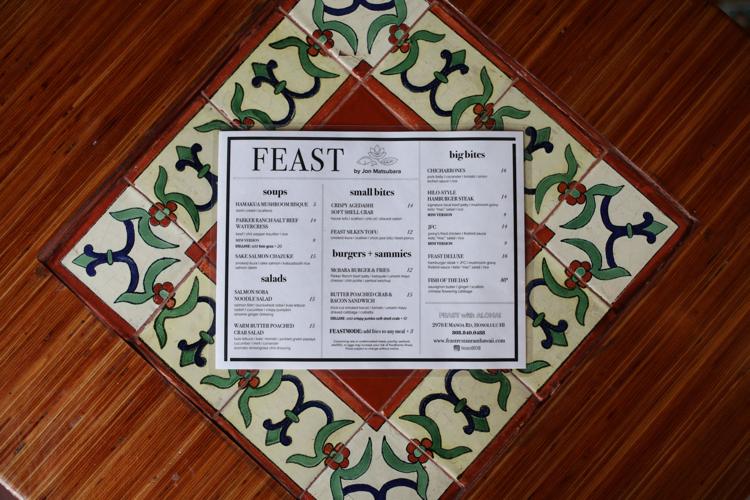 The menu is direct: soups, salads, small bites, burgers, sandwiches and big bites.
Matsubara suggested on of his favorites for first-timers the chicharones ($16). It is a crispy, tangy pork belly that is crunchy on the outside and soft on the inside. 
Matsubara described cooking the pork belly as a day-long process. The chicharones is sous vide (vacuum sealed and cooked for 24 hours until tender). Then it is rolled, tied, cooked, then deep fried and prepared for tomorrow's customer. 
Another one of Matsubara suggested items is the butter poached crab and bacon sandwich ($15). It is served with a thick cut, apple smoke bacon. The butter poached crab is prepared with white wine, garlic and shallots. It has a savery, melt-in-your mouth effect after each bite. 
The Hilo-hamburger style steak ($14) uses meat from Parker Ranch on Hawaiʻi Island. It has a loco moco approach, topped with sweet onions and gravy.
Each serving comes with a side of rice and keto mac salad (cauliflower with umami mayo).
Matsubara is currently working on the $5 Fridays menu, which will consist of chili and fried chicken in a bowl of rice ($5). Other foods that may be added to the menu are tacos and hamburgers.
From reading legal cases to cooking cuisines
Matusubara felt the pressure to become something at a young age. He came from an attorney family and he thought "why not."
It was not until he went to law school and read a case that he had no interest in, that he realized that law was not for him.
"I gotta switch the tables, and find something that I'm passionate about," Matsubara said.
After law school, he applied at Roy's and Alan Wong's. They laughed at him for not having any experience working in a restaurant or going to culinary school, but this young local boy in an aloha shirt at the time was persistent. 
Both restaurants started him off as a part-time dishwasher. From there, he goes to see how the sauce was made and other behind the scenes at two of Hawaiʻi's well-known restaurants at the time.  
After, he worked with Wong for three years and finally had a mentor. 
But Matusubara wanted to experience more in the culinary business, so he bought a plane ticket and took a ride to what he called food city – New York. He even worked there until Sept. 11, 2001.
After running and observing how to cook cuisines and the business aspect, and from there he returned to the islands opening and running Azure at Royal Hawaiian hotel Waikīkī, Japengo at Hyatt Regency Waikīkī, Forty Carrots restaurant in Bloomingdales at Ala Moana and Merrimans at Kaka'ako.
Now that he owns his first restaurant, Matsubara wants to give back to the community he grew up in.
"You have to prepare to give up who you are for what you can become," Matsubara said.