Are you a daredevil craving the rush of adrenaline or a fear-facer looking to get out of your comfort zone? Here are some gnarly jumps around O'ahu to feed your need.
SAFETY TIPS
First off, never go alone. Plan your exit before you jump. Jump feet first and as far out as you can. If you are jumping from higher than 20 feet, you should keep your body tight, your arms close and your feet together to break the surface tension and minimize the surface area that strikes the water first.
Jumping into the ocean: Pay attention to the tide and watch for waves. Have an experienced spotter tell you when to jump.
Jumping into freshwater: Make sure you don't have any open cuts, as leptospirosis bacteria may be present in the water.
Most importantly, if you step up to the edge and start to panic, remember that you do not have to jump. Do not let anyone pressure you into something you don't want to do.
Waimea Bay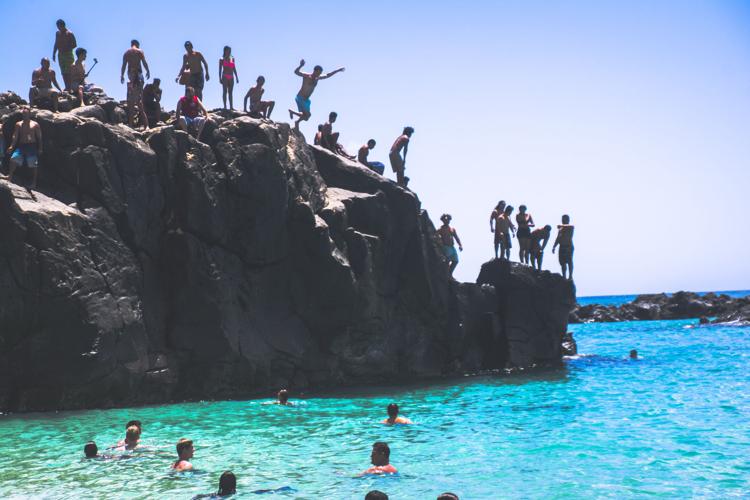 The famous rock stands about 20 feet tall, though there are shorter ledges around the rock as well. This is a hotspot throughout the year, but you will definitely see a crowd of people hanging up there during the summer when the swells are low on the North Shore. With an easy climb and an easy exit, this jump is great for anyone. It may be intimidating to jump with so many people watching, but they are generally very friendly and supportive.
Kapena Falls
Kapena Falls is located in Nu'uanu, right off the Pali Highway. You do not have to work hard to get here as the trail is not long or much of a hike at all. The waterfall itself is a good 20-30 feet high. There are smaller ledges to jump from, around 10-15 feet and a higher, 35-foot jump from the very top.
Spitting Caves
Very experienced jumpers might check out this 60-foot drop into the ocean. With a sick view of the deep blue, you might check it out just to watch the jumpers or the waves crash up on the cliffs. Timing your jump is very important and even strong swimmers should beware of the currents and waves here. People have been reportedly pulled out to sea and pushed into the cave below. 
La'ie Point
You may remember the scene from "Forgetting Sarah Marshall" where Mila Kunis and Jason Segel jump into the ocean and share a kiss. This 30-45-foot jump is beautiful, but you should probably take more caution than they did. The current here can pull or push you, so paying attention to the tide and the waves is important. Definitely don't do what Segel did.
China Walls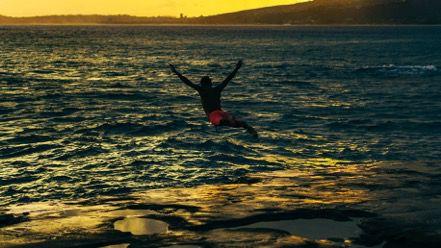 This spot near Koko Kai Beach is great for all levels of experience when the tide is low. You can run into your 15-20-foot jump and there is a ladder you can use to climb back. China Walls is also a popular hangout spot to just picnic on the rocks while watching surfers. Try not to get caught on the wall when the surf's up as the waves can take you out.
Maunawili Falls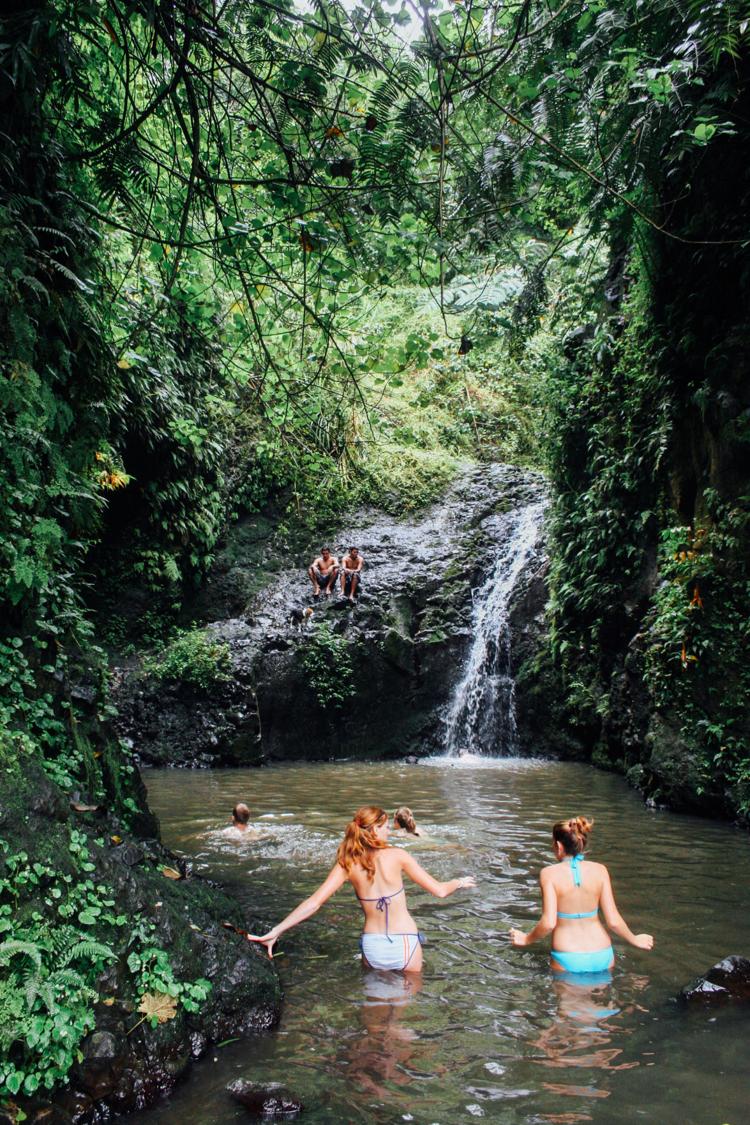 At the end of the Maunawili Trail in Kailua is a deep pool with a small, 20-foot waterfall. You'll have to swim across the small pool and hoist yourself up to reach the easiest jump, about 10 feet high. After the hike, the cold water will feel refreshing and welcome. There are two or three other ledges ranging from 30-40 feet high that you can jump from if you dare to climb up the sides of the waterfall.
Disclaimer:
Cliff jumping is a dangerous activity and should be done at one's own risk and with one's own abilities in mind. Weather conditions, tides and currents can increase the risk of injuries and death and many of these jumps do have a history.