Four big on-campus events this upcoming fall semester
The University of Hawai'i at Mānoa can be a large school to maneuver at times and many new students may get lost in all the new information. Here are four major events happening on campus this fall that may help you meet new people and enrich your UH experience.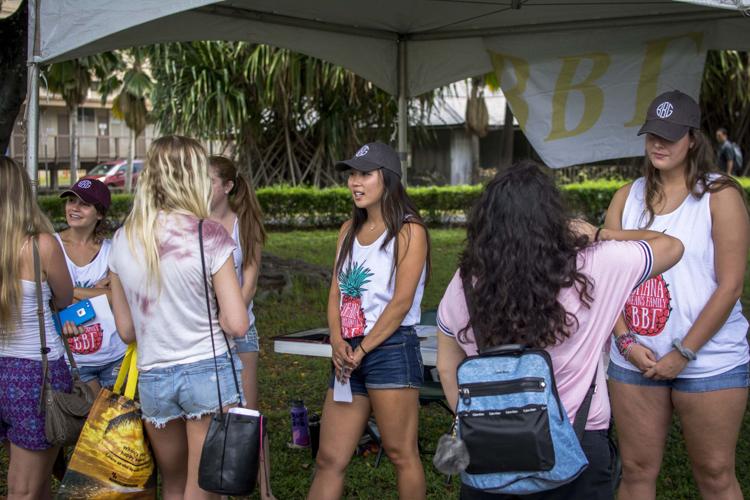 Greek Life
As of fall 2016, UH has three sororities: Alpha Gamma Delta, Beta Beta Gamma and Phi Mu. Additionally, there are two fraternities: Kappa Sigma and Tau Kappa Epsilon. 
Greek life is a way to meet other students as well as serve the community and help build a networking system. The emphasis of these sororities and fraternities is to get involved in the community. They also spend their time engaging in philanthropy, serving the community and raising money for charity. Several members hold scattered leadership positions on campus such as being part of Associate Students of the University of Hawai'i at Mānoa (ASUH). These organizations will be tabling the first two weeks of the semester at Campus Center.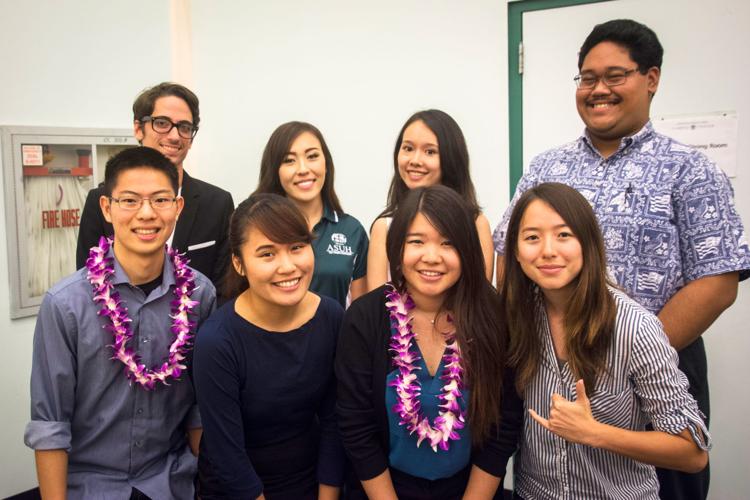 ASUH Fall Special Election
The Associated Students of the University of Hawai'i (ASUH) is the student body government here at UH. For those who were part of student government in high school or want to take on a leadership position, the ASUH election is a great opportunity to do so. Many members of ASUH have gone on to have great careers in politics, such as the late K. Mark Takai. ASUH is a great platform where you can do a lot for your community and get involved with the UH student body.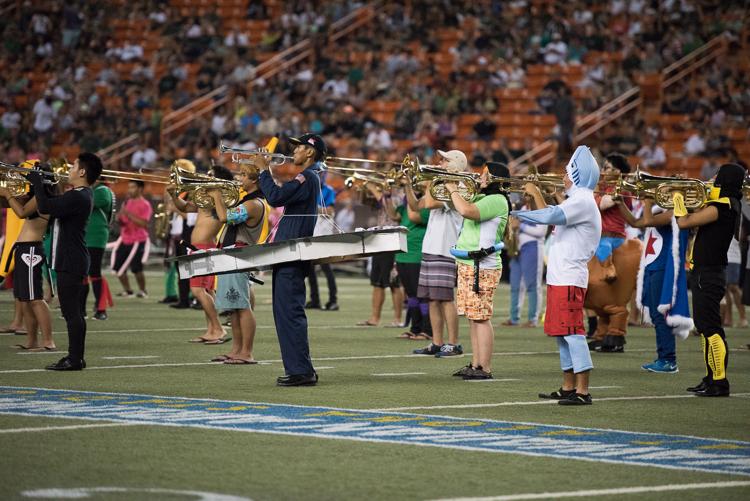 Homecoming Week
Homecoming is a celebration of our past as well as our future. From welcoming back our alumni to campus to the pep rallies leading up to the football game that weekend, homecoming is where all Rainbow Warriors come together and celebrate another year at the University. This year's homecoming football game is on Saturday, Oct. 15 as the UH football team takes on UNLV at Aloha Stadium.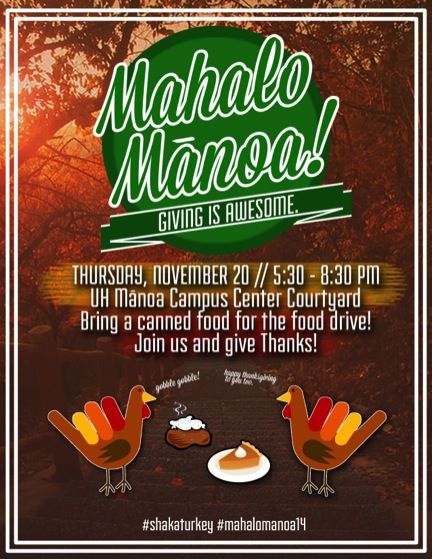 Mahalo Mānoa
This fall, many students may be experiencing their first Thanksgiving away from their family.  For these students, ASUH hosts a canned food drive and Thanksgiving dinner that students may participate in. 
Food, live entertainment and prizes will be provided for all full-time undergraduates with a validated student ID. If you love Thanksgiving and contributing to the community during the holiday season, then this event is for you. All the cans collected will be donated to Hawai'i Food Bank.
There are multiple events happening this semester at UH Mānoa. With over 250 Registered Independent Organizations (RIO) and five different Chartered Student Organizations (CSO), there are a variety of clubs and organizations to look into as well. For more information about events and organizations happening around campus, visit the Student Life and Development office at Campus Center Room 208, or visit their website.