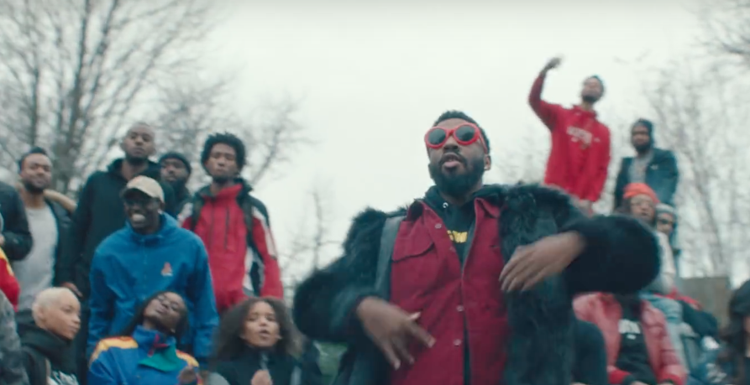 DeAnthony Carlos, also known as GoldLink, is a rapper from Washington, D.C. The 23-year-old artist captures the story of how black culture survived in the District of Columbia during a period of rapid gentrification. His father introduced him to go-go: a funk genre that originated in the D.C. area during the late '70s. He incorporates go-go in his latest album, "At What Cost," featuring artists such as Wale, Shy Glizzy and Kaytranada. GoldLink is making his mark in the hip-hop world and bringing a new sound to the music scene. 
GoldLink brings high energy to his performances. During one of his sets, he incorporates Nirvana's "Smells Like Teen Spirit." Though the song is not hip-hop, its popularity still makes crowds go wild. He stomps the stage and plays his air guitar as the crowd does the same. With his swift dance moves and how he controls the mic, there are no pauses in his flow. 
When his rapping skills transition into smooth R&B, the crowd becomes engulfed in the sound. His diversity in music reflects his raw talent. One cannot pinpoint a specific genre to compare GoldLink to, since his sound is constructed of a little of everything.  
With go-go, it is easy for anyone to find their own rhythm with the beat and dance the night away. Bring a friend and get lost in this new artist's vibe. By the looks of his growing popularity, he is not going to fall from fame soon. For those who want to get hyped, GoldLink has already released some songs, including "Crew," "Herside Story" and "Pray Everyday (Survivor's Guilt)" that fans can mosh to and rap along with.  
GoldLink is scheduled to play his first show in Honolulu at the Republik on April 3, presented by BAMP Project, with ticket prices starting at $32.50. There are also tickets available for the VIP experience, priced at $82.50. The package includes one concert ticket entry, a meet and greet and photo opportunity with GoldLink himself, one signed tour print and a VIP laminate. The concert is open to all ages, and minors must be accompanied by an adult. 
Tickets can be purchased at The Republik Box Office, Local Motion Stores, Navy and Hickam ITT offices, Army LTS offices and at the University of Hawai'i at Mānoa Campus Center Ticket, Information & ID Office. For more information on the show, visit the BAMP Project's website at bampproject.com/goldlink.