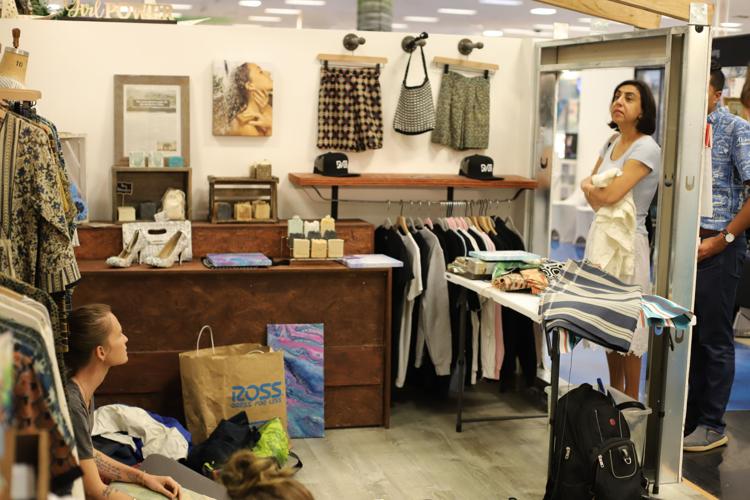 For Savannah Adler, a senior with the Fashion Design and Merchandising Program at the University of Hawai'i at Mānoa, hearing "333 Ward" on the radio was the beginning of Haumana Hale, a student-run business. 
Adler, along with UH Mānoa students Benjamin Revord and Rose Wong, began the business after hearing that Ohana Hale Marketplace was looking for student-run businesses to hold their small businesses there. Ohana Hale Marketplace subsidizes the space to Haumana Hale and asks for a one percent commission on all sales, given that they are a student run business. After recruiting multiple students and talking to management, Haumana Hale was on its way to being launched. 
Haumana Hale continues to bring in college students who are passionate about starting their own businesses and sharing their art and products. Haumana Hale also works with recently graduated students to help them get a taste of running a business. "(Recent graduates are) looking for a place to learn how to be in the market," Adler said. 
Haumana Hale helps to prepare graduates just coming out of college who have little to no business experience. Artist Mae Waite, a recent art graduate, has been learning how to help run a business to share her art. Her art is also shown and available for sale at Haumana Hale. 
Raina and Rhema Wong, sisters and students at the UH Mānoa, hold their sustainable use product business R Planet at Haumana Hale. Shoppers can find coral-safe sunscreen, reusable straws, reusable toothbrushes and other planet friendly products at the store. Other students such as Ezekiel Bernardo-Flores, Revord and Adler have their own clothing lines all having distinct, new styles. Bernardo-Flores' brand, Burnt, consists of burnt thrifted items, while Revord and Adler's brand, We Are Worthy, seeks to influence and educate others about eco-friendly clothing. 
Revord and Adler talked about how different vendors and small local businesses work together to support each other at Ohana Hale Marketplace.
 "You either learn what you don't know or you want to learn more," Adler said. 
The students who work at the store are also involved in student-run engineering clubs including Hawaii Student Entrepreneurs and Fashion Art Business.
"There is no barrier that you need to cross, you can just join us," Revord said.