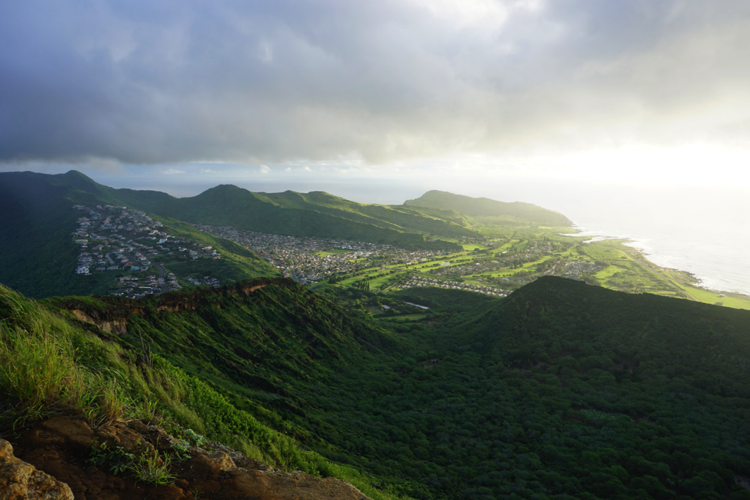 For those who are unfamiliar, Koko Crater Railway is a 1.5 mile out-and-back hike located in Hawai'i Kai. It's infamous for its sharp incline gains and steep stairs. 
The trail follows an old railway, and the "stairs" are made of old wooden planks.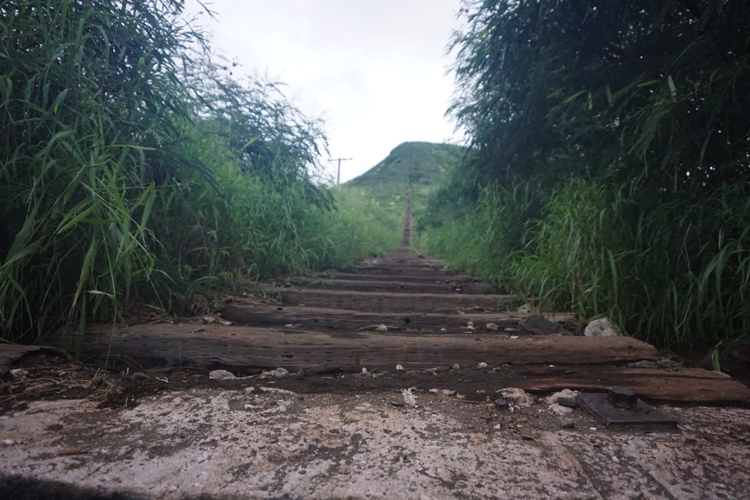 The incline gains can be split into three pieces. During the first third of the hike, the incline gain is moderate but not too difficult. The hike becomes more strenuous during the second portion. In this section there is a small plank bridge that marks the beginning of the third portion, which contains the steepest incline of the entire hike. It's common to see hikers taking rest breaks here before reaching the top.
Since this hike is popular, here are tips for protecting one's knees during the steep descent.
Spend time strengthening the muscles around the knees.
Jimmel Dumas, a physical therapist at the Ka Punawai Ola assisted living facility, said having strong quadriceps and hamstrings reduces potential knee injuries by keeping the knees stable.
 "The one thing I think is going to really help with Koko Head is doing eccentric contraction exercises," Dumas said. "Eccentric contractions are when the muscle elongates as it contracts. Injuries on stairs most likely occur when you are coming down, during muscle elongation."
 A contraction exercise that can help protect the knees is the Nordic Hamstring Exercise. The hiker kneels on a pad with a spotter securing the hiker's ankles, then slowly leans his or her chest forward toward the ground. The hiker uses his or her hamstrings to control their forward momentum. Once reaching his or her max forward distance, the hiker uses his or her hands to push up from the floor, ending up back at the kneeling position to repeat the process over.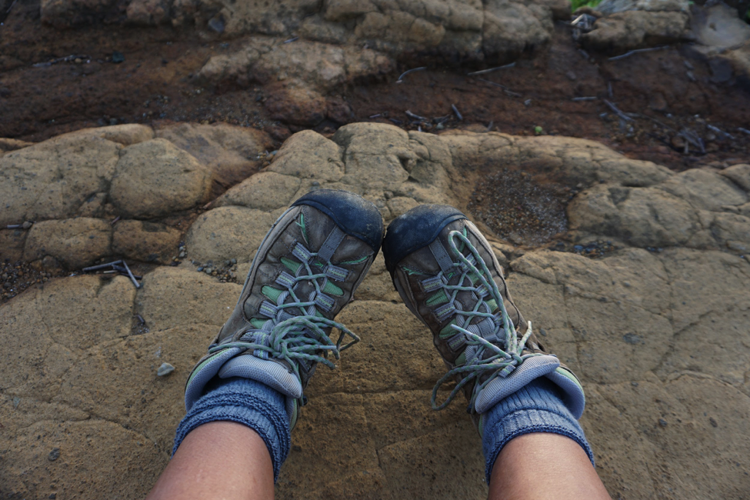 Another tip to help protect knees during a hike is to have proper gear.
 "I would definitely recommend a brace or athletic tape," Dumas said. "A brace would be easier, though, because an athlete just slips it on. Athletic tape, on the other hand, is more difficult for an inexperienced person to use properly."
Make sure to wear proper hiking boots. Although it's common to see people wearing running shoes on the Railway, hiking boots are the safer choice. Running shoes are ankle length and have more flexible soles. This provides less stability than mid-height hiking boots, which have ankle support to keep your legs stable and a thick sole to absorb extra shock.
Internally check your body at the end of the hike. Give yourself some time in the parking lot to feel if there are any nagging aches and pains in your knees.
There are an array of injuries that can occur, but, according to Dumas, there is a particular pain a hiker should look for. 
"The one thing I am really cautious of is the feeling of a catch in your knee. If you are bending it, and it kind of sticks, and there is a sharp pain, that could be a meniscus tear or something serious," Dumas said. 
Any aches and pains should be addressed, so no long-term damage occurs.
 "If you are dealing with joints specifically, you want to use ice. Heat is good for muscles. So if you have an overworked or tense muscle, you can wrap a heating pad on the afflicted area. If you have an inflamed joint, which typically occurs after wear and tear, you want to ice the area," Dumas said.
Regardless if a hiker favors the railway or not, no one likes an injury. The descent of the railway is especially difficult, and hikers should exercise caution when coming down. Keep strengthening exercises, proper gear and recovery in mind when attempting this hike.