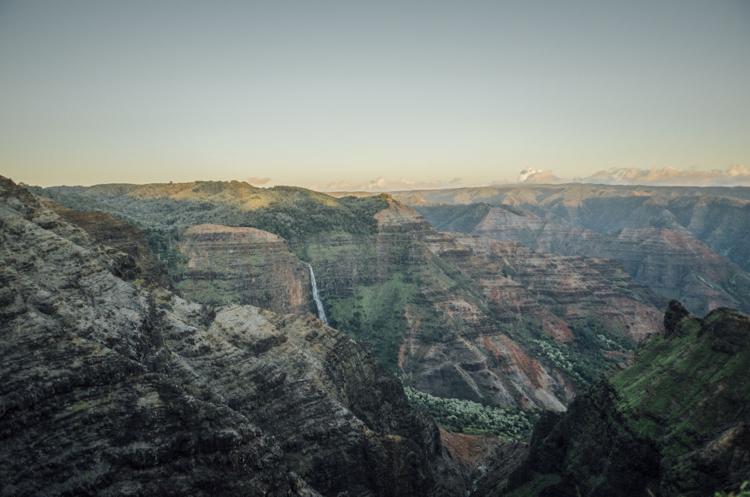 Spend a week on the Garden Isle and you'll be sure to come across wild chickens, single lane streets and plantation-style houses. Kaua'i sends its visitors to a simpler time period. It's a laid back lifestyle away from the city with a lot of plantation era influence. Although one of the oldest islands in the main Hawaiian Islands chain, Kaua'i has a lot to offer for a perfect spring break getaway. From foodie treasures to outdoor adventures, Kaua'i's adventure scene is as unique as the people living there.
Outdoor Adventures
Known for its mountainous terrain and lush floral landscape, there are surprise waterfalls and hikes with amazing views. It is an island perfect for the outdoorsy person.
A map of the island will show the circular highway route, but the best stops are usually the ones not shown on a map. If you know where to go, you'll have a quite memorable time on the island. 
Sleeping Giant Hike 
A popular hike on the east side of the island is the Sleeping Giant hike in Wailua. There are three different entry points to trails on the mountain and intensity levels vary depending on which trail you do. Ask any local for the Wailua Houselots or Homesteads entrance, and you'll be sure to find your way. 
As local legend goes, there was a giant. He was a friendly giant who helped the Hawaiians build lo'i (taro patches) and other things they needed help with. One day, he ate too much food and decided to take a nap, where he remains sleeping to this day. If someone were to look at the mountain and use some imagination, he or she could visualize the giant sleeping on his back. Don't worry, these hikes are safe and the giant won't be waking up anytime soon. 
"End of the Road" - Ke'e beach and Kalalalu hiking trail
If you're on the north side, drive past Hanalei and begin your north shore adventure at the end– the "End of the Road," as locals call it. Here, the highway comes to a literal end but this is the only a gateway to beautiful scenery. 
This is your entrance to Ke'e beach, a favorite spot for watching the open ocean's big waves crash along the Nā Pali, or admiring endangered monk seals resting on the shore. It is a lifeguarded beach protected by an off shore coral reef, so swimming is recommended here, provided the outer ocean isn't too rough. 
The end of the road is also the beginning of the Kalalalu hiking trail, an 11-mile trail with stunning views of a pristine mountainous coastline. It stretches from Ke'e beach to Kalalau beach, with a stop at Hanakapi'ai beach along the way. This is one of Kaua'i's harder trails, but the views are definitely a reward for the effort. This trail is the only access point for the rugged Na Pali coast, and the photos you'll take are sure to make your Instagram followers jealous. 
Maniniholo Caves
Also on the north shore, the Maniniholo Wet and Dry caves are an interesting stop. Two separate caves– one a mysterious lagoon style, and the other, a dark deep sandy cavern. There are several different tales about the dry caves, but one folklore has it that someone in ancient Hawai'i buried treasure within the walls of the cave. 
Although just an island myth and treasure hasn't been found in either the wet or dry caves, they are definitely interesting sights to see.
Waimea Valley
Travelling to the far west will reveal the Grand Canyon of the Pacific: the Waimea Valley. The terrain of the west side will make you feel like you're in a completely different place. Here you can travel up to the famous Kalalau lookout, or go camping at the serene Koke'e state park. (Be sure to get your camping permits first.) Zipline tours and mud buggy companies offer great packages. 
Wailua Boat Tours
Another island treasure is the Wailua Boat Tours where you will be ferried up the Wailua River to the hidden fern grotto. According to the song Beautiful Kaua'i, this is where Mother Nature made her home.
Time to Eat
Po's Kitchen
While exploring Kaua'i, you'll definitely work up an appetite. A local favorite, located right in the heart of Līhu'e, is an unofficial island landmark. Po's kitchen, famous for its box lunches, is the go to place when hunger hits. 
When locals see the famous white box, they immediately know its Po's. Order a deluxe plate for just $9, and you'll get fried chicken, shrimp, teri meat, an eggroll and the works (two scoops rice and mac salad included). 
Village Snack Shop
Hungry on the north shore? Take a break from the lush taro fields and stop at the Ching Young Village shopping center and go to Village Snack Shop. Order one plate of Chili Pepper Chicken with mac salad and a drink, and you're set. 
Sueoka's
If you're hungry on the south side, travel to the historic plantation town of Koloa and stop at a hole-in-the-wall snack shop called Sueoka's. Located on the side of Sueoka's general store, the local food plate lunches are always a delicious choice. Finish it off with snow or shave ice at Uncles Shave Ice in the Kukui'ula shopping center before making a stop at spouting horn, or Po'ipu Beach. 
Kintaro's Sushi
If you want a fancier dinner, Kintaro's sushi in Wailua will not disappoint. The soft shell crab hand roll with a tin foil special will fill you up, but you cannot leave without eating a green tea ice cream pie. Layered green tea and vanilla ice cream on an Oreo cookie crust with whip cream and a caramel drizzle is a dessert unique to Kintaro's and a definite must have.