On the back of the cover pages of Dr. Stephanie Han's award-winning collection of short stories, ​Swimming in Hong Kong​, she often leaves a personal note: "Keep Reading, Writing and Dreaming."
With every lecture, she falls back on that advice, reminding her students that those three activities can sharpen the tools needed to start a movement. "I want to equip people with the tools to tell their stories," Han said. "Everyone has a story and that story can become their narrative."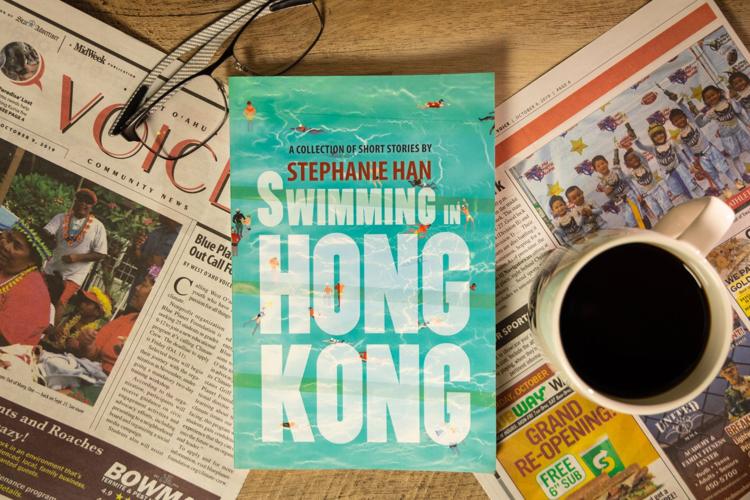 Stories are important to Han. In fact, ​Swimming in Hong Kong​ was her catharsis that gave us an intimate look at her life. Whether her stories with fictional characters read as foreign or familiar, the message always sticks. According to Viet Thanh Nguyen, author of ​The​ ​Sympathizer​, winner of the 2016 Pulitzer Prize for Fiction, "​Swimming in Hong Kong​ features precise and subtle meditations on cross-cultural experiences, from Asian Americans in the Midwest and Asia to women negotiating male-dominated worlds. Han gracefully traverses a complicated terrain fraught with the politics of race, sex, class, gender, and culture."
In literature, there are many barriers and leaps that educators need to guide their students to maneuver. Yet Han creates environments that often goes beyond that, creating spaces where her students feel comfortable to be poets, journalists— storytellers.
"Dr. Han's lecture was engaging, inspiring and also very entertaining," said George Chun Han Wang​, a ​professor in the Academy for Creative Media​ at the ​University of Hawaiʻi at Mānoa. "She created an environment where my students felt free to speak their ideas and dreams of becoming better storytellers​."
Over the years, Han has made connections around the world, telling her story and helping others do the same. We contacted three of her former students — Elise Pangelinan, Haley Nakamura and Connor Carson — to discuss how Han's tools have reshaped their perspective on education.
Keep Reading
Han came into Elise's life at a pivotal point in her academic journey. As a sophomore in high school at Island Pacific Academy, Elise knew she loved to read and write, but because no teacher had "taken the time to teach [her] how to academically read texts" she could never reach her full potential and "break the confines of surface-level ideas." It wasn't until Han "called her out on this problem" and introduced her to insightful analysis that she could truly read.
"I think the most important lesson I learned is that a book isn't just a world in itself; it is an artifact belonging to a grander scheme of ideas like human rights and mental health," she said. "Characters, however fictional they may be, are human and they speak to the audience with powerful messages."
Elise is now studying Biology and Comparative History of Ideas, with a minor in Entrepreneurship at the University of Washington at Seattle. Now, more than ever, her schedule is loaded with reading, but Han's lessons continue to resonate. She credits Han and her "​passion for English and teaching​" f​ or showing her "still more reasons to fall in love with books."
Keep Writing
The very first piece Haley needed to write in Han's class prompted her to discuss her personal beliefs and life philosophies. Initially she thought, "what does this have to do with literature?" But that's exactly what Han wanted her to do: to think. About everything. Constantly. "In other classes the world inside the story seems isolated and disconnected from the reader, Dr. Han emphasized that every story relates to, and is for the reader," she said. "With each piece I got to explore more about how I viewed myself and my place in the world."
Han's lessons and ability to help Haley look at writing holistically has propelled her academic journey. "​Dr. Han believed in me and my potential for growth, and it's because of this that I had the motivation to continue challenging myself and learning, in English and all aspects of life." ​Haley now study's civil engineering and computer science at the Massachusetts Institute of Technology.
Keep Dreaming
For Connor, it was the elaborate, yet safe aura she created that inspired his pursuit for higher education. "Her willingness and intention to go beyond the set curriculum, to share pieces of herself with us students, has retroactively steered me towards pursuits of ever-growing education and a love of learning," he said.
Connor can dream big as he is now at the University of Colorado Boulder deciding on a business major. He sets his sight at intersecting mental health care with an equitable business model so that access to therapy is more affordable and celebrated in our society.
Han has always preached that education should be personal. The movements we wish to start begins with reading, learning and understanding the stories of others. Then it's communicating that movement with others and telling your own stories and ideas of the world. And finally, it's dreaming, leaving an impact on the world and inspiring the next generation.
Han will be sharing her story and mission on ​Long Story Short​ with PBS. The show will air Tuesday, Oct. 15 at 7:30 pm; it will re-air that week on Sunday, Oct. 20 at 4pm and will be available online in perpetuity.