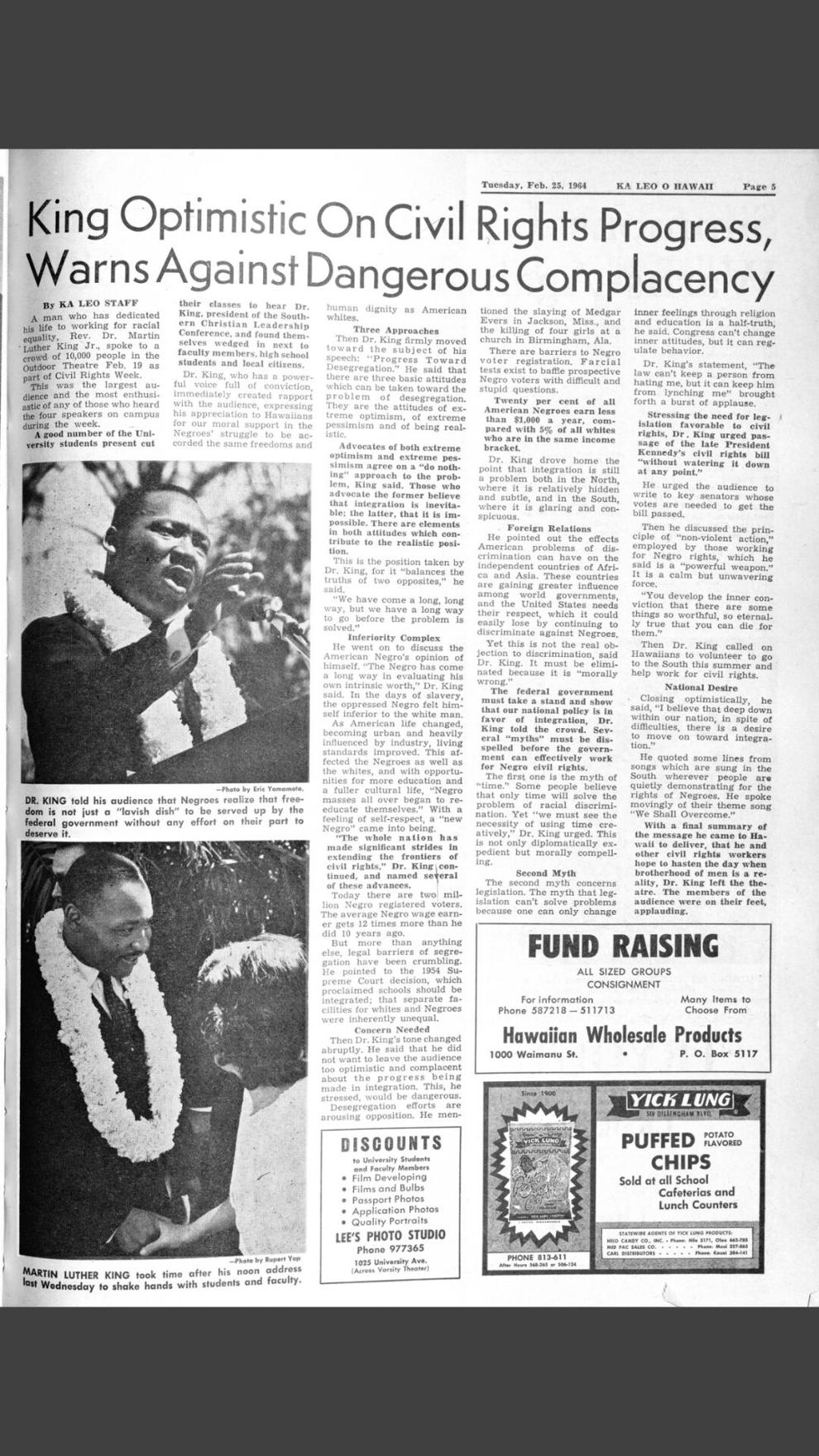 While many take the day off from work and school every year on Jan. 18, few remember when Rev. Dr. Martin Luther King Jr. paid a visit to the University of Hawai'i at Mānoa campus in 1964 to speak to the student body and Native Hawaiian community. 
It was ASUH senator Simeon Acoba Jr. who initiated the historic event. He and the other members of the Associated Students of the University of Hawai'i at Mānoa organized what was known as "Civil Rights Week," which invited groups with opposing racial viewpoints to come together. 
For many, bringing two opposing parties together to sit down and have a conversation may seem difficult, but Acoba made this possible by using "Civil Rights Week" to initiate discussions between local Civil Rights groups and white segregationists at the University of Hawai'i at Mānoa.
Acoba is a former Hawai'i Supreme Court Judge and is currently a Board of Regents member. He played a pivotal role as a student senator amidst the Civil Rights Movement.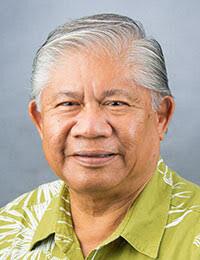 Ka Leo covered the Feb. 19, 1964 event by capturing the thousands of people at UH Mānoa listening to King urge for "Progress toward desegregation." King called on Native Hawaiians to join the Civil Rights Movement in the South as allies of the Black community. 
At the end of King's speech, he said with optimism, "I believe that deep down within our nation, in spite of difficulties, there is a desire to move on toward integration."
Not only was King a speaker at the five-day long event, others included John Ali, national secretary of Black Muslims; James Farmer, national director for the Congress of Racial Equality; and W.J Simmons, editor of The Citizen, official Journal of the Citizens Council of America.
"It was a program that got everyone involved," Acoba said.
In turn, the young student senator posted letters around UH that said, "You should be supporting these efforts, not turning them down." 
Acoba in politics
Born and reared in Kalihi, Acoba joined the student government at McKinley High School. When he attended UH, he immediately applied to ASUH. Acoba was vocal about the need for racial justice during his time as a student senator. 
He recalled there was an ASUH proposal, turned down by the student senate, that would've sent two student representatives to assist Black voters to register in the South. 
"I thought it was inconsistent with Hawai'i's reputation for tolerance and anti-discrimination," Acoba said. 
He remarked that it was an interesting experience to lead the student body during the Civil Rights Movement. The student senate received backlash when they organized the "Civil Rights Week" event and anonymous people had even gone so far as to sending ASUH death threats. In response, the student government had to bump up security. 
After the success of "Civil Rights Week", 20-year-old Acoba received the first annual Liberty Bell at a state Bar Association banquet at the Royal Hawaiian Hotel. 
Acoba's view on racial equality 
Last year, the Black Lives Matter movement reignited after multiple police killings on Black Americans.
George Floyd's fatal arrest, along with Breonna Taylor who was shot and killed in her apartment during a police raid, sparked community outcry against police brutality.
Protests boomed across the nation with Hawai'i participating in the movement. 
Growing up during the Civil Rights Movement, Acoba said the current events are disappointing.
"We thought we had made advances," Acoba said." It's somewhat disappointing that 50 years later, with the Black Lives Matter movement, this whole effort to bring equal treatment still needs to be worked on in the United States."