As a teenager, all I wanted to do was meet them. Now, six years later, as I tearfully watched them perform on stage, I realized I was finally fulfilling a dream I stopped nurturing a long time ago. 
When you hear the name "BTS," you probably know who I am talking about. Stations such as 102.7 Da Bomb have played their songs "MIC Drop" (2018) and "Fake Love" (2018) on local airwaves, and those who enjoy award shows will know that they won the "Favorite Social Artist" award at the 2018 American Music Awards.
On June 23, I attended the "Live Play" of BTS' 5th Muster [MAGIC SHOP] in Seoul. According to Merriam Webster, a muster is "an act of assembling," or a "formal military inspection," which is fitting because BTS' fans are called ARMYs. This muster, "Magic Shop," was named after their song of the same name, released in 2018. 
Held at the KSPO Dome in Seoul Olympic Park, the 5th Muster consisted of a live concert inside of the dome and a "Live Play," which was a livestream of the concert, also held at the same venue. 
Based on the long lines and masses of people, it was apparent that the seven-member Korean pop group had successfully claimed the hearts of many around the world. 
However, those like myself who have known BTS since their debut in 2013 will remember a time when their songs did not garner this much popularity. During the early stages of their career, BTS was just another rookie group competing with other artists such as EXO and B.A.P, who were establishing themselves as the prevalent performers. 
As a teenager, I loved BTS. They debuted the summer before I started high school, and their style of music, mostly hip-hop at the time, influenced my highschool experience. From headbanging to "Spinebreaker" (2014) and dancing to "Just One Day" (2014), BTS gave me an outlet for my teenage angst and guiding hand to find the "map of my soul" (got the reference?). As any international fan would, I wanted to see them live - a chance to see the people who helped me grow in person and somehow thank them for what they have helped me do. 
However, as time went on, I found myself gravitating toward other groups. This "dream" to see BTS, to show that their music means so much to their fans, was buried under new artists, different songs and college-bound ambitions. 
Arriving at the 'Magic Shop' 
At first, attending the muster was not an option for me. Since I was not as passionate about them as before, I thought it was wrong of me to go. After some convincing by a friend, however, I found myself stepping off the train at the Olympic Park station, ready to attend the muster.
As expected, the park was teeming with activity. Vendors were lined up along the station's exits, selling BTS merchandise such as posters, calendars, plush toys and t-shirts. The park has a strip of food places to grab a quick drink or snack before an event, and some of the establishments were selling BTS-inspired merchandise such as snow globes and tumblers. BTS songs, such as "Run" (2015), were also being played on loudspeakers. 
Underneath light poles waving banners with BTS members on them, clusters of fans traded photo cards and other goods with each other. Others crowded around street vendors who were selling water bottles for 1,000 Korean won, a little less than $1. 
It wasn't until we got closer to the dome that the lines started. The ticket booths opened at 2 p.m., and like-minded fans thought to get to the venue early to retrieve their event passes. Tickets for the "Live Play" were available on a website called "Interpark" for 24,000 Korean won.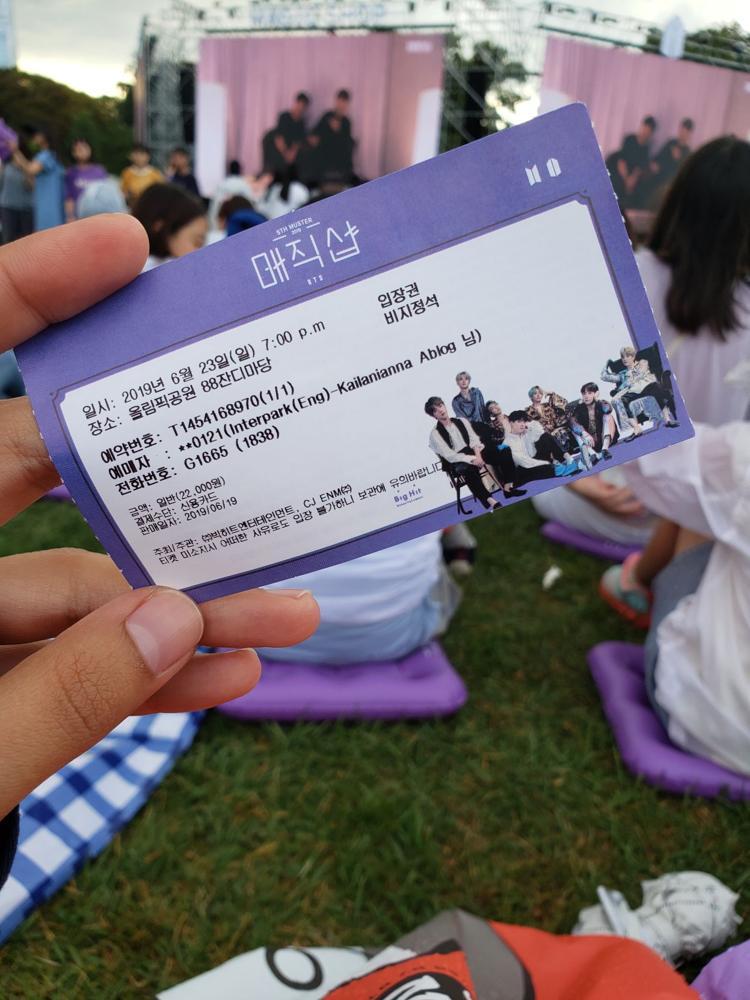 My friend and I waited in line for about 20 minutes before we got to our passes. To retrieve tickets, you must present a ticket confirmation number and a valid ID. It was also advised to bring the card used to make the ticket purchase. Near the ticket booths, official "Magic Shop" merchandise was being sold, such as keychains, light sticks and shirts. BT21 (animated characters created by BTS themselves) merchandise was also available, including eco-bags, badges and stationary. 
The "Live Play" was separated by walls in the shape of a heart. Inside of this "heart," fans were treated to food and BTS cosmetic booths, a restroom area (with A/C), and photo-ops with BTS cardboard standees. Three large screens took up a portion of the "Live Play" section and displayed commercials and BT21 animated clips while attendees waited for the concert. BTS members Jungkook and Suga even hosted a live broadcast before the concert to keep their fans company. 
Seeing BTS 
When the concert started and the lights illuminated each member, a scream erupted from my throat. There, right in front of my eyes on-screen, was BTS - the very group I had listened to almost every day during most of my high school career. 
They performed three sets of songs, each performance block separated by themed clips meant to fit the theme of the "Magic Shop," a place where fans could go and speak their worries. The members also had a few moments on stage for themselves as they each recounted their favorite song in their discography.
All the while, fans were chanting rather than cheering. In K-pop, "fan chants" are created by fans and made by listing the members' names or something that correlates to a group's most recent release. Light sticks were also lit throughout the muster, and fans waved them along to the beat of the songs; most K-pop groups have their own custom-designed light sticks that fans can buy to show their support at events. 
The most memorable aspect of the concert was they mixed their newer content with their older songs such as "Jump" (2014) and "We Are Bulletproof Pt. 2" (2013)." 
When the last song before the encore began to play ("Best of Me" (2018)), I started crying. As much as I wanted to enjoy that song, I was sobbing for the majority of it. It wasn't a sad moment; rather, I was reminded of how far I have come and how much groups like BTS have aided my journey in finding myself. 
The power of music 
I may not avidly listen to BTS anymore, but their influence on me will not be forgotten. Like many artists, BTS' music has served as an outlet and inspiration for those who need an escape or a safe space to explore who they are. I was able to revisit fond memories of the past while attending this muster. Thanks to BTS, I remembered what I have endured to get to where I am today. I am now, like their 2013 song, "bulletproof" and can endure the challenges and embrace future adventures.