Jonathan Osorio left the kupuna (elder) line after he heard that the eight people who chained themselves to the cattle grate were his friends, including his daughter, Jamaica. When he asked his daughter what she needed, her request was for him to sing.
Osorio brought his guitar and sang Pu'u Wa'awa'a, a song about a hill that was not far from their location on the access to Saddle Road. Jamaica and others, who call themselves kia'i (protectors), wept as they sang with him.
"Thinking as a father, it hurt me to see my daughter and my friends strapped to that, but I was also in awe of their stamina and aloha," Osorio said. "I believe that it is going to be acts like those that will prevail in this dispute." 
Since the announcement was made to move forward with the construction of the $1.4 billion Thirty Meter Telescope after what was over a decade-long process, construction was initially slated to begin on July 15.
In response, thousands of Native Hawaiians and allies gathered while chanting "ku kia'i mauna" (protectors of the mountain) and waving the Hawaiian flag upside down to symbolize a nation is in distress. On the other side, there are supporters of the project who are protesting in support of TMT.
Whether they are in support of or oppose TMT, each kanaka maoli has their own experiences and views of the mountain.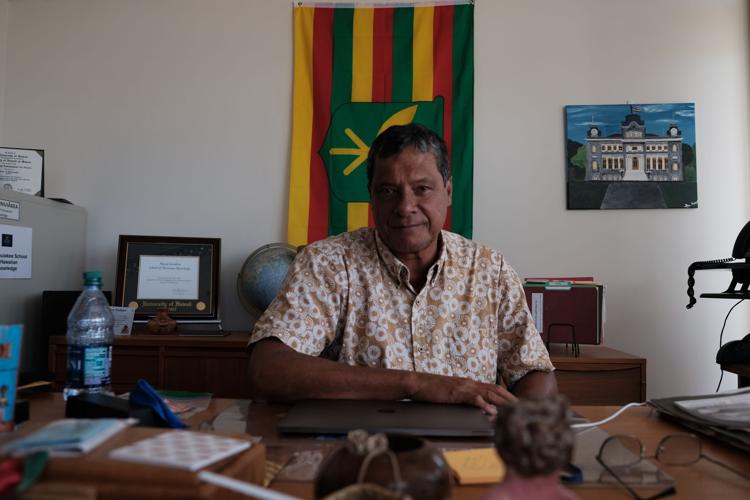 Jonathan Osorio
Dean of the Hawai'inuiākea School of Hawaiian Knowledge
Osorio grew up in the Hawaiian Homelands of Keaukaha, Hilo, and approximately 46 miles away from his home was Maunakea. 
As a child, Osorio dreamed about climbing to the summit. His fascination with the mountain never faded as he got older, but he was taught that it took maturity and preparedness to reach the summit.
"Fom Hilo, it just looks like as a part of where you are," Osorio said. "It's so large and majestic, you get this sense of there being a mystery about it, and there are these deep stories that if you get to the summit you can discover for yourself. That's one of the ways a place is seen as sacred."
In the 1970s, Osorio was in his 20s when he and his friends drove a Volkswagen van to the 14,000-foot mountain. When he drove past 10,000 feet, he became ill from the altitude and had to turn back. Since then, he's never been to the summit.
"If the mountain wants me to be at the summit, I will be at the summit," Osorio said.
In Hawaiian mythology, stories from the past include entities like the elements of water, earth, air and fire as a representation of Maunakea. 
"I think that people who are not versed in Hawaiian culture really don't understand that this is a science that we see in the relationships in these deities, we see the relationship of elements in which wind, cold, water, fire and space interact," Osorio said. "We understand that this mountain shelters Hawai'i Island, and that in many cases that hurricanes actually turn away from Hawai'i Island because of the massive presence of this mountain."
Osorio said Maunakea has an importance that is physical, spiritual and emotional because it symbolizes how a place above the clouds is meant to be untouchable.
Maunakea is also used as a symbol of Hawai'i's complex history with oppression, the overthrow of the monarchy in 1893, and annexation by the United States. The history included forbidding the practice of culture such as song, dance and the language itself. 
"A telescope is a symbol of human being's reach to understand the heavens of the sky," Osorio said. "Our belief in the majesty of that mountain, should not be at odds with people's belief in the importance of constructing large telescopes. What's the odds here is why the hell does that telescope need to be on this mountain, and the answer is that it doesn't."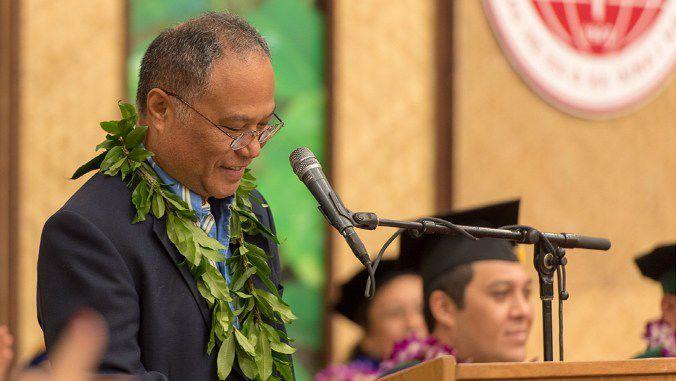 Chad Kālepa Baybayan
UH astronomer
The Maui-born voyager, Chad Kālepa Baybayan, used Maunakea as a beacon to lead him back to the islands.
He said his relationship with the mountain is spiritual and has been to the summit numerous times.
"I have a relationship with the mountain," Baybayan said. "I wouldn't call it religious and wouldn't capitalize the mountain as sacred. My relationship with the mountain is more spiritual–more connection with the environment whether you're conducting Hawaiian protocol and Hawaiian research."
Baybayan has been in support of TMT since it was introduced. 
As a member of the Polynesian Voyaging Society, he compares the ancient technique of reading the stars to astronomy.
"We're connected because we use a specific star map that's developed through the astronomy program," Baybayan said. "They look back in the very beginning of time. And where we came from and where we're going. We're looking at the human explanation of the planet. That used the hallmark of technology. There's a spiritual connection in that, we have a common goal of providing and liking to our community."
Baybayan argues that Native Hawaiians are not against astronomy.
"My perspective is that the large enough to honor everyone whether you're conducting religious ceremonies, people have to learn to share the mountain, I believe the constitution, but you have to obey the law," Baybayan said.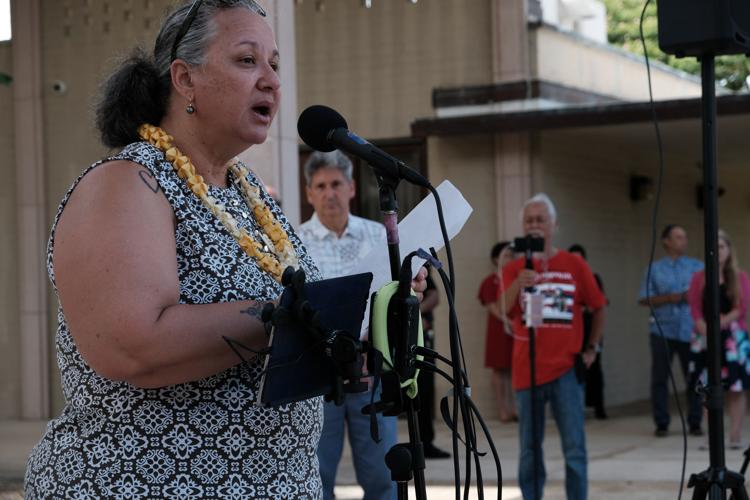 Konia Freitas
Director, Kamakakūokalani Center for Hawaiian Studies
Konia Freitas grew up in a working class family in Halawauka, O'ahu. She remembered her neighborhood only having dirt roads, and taking family trips in the 1970s.
When she would take a trip to Hawai'i Island as a kid, her family never intended on going to Maunakea for the following reason–Kanaka shouldn't be there because it is the wao akua (realm of the gods).
"Maunakea is such an awe inspiring place that my family and I never really felt the need to go there," Freitas said. "It was good enough to see the Mauna in all her brilliance from the shores of Hilo for example, we really didn't need to go to the top of it.  Maunakea's calming presence always seemed to be enough."
As she grew older, she became discouraged to visit the summit from the increasing numbers of telescopes on Maunakea. She said she felt it became less accessible because it seems like a place for only scientists.  
On July 17, Freitas, along with dozens of students, faculty and staff called for the University of Hawai'i to put a halt to TMT and demand that UH President David Lassner resign from his position. 
"We need leadership," Freitas said. "You cannot say that you're a Hawaiian place of learning and then turn around and not only agree to the largest building on Hawai'i Island."
Freitas said that though there may be different opinions of kanaka maoli, the UH schools are not divided.
Speculations have risen from different parts of the U.S. stating that Native Hawaiians are against science. 
"We assume that westerners only have science, and that's not true, all peoples have science," Freitas said.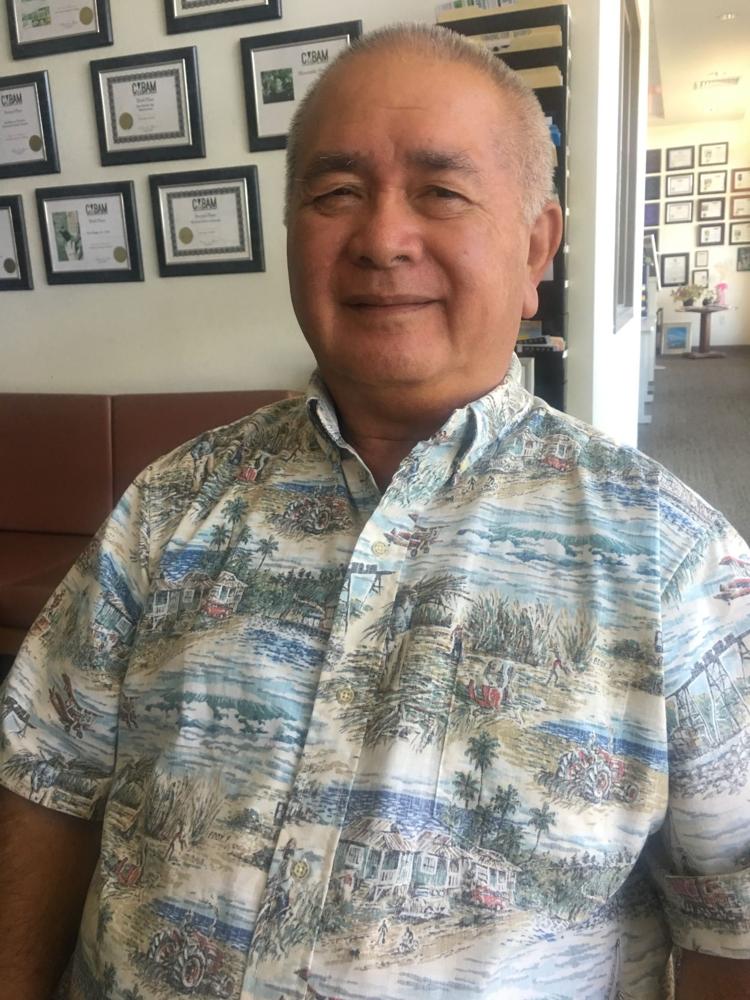 Richard Ha
Farmer, Retired
Former banana farmer and former CEO of Lau Ola, a medical marijuana dispensary, Richard Ha has an economic development view on TMT.
In fact, his father Richard Ha Sr. helped construct the roadway to the summit of Maunakea, Ha said, describing his father as a "proud Hawaiian man."
When members of TMT came to Hawai'i, Ha followed in his father's footsteps and volunteered to be on the committee to testify in support. 
To Ha, Maunakea is a place for job opportunities and sustainability. 
He stood on the ground of Keaukaha while looking up at Maunakea and saw an economic use of the mountain.
"We want respect for the Hawaiian culture not only talk because right now all we're getting is talk," Ha said. 
Ha said he's not against the protectors' views, and that he wants to find a compromise.
Is there a divide?
Though there are different kanaka maoli views, they expressed that there is no divide. 
Currently, there is no official date for the construction of TMT.