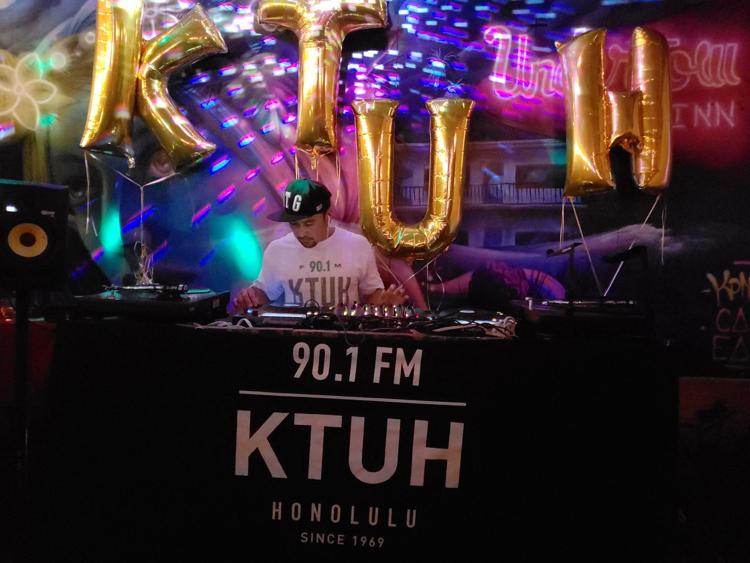 For fifty years, KTUH FM Honolulu has persisted in its service to listeners as a student-run, non-commercial radio station. KTUH has provided students and the community with a range of music and opportunities to learn about the radio broadcasting process.
Since its inception in 1969, they have grown from an AM closed-circuit radio station reaching only the University of Hawai'i at Mānoa dorms and the Hemenway Hall lounge to island-wide broadcasting on-air and online from its webpage.
However, as funds from the University have lessened over the years, donations from the community have become an essential factor to maintain KTUH's equipment and high standards of production.
As such, KTUH will be holding its 50th-anniversary Radiothon fundraiser from March 9-16.
"The Radiothon gives us that extra income that allows us to pay for the equipment, pay for our directors, managing the studio, buying things that we need because the student fee does not supplement that," KTUH Office Manager Nena Sing said. 
In previous years, KTUH has opened up phone lines to listeners from 6 a.m. to 10 p.m. every day for the duration of Radiothon.  This year, they have made the decision to extend open phone line hours from midnight to 6 a.m., with the goal of raising $55,000; previously they had raised as much as $44,000.
"It's mostly because we wanted to get as many DJs involved this year because it is our fiftieth anniversary," Sing said.  "We do have DJs that have kept those late slots for so long now that they have accumulated a listening base and have a lot of followers who would probably want to donate during those segments to have those DJs continue with their shows."
KTUH has prided itself on bringing its audience quality radio content and alternative programming. Even beyond its radio broadcasting services, KTUH staff members believe that the radio station serves as an integral part of building a community for listeners. 
"We're not a commercial radio station," Sing said. "We don't play the same hourly sets that you would hear on any other corporate station.  Every three hours its a new genre of music, a new style from a different DJ, and we play a lot of independent music artists; the stuff you wouldn't hear on a corporate station."
Claudia Meza currently works as KTUH's promotion director and as a resident DJ under the name DJ Claudizzle.  She remarks that the radio is more than a medium for broadcasting music.
"You kinda connect with your DJ host," Meza said.  "It's cool to have that connection with someone who's just down the street most of the time or someone here on campus.  It's cool to have that ability to connect with listeners that you've never even met."
In addition to this, Marc Ito, also known as DJ Marcnado, remarks on the station's capacity to expand listeners' music palates.
"KTUH as far as my experience as a listener and being a part of the staff goes, it really gives people that like music a different sound," Ito said. "I'd like to say our DJs push our listeners to (experience) a range of music and different artists that they may never have heard of before."
He also notes that KTUH provides students looking to pursue a career in broadcasting with a rare educational experience.
"We're one of the few platforms that people don't have access to anymore, which is radio production work regardless of whether you're a beginner or if you know the ins and outs of production work," Ito said.  "A resource like that is invaluable, regardless of whether you go into the radio business or not.  You'll still learn life lessons that will push not only your own career but maybe even someone else's."
If you are interested in supporting KTUH, there are other ways of doing so aside from monetary donations.  The DJs and other staff members appreciate when people tune in and listen to broadcasts, call in during shows for song requests or simply let them know that they enjoy the music.  
Sing also mentioned that they host live events such as their upcoming mini concert series which everyone is welcome to attend.
"Even if people don't want to donate to Radiothon, they can always show up to these events that we have outside of concert series, we do bar-takeovers, and just showing up to support the station for these different events, we really appreciate that."
KTUH's value to the community goes beyond its primary function as a radio station.  KTUH has proved to be an asset to Honolulu by providing a platform for local artists and events, informative public announcements and alternative programming.  Their dedication to the cultural and educational enrichment of the community sets them apart from corporate broadcast entities as "The only radio station that loves you."
Go to ktuh.org or call (808)956-5288 for more information about Radiothon.