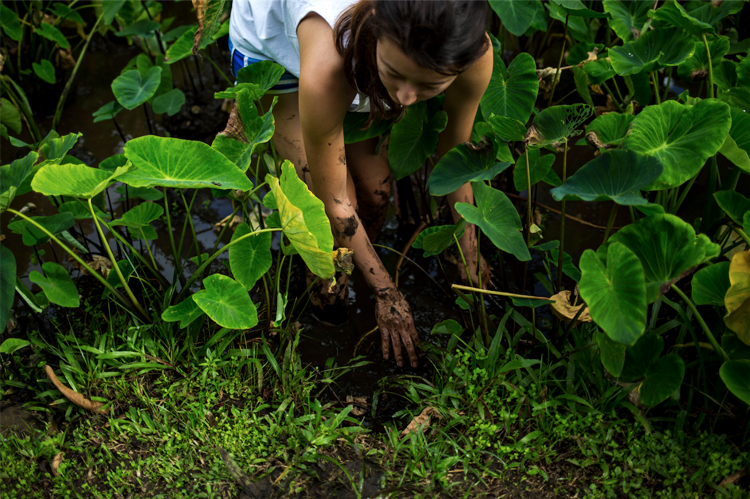 MINA is a service-learning program which was formed in 1997 by Professor Marion Kelly, Professor Nelda Quensell, Dr. Carl Hefner and Dr. Ulla Hasager. Originally, its name was "Adopt an Ahupua'a," similar to "Adopt a Beach." A few years later, the name changed to Mālama I nā Ahupua'a (MINA) to encompass the organization's belief that the 'aina adopts you and you care for it.
The program is run by both students and faculty at the University of Hawai'i at Mānoa,  Kapi'olani Community College, Windward Community College, Hawai'i Pacific University, Chaminade University of Honolulu and the Hawai'i Pacific Island Campus Compact, with UH Mānoa serving as the headquarters. MINA involves about 150 students each semester, as it works to connect with many disciplines. These students come from different majors, including biology, chemistry, Hawaiian studies and anthropology. The organization also has a extensive network. They connect and work with other programs at different service-learning sites that students can then become a part of. In fact, many of MINA's students gain connections through these sites and go on to join them after college, becoming leaders and active members of the community.
Many of the students are Native Hawaiian and MINA acts as a way for them to connect to their heritage. Some of these students have not had any exposure to the Native Hawaiian culture, so for them, this experience is very personal. This connection happens at sites that are sacred to Hawaiian culture, such as heiaus, where students learn about traditional Hawaiian practices, such as a Loko I'a and Lo'i.  
But MINA involves more than students. There are many members of the community, of all ages, who participate as students and are encouraged to bring their families. In doing so, MINA is helping to create a "sense of place" for the community and increase its involvement in creating a sustainable Hawai'i.
MINA's goal is to educate students and the community about sustainability by connecting them to the land and the island. The organization has many, many service learning sites where the students go and do physical work, which is one way to connect to the 'aina. However, Ulla Hasager argues that MINA's success comes from taking the time to explain what is going on at the site and working to connect the students to the ancestors of that site. 
The most wholesome connection to the 'aina comes from both learning about and understanding the history and sacredness of the site, as wells as its ecology and environment. A prime example is the island of Kaho'olawe which MINA encourages its students to visit after they gain an understanding of ahupua'a.
There are several efforts on Kaho'olawe to restore the island after it was used for bomb and missile testing by the United States military between 1941 and 1990. The Native Hawaiian movement won back the island in the 1980s and began to restore it then, attempting to "heal" it  by reestablishing Native Hawaiian culture and practices. 
This will take years to accomplish, but the first few steps involve connecting the island with a path all the way around and then establishing the ahupua'a on the island.Students of MINA come to fully grasp what an ahupua'a is after completing a lowland, midland and upland service-learning activity. 
The primary lowland site that students attend is the He'eia Loko I'a, a fishpond. The primary midland site is Ulupō, where there is both a lo'i and a heiau. The primary upland site is Hālawa valley. But there are many other sites in each category which students can attend, including Mākua Access, which MINA has a long history with.
MINA has been involved with Mākua Access since they began in 1997. This site served as a place students and the community could go to connect to the peoples of the past and learn about sacred places and the relationship with the military. Mākua Access is on the Mākua Military Reservation. This means there is a long screening process and a lot of paperwork to fill out before someone is let in. The students are also not allowed to touch anything, and the group is accompanied by soldiers as they walk through. 
In 2014, however, the Army said it needed to cut grass and imposed a general ban on visiting the site. In November of 2015, the Army allowed access to certain parts of the site, though access to burials, petroglyphs and temples is still denied. This has greatly impacted MINA's ability to educate their students. But Earthjustice has filed a lawsuit in order to regain full access. Hasager says that the most important thing about the Mākua Access site is that it teaches about sacred places and the relationship between the program and the military.
Over the years, MINA has done a lot for the community of Hawai'i and is now seen as the "poster child" for education about sustainability, sacred places and community involvement. But it is changing, as MINA's presence is requested in new sites and old sites become impacted by politics and private property ownership. To Hasager, this change is not bad but simply a fact of life. She believes that "it's important that the people who live here understand the place," which is exactly what MINA works to achieve.
---
In 1997 a group of people got together and founded an organization which would teach the community about its connection to the environment. Today, that organization persists and has built a history of involvement and accomplishment. Ulla Hasager works day and night in order to make MINA what it is. Nelda Quensell came back for this special occasion to celebrate Hasager, though she did not know that she would be thanked for the years of work she dedicated to the program.