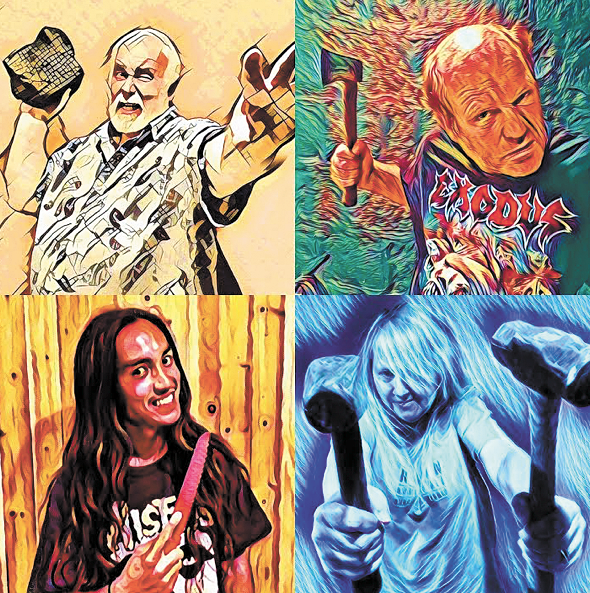 Combining the intense lyrics of hard rock with a mellow island sound, local band Motley Uke (pronounced "mot-lee ook") has created a genre of music all their own. Ka Leo was fortunate enough to be able to sit down with the founder of the group and their lead ukulele player, Jeff Clark, to find out how Motley Uke came to be.
"Let me tell you how it got started. In the fourth grade, back in the day, every kid in public school had to learn ukulele. So I learned and that was cool, but then I put it away for a while. And then I picked up the guitar when I turned 13 and I studied The Kinks, The Who and ACDC. After those three groups, I got into Judas Priest and Iron Maiden, what they call the new wave of British heavy metal."
What is Motley Uke?
"Motley Uke is an ukulele band that plays covers of hard rock as well as our own original material. [At our shows] we always play an Iron Maiden song, we do a Led Zeppelin medley and we play 'Iron Man.' I play lead ukulele and I write our original songs. Our tenor, Burl Burlingame, is a really great singer. He's quite famous around here. He's an author who wrote "Da Kine Sound" and other books. He was one of my idols growing up. Our drummer Nancy Christenson and I were friends before this band got started. She started playing drums when she was eleven and wanted to start back up. I told her, '[y]ou get some drums man, because this is gonna be the greatest thing ever.' And our bassist, Jensen Aguinaldo, came to us after we answered a Craigslist ad. He plays the bass for us but he also plays drums in a satanic horror punk band called The Quintessentials. We play all around town, at different clubs and venues."
Where did you get the inspiration to start a hard rock ukulele band?
"30 years after picking up the guitar, I had a job at the Boston Herald and decided to take a vacation back here [in Hawai'i]. And I bought an ukulele just for the heck of it. But when I got home, I couldn't remember how to play any of those old songs they taught us in elementary school. So instead I played hard rock. I played Metallica's 'Seek and Destroy' first, and then I played ACDC, Slayer and Exodus. And I realized that hard rock on an ukulele really teases the melody out. There's melody in hard rock but you have really got to concentrate to hear it. But the ukulele brings out that melody and it kind of pulls the rug out from the macho B.S. that's kind of off-putting."
Was hard rock a big part of your life growing up?
"Well, my first concert was KISS. And growing up I was into Ted Nugent and Van Halen before discovering Judas Priest and Iron Maiden in high school."
What goes into the process of writing a heavy metal song on an ukulele?
"I'm all about riffs. If I'm practicing a song, I'll just start thinking, 'what's a really heavy, crunchy riff that has melody that you haven't heard before?' And from there, I start building the sound out. I like using multiple riffs and changing the tempo, something I learned from Metallica."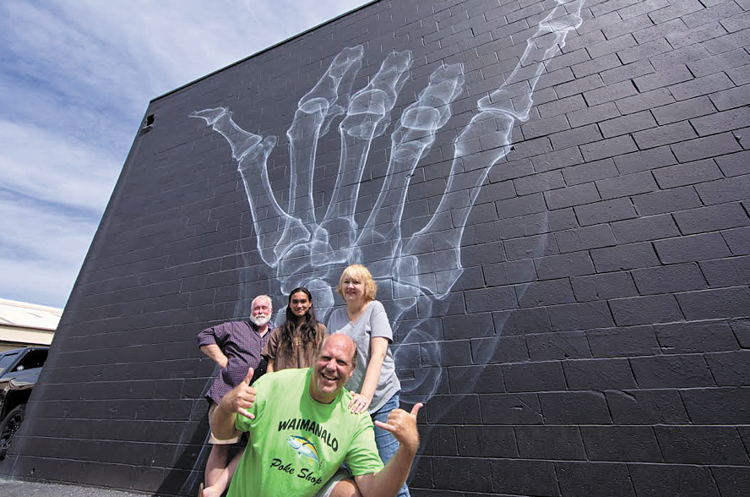 What is the typical reaction people have when they find out that you play heavy metal on ukulele?
"They laugh and they get a big smile on their face. And for me, that's all I need. I don't even need to play a note. If I could make you smile just from that, I've done my job. One of our first singers thought that hard rock on ukuleles was a gimmick, but it's not. It's a lifestyle. It's like our motto says: 'We're serious about our music, but we don't take ourselves too seriously.' I mean, we work hard on our music, but we're not rock stars; three out of the four of us are middle-aged."
Do you have any advice for people who are interested in pursuing music as a career?
"It'll take you forever for you to make money. And if you wanna make money, go to medical school. Back in the day, I thought, 'I could start a thrash band, or, my mom put me through college, so I'll be a journalist and make some money.' For people starting out, practice, practice and practice some more. Stay humble. There's a lot of stuff about this job that takes no talent, like showing up on time. Do it for love, do it for the music and you'll be amazed once you start sharing it with people. You always hear things like, when we were playing, we were feeding off the audience's energy. I feel like, when we do a show, the audience doesn't come to see us, we go to see the audience. To see all the smiles and to see everyone stoked. We call it the "stoke exchange."
On top of their music, Motley Uke has also worked toward philanthropic goals, labelling themselves as do-gooders. One of their new songs, "Can't Fathom It," features vocalizations of the Hawaiian monk seal (obtained from the National Oceanic and Atmospheric Administration), and focuses on the unjust killing of monk seals. They paint over graffiti and have started a campaign called Clean Up Your Act. On top of all of that, they donate instruments to schools like Waimanalo Elementary & Intermediate School and Kaimuki High School to continue the legacy of music.