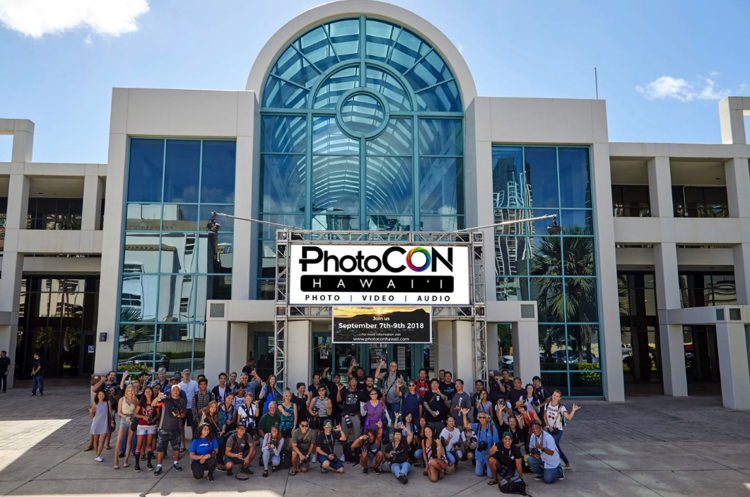 In 2017, local content creators were introduced to a local event called Photocon. Two years since its birth here on O'ahu, local content creators were able to save a little by attending this event. 
Prior to 2017, there were no conventions that were catered to the islands' melting pot of creative talent. Hawai'i itself is home to some of the most well known photographers such as Clark Little and Zac Noyle, just to name a few recognizable faces in the photographer community. One of the most notable photo and video companies to come to Honolulu is B&H Photo. Other companies include Beast Grip for smartphones, and Canon camera will be on the guest list for this years show. On the weekend of September 5 - 8, 2019, Ric Noyle will be producing the event called Photocon at Mckinley High School and the Neal Blaisedell Center. 
Photocon is a photo convention that appeals to creators of all skill levels.
It's designed for all levels of photographers and videographers," Noyle said. "I'm interested in attracting both professionals, amateurs, and anybody that is like minded in the creative world." 
Since prior to this event, photographers and videographers would need to travel to other states or even other countries such as Germany for Photokina or even to Las Vegas for the Consumer Electronics Show (C.E.S.) to view, see, or even test out prototype gear.
The event has garnered attention from one of the biggest photo and video store. B&H photo will make their trip to Photocon for the first time. B&H is located on 420 9th Ave. New York, NY 10001 will make the long trip to Oahu. B&H will be hosting a night photography workshop as well as some other camera companies such as Canon, Phase One, and Red Cinema just to name a few. 
One of the reasons why Photo Con is having a company such as Red Cinema come in is because, "One of the things that Red Cinema brings to the table or to the screen is the quality of their imagery is so fine that they are really showing us that you can pull a still and get a good size image out of it, " Noyle said. 
That is considered to be amazing since pulling stills from a frame would result in low quality images. With Red Cinema coming to PhotoCon, who knows what other major companies will want to fly here to see what PhotoCon is all about. 
One of the most well known underwater housings in the underwater photography industry is Aquatech. Aquatech has built an affordable underwater housing unit called Aquatech Axis Go. Aquatech  has been designing high quality underwater housing for SLR's, DSLR's, and now released an underwater housing that is built for Apple iPhones called Aquatech Axis Go.that has been making some noise here in the islands. The Axis Go system is an underwater housing designed for the Apple iPhone ranging from the iPhone 7, 7 Plus, 8, 8 Plus, as well as the more recent iPhone X and Xr. This specific workshop will be held on Friday September 6, 2019 at the Neal Blaisdell Pikake room.The guest speaker for the event is a professional videographer/photographer Zak Noyles. Zak will be talking about how he prepares for each shoot that he has as well as going over his understanding of how tide charts, ocean swells, and other conditions that turn out to be life threatening. He will also be sharing some videos that was not only recorded with Canon Camera that had a Aquatech housing, but will also be showing some video that he has done using the Aquatech Axis Go for iPhone.
The other exciting things about attending Photo Con is that an attendee can be hands-on with some of the equipment. There is one company that could possibly stand out is BeastGrip. BeastGrip has been designing video and camera rigs to take smartphone photography to another level. 
Noyle explained, "one of the companies that are coming is called BeastGrip. They make a universal lens adapting rig that you can put multiple lenses onto a smartphone. I've been using it quite a bit. It's quality is extraordinary and my iPhone does a great job as a camera already, but what this does is it takes this to an upper level that I have never imagined. For instance, if I really wanted a wide angle, I can do a pano on my iPhone, but with their lens, their wide angle lens, I get a spectacular true professional quality wide angle. Then they have a 3x (zoom) extender and you can do a portrait, instead of coming right up to the persons face you are doing a portrait, you can be back at a comfortable distance and get a really incredible headshot. The clarity of the glass that they are using is extraordinary, I think that's going to make a difference. Plus the feel of what they made is incredible. When you touch it, you'll feel it before you use it and go, "this really feels good," so iPhone photography will be at Photo Con, we will certainly have that."
BeastGrip will surely be making some noise at Photo Con. 
Photo Con looks to be one of the most anticipated event for content creators of all abilities ranging from hobbyist to professionals. Photo Con will provide workshops to talk to professionals, businesses that for a long time could only visit the B&H website could now talk to people who work for the store. To register for the event, any student who is under the University of Hawai'i system may register at the event upon arrival to get a student discount which is $25.00, but students must present a current UH student identification card.