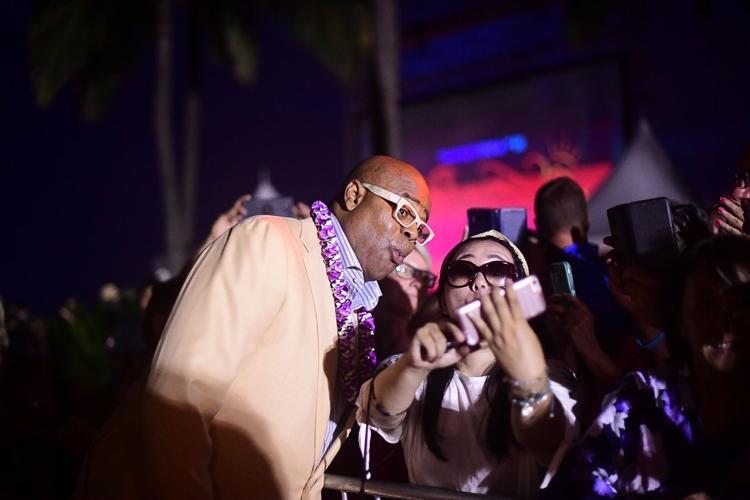 Under a warm night at Waikiki's Queen's Beach, the stars of two popular CBS T.V. series came out to celebrate a monumental tenth season of "Hawai'i Five-O" and season two of "Magnum P.I."
There were hundreds of people lining the red carpet waiting for their favorite celebrities from the shows such as "Hawai'i Five-O" actor Alex O'Loughlin (Steve McGarrett) and Chi McBride (Lou Grover) who chatted with fans and took photos with them as they made their way down the red carpet. At the end of the carpet was media coverage coming from all around the world waiting to interview the stars.
Before the show started, the producer of both series, Peter Lenkov, talked about his appreciation of the people in Hawai'i and the culture here. At the end of his speech, Lenkov stated that he is against the TMT which got the crowd clapping and showing their appreciation of his support. 
The master of the ceremony, Billy V. from Hawai'i News Now, brought up the cast from both series onto the stage. Ian Anthony Dale (Adam Yoshimori from "Hawai'i Five-O") and Stephen Hill (Theodore "TC" Calvin from "Magnum P.I.") talked about how much they love working in the islands as well as the Aloha they both feel from Hawai'i. 
The Premiere featured a special performance from the Grammy award-winning group Train. They performed their 2009 hit, "Hey Soul Sister", to end the festivities and begin the worldwide exclusive premiere of Season 10 of "Hawai'i Five-O" and Season 2 of "Magnum P.I."
Red Carpet Premiere of Hawai'i Five-O Season 10 and Magnum PI Season 2