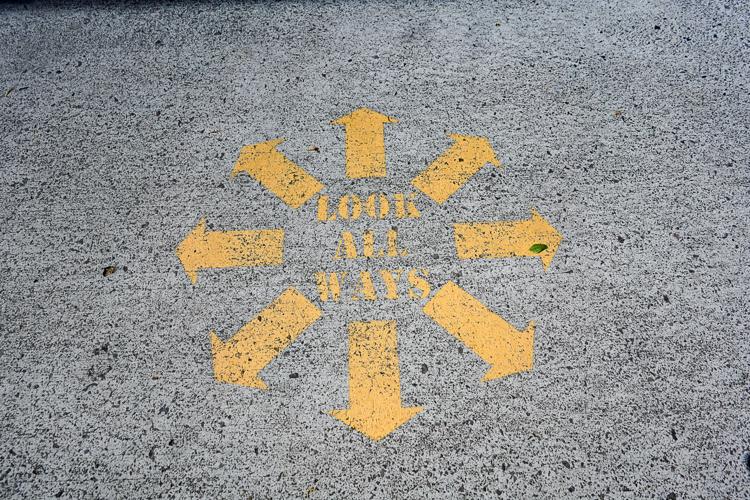 University of Hawai'i at Mānoa's Commuter Services partnered with the City and County of Honolulu's "Look All Ways" initiative and is continuing its efforts to promote pedestrian safety.
The partnership started with two cautionary "Look All Ways" stencils painted on the sidewalk by Dole Street in front of the William S. Richardson School of Law and law library.
The "Look All Ways" initiative is a seven-point plan designed to increase pedestrian, driver and cyclist safety by making people more mindful of their surroundings. The measure was introduced by Honolulu Mayor Kirk Caldwell and the City Council Chair Emeritus Ron Menor with members of the Honolulu Police Department, AARP Hawaii, MADD Hawaii and the Honolulu Bicycling League. 
Efforts began with stencil installations at 20 locations where pedestrian traffic incidents have occurred. According to Ryan Fujii, Operations Manager at Commuter Services, there are several stencils dispersed across campus. Currently, areas that are covered include the intersections at Dole (from the Law School and law library to Legacy Walk), East-West and Dole, East-West and Maile, and University and Maile.
Furthermore, despite the presence of a marked crosswalk by Sinclair Circle, the number of lanes of University make it a risky path and Commuter Services has submitted commentary to the City about removing the crosswalk.
"The City will look into this as part of the 'Complete Streets' Project," Fujii said. 
Future installations across the state will be selected based on incident occurrence and community need. 
Fujii stated that after the team heard the news break from Mayor Caldwell, they thought that the university would benefit as well in terms of pedestrian safety.
For awareness, Commuter Services is planning to target students in the housing areas as the East-West Road and Dole Street intersection sees a high volume of student and pedestrian traffic. Additionally, Commuter Services is looking into diagonal pedestrian crossing like those in Waikīkī. 
Finally, Fujii brings on some advice for safety on the streets: pedestrians should "look all ways"; those with earbuds in should use only one side so that they can hear oncoming vehicles; make sure that drivers yield, don't assume that just because you are in a crosswalk that a driver will stop for you; walk or run at a constant speed to avoid throwing off drivers; cross only in marked crosswalks, and cross with the signal; do not cross when the countdown has started because it unlawful to do so and you can be fined up to $130. A recent law also prohibits cell phone use when crossing the street. 
More information about the initiative can be found on the City and County of Honolulu website.