The intimate confines of the John Young Museum of Art on the University of Hawai'i at Mānoa campus create a homey feel, making the museum an ideal setting for its current exhibition, "Shooting Wallpaper."
This new show features art produced exclusively by the Paris-based artist Brigitte Zieger and consists of four works from her wallpaper series, "Exploding Wallpaper" (2007), "Tank Wallpaper" (2009), "Bewildered" (2012), and the exhibition's namesake "Shooting Wallpaper." 
Zieger takes the idea of Toile de Jouy, or French printed fabrics and wallpapers with decorative and thematic patterns, and subverts the medium's original purpose as well as its bourgeois status.
Although inspired by the repetitive, monochromatic design style of their historic model, these works are not wallpapers per se; rather, they are digitally-rendered projections with moving pieces and accompanying sound effects. 
Instead of serving as a comforting reminder of home, these works are meant to make you feel uncomfortable, using the theme of violence to raise questions about gender stereotypes, colonialism, environmental destruction and military force.
"Shooting Wallpaper" is the show's main attraction. Located at the back of the gallery, the wallpaper is projected around double doors but still appears naturally uninterrupted. This unique architectural feature provides a different viewing experience from how the work has been  presented previously.
During a brief gallery walk-through at the show's opening, Zieger — who traveled from Paris to help the installation team — stated this was the first time any of these works have been displayed in a setting with characteristics of an actual home.
The protagonist of "Shooting Wallpaper" is Zieger herself, dressed as a female shepherd in a paradisal pastoral setting. The shepherd unexpectedly stands from her seated position, approaches the viewer, and calmly lifts a gun before nonchalantly firing into the crowd and returning to her resting spot. 
This was the first wallpaper made by Zieger and is emblematic of Zieger's broader artistic practice. It focuses largely on media portrayal of women and specifically the idea of a woman as an empowered and armed force.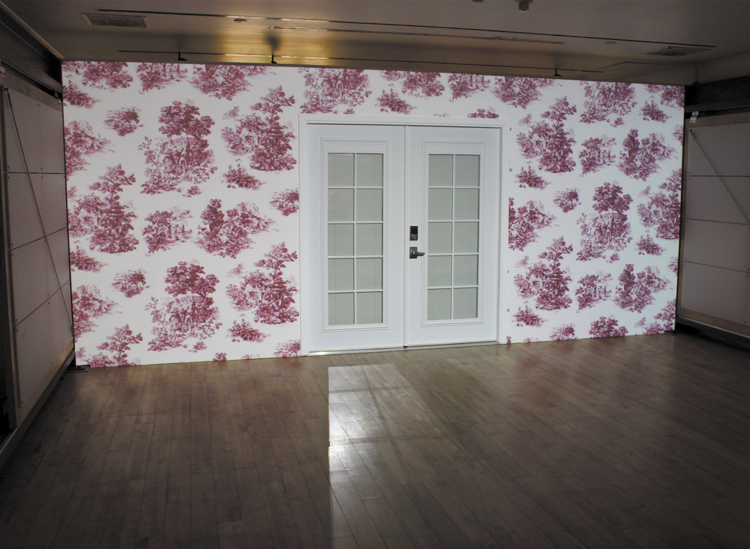 While wallpaper can be thought of as a symbol of the "home" with its historical, social and gender connotations, this wallpaper "fights" back and is no longer passive.
The three other works on display are similarly layered with meaning. "Exploding Wallpaper" is displayed within a small, lowered cube, suggesting that it is meant to be viewed from a child's perspective. The wallpaper slowly disappears as segments are randomly blown one at a time into oblivion. 
"Tank Wallpaper" features the military vehicle slithering through a forest setting, with deer acting as a metaphor for when the tank has the viewer in its own headlights. 
"Bewildered" depicts a panoramic dystopian future with only the remains of humanity's last efforts to stop the exploitation of nature. Protest signs read  as the environment's human-like pleas for help. This wallpaper was made from stitching together a collection of colonial landscapes, the originals of which included slaves who were removed to create the feeling of pristine, untouched land ripe for the taking.
The viewer feels slightly attacked by these wallpapers, either from the threat of physical harm, or by a stinging social critique that makes them guilty by association with society. Because these pieces are projected, if they wander too close viewers can find themselves implicated in the work, their shadows moving within the setting and obscuring the image. 
It is impossible to avoid the harsh mixture of sound pulsating through the gallery and the general message Zieger is trying to articulate.
"Shooting Wallpaper" is on view at the John Young Museum of Art on the University of Hawai'i at Mānoa campus through December 1, 2017.