Set in a world of social media and smartphones, "Smile, You're Under Surveillance" opens March 15 at Kennedy Theater.
The play is a sitcom centered around Syd (Matthew Kelty), an agent of the National Security Agency, and Hector (John Wells), his basement-dwelling hacker brother. The two navigate various surveillance techniques for personal gain, whether it be to get a girl or make the month's rent. Interspersed throughout the sitcom are other surveillance related television shows, with cast members Dylan Lee and Ike Webster playing multiple roles.
The play most notably uses a multimedia technique with two stages facing back-to-back. "When I pitched this project, originally, I needed something about the stage configuration to already reflect surveillance," stated director Markus Wessendorf. Each stage has multiple screens that not only integrate video footage, but project a live feed of the audience on the opposite side of the stage, emphasizing the idea of constant surveillance.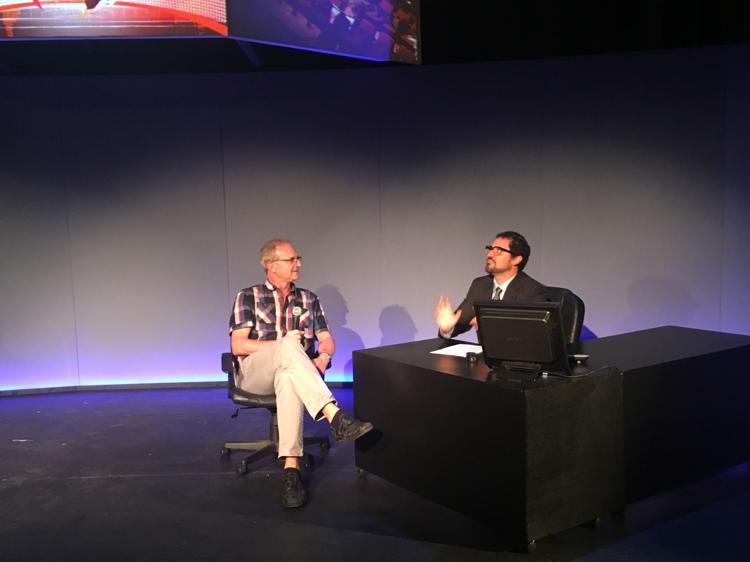 Each showing also features a pre- or post-show panel, including a talk by Ben Wizner, Edward Snowden's lead lawyer, on 3/17 at 6:30pm and 3/18 at 6pm.
Dates and Times: March 15, 16, 17, 18, 24, 25 at 7:30pm; March 26 at 2pm
Venue: Found Space within Kennedy Theatre, 1770 East-West Rd
Ticket prices: $18 Regular; $16 Seniors, Military, UH Faculty/Staff; $15 UHAA Members; $13 Students; $8 UH Mānoa Students with valid ID
Purchase Info: Tickets are on sale online at etickethawaii.com and by phone at (808) 944-2697. Also available at Campus Center, Stan Sheriff Box Office and the Kennedy Theatre Box Office 10am-1pm during show weeks.
Pre- and post-show events:
3/16 at 6:30pm: pre-show talk by Markus Wessendorf, director
3/17 at 6:30pm: pre-show talk by Ben Wizner,
3/17 at (approximately) 9pm: "Post Show Rap" with the production team
3/18 at 6pm: panel with Ben Wizner, Suzanna Reiss (Dept. of History/UHM) and Michael Shapiro (Dept. of Political Science/UHM); moderator: Markus Wessendorf
3/24 at 6:30pm: pre-show talk by Elise Morrison
3/25 at 6:30pm: pre-show talk by James Harding
3/26 at noon: panel discussion with Elise Morrison, James Harding and David Goldberg (Dept. of American Studies/UHM); moderator: Markus Wessendorf