When the Hawai'i State Art Museum (HiSAM) was forced to close its doors to the public back in March due to the coronavirus pandemic, staff from the Hawai'i State Foundation for Culture and the Arts got right to work finding creative ways to continue sharing art with the public. 
Despite the pandemic, the people of Hawai'i have been able to attend free virtual events through the Hawai'i State Art Museum, including musical performances on Instagram and webinars taught by artists in a series called HiSAM from Home. Past performances and webinars are still available to view on the HiSAM Instagram and Facebook pages.
"When COVID started and we had to close, we really wanted a way to continue the engagement that we created with our community, virtually," said Alexandra Skees, Project Manager for the Hawai'i State Foundation for Culture and the Arts (SFCA). 
HiSAM From Home was created by Art in Public Places Director Karen Ewald, Event Coordinator Aly Ishikuni-Sasaki, Arts Education Specialist Danica Rosengren and Skees. 
The HiSAM first closed on March 16, was able to reopen for part of July and was closed again on Aug. 27 due to a new stay-at-home-order, according to the HiSAM Instagram. According to Skees, the HiSAM plans to reopen at 50% capacity in compliance with state regulations on Oct. 12.
Sharing Art Virtually
Before the coronavirus pandemic, Skees coordinated large in-person events at the HiSAM, including First Fridays and Super Saturdays, which were popular with the public. 
"It doesn't seem likely that we'll be able to hold in-person events anytime soon," Skees said.
HiSAM's online events are planned to continue through December 2020, and possibly into the next year. 
In April, the HiSAM began to offer online interactive classes for elementary and middle school children on Tuesdays, non-interactive art webinars on Thursdays, and Friday musical performances on Instagram Live.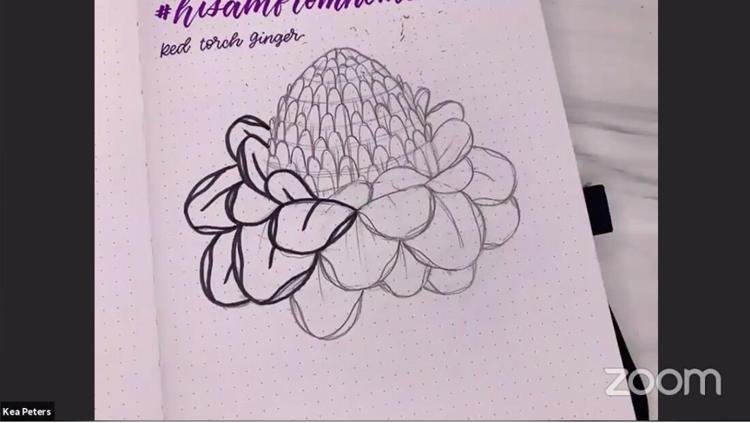 The Tuesday classes were led by artists from a variety of backgrounds, including poetry, dance, theater, puppetry and both 2D and 3D visual arts, according to Rosengren. Because the classes were listed on Eventbrite, kids who participated in the classes were not only from Hawai'i, but from the mainland United States and beyond, including Canada and Germany. 
Many of the kids who regularly attended the Tuesday classes also joined an online camp called Art Ventures offered by HiSAM in July. The Tuesday classes stopped when the school year began, but they were a hit with families and their kids.
"I think we definitely left people wanting more," Rosengren said of the Tuesday interactive classes.
HiSAM's Thursday webinars have continued since April, and are attended by adults of various ages. The most recent Thursday workshop was led by Kea Peters, a graphic designer and illustrator who runs her own venture, Kākou Collective. 
Peters showed viewers how to draw yellow ginger, red torch ginger and orchids, providing illustration tips and tricks for beginners. A recording of the workshop can be found on HiSAM's Facebook. 
The HiSAM online classes have been a success in terms of public engagement.
"For the Thursday classes, we typically see 10 to 15 people live, on average… but the videos we have on social media after the fact are getting two or three hundred views," Skees said. "So the live engagement is relatively small, but the post engagement is relatively high."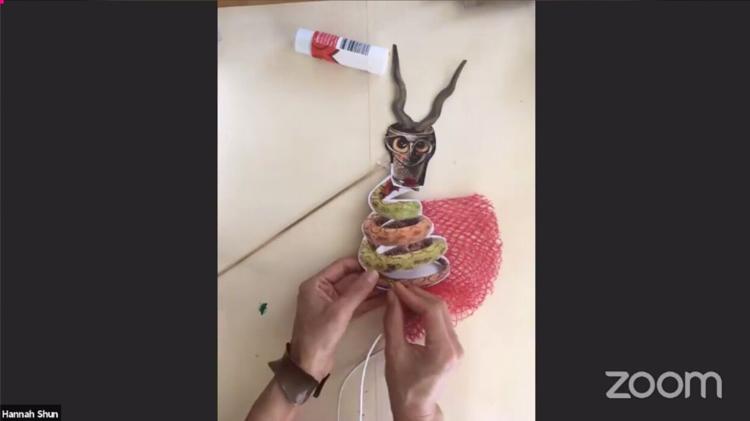 Since June, HiSAM has also hosted Pau Hana Artist Talks, in partnership with the Department of Art and Art History at the University of Hawai'i at Mānoa. Most recently, on Sept. 16, the Pau Hana Artist Talk featured University of Hawai'i at Mānoa Photography lecturers Atis Puampai and Kelly Ciurej, according to HiSAM's Facebook page.
The Role of Art in a Pandemic
Throughout the coronavirus pandemic, the SFCA and HiSAM have continued to emphasize the importance of art and arts education for the local community.
"I think it's essential for every single human to have art and creativity embedded into their lives every single day," Rosengren said. 
Rosengren believes art brings communities together, leads to more joy and laughter, keeps imagination alive and is "such a medicine for feelings of isolation." 
Skees agrees that the community has benefited from HiSAM's virtual arts programming during the pandemic.
"I know that a lot of people have commented that they've gotten a lot of enjoyment and solace from these activities," Skees said. "It's an escape in a way, but it's also a way to express yourself and express the variety of emotions that everyone is going through in a single day."
Amid the ongoing financial, social and emotional turmoil of the coronavirus pandemic, Skees and Rosengren both agree that access to art is especially essential and therapeutic. However, art isn't always a priority, even in non-pandemic circumstances.
"Unfortunately, the arts are usually some of the first to get cut," Rosengren said, referring to the recently proposed program cuts at the University of Hawai'i at Mānoa. 
Departments that would be affected by the cuts include the Department of Art & Art History and the Department of Theatre & Dance, according to the proposal. All Dance degrees would be eliminated except for the Dance minor, the Theatre MA and PhD would be gone and art concentrations would be reduced for the BFA and MFA programs, the proposal says.
HiSAM plans to continue offering its free online art and music events through December 2020, even after the museum reopens its doors on Oct. 12.
"We are the people's museum," Skees said. "We are there to provide programming to the people of Hawaii, and beyond, now that we're virtual, so everything we offer is free."
To support HiSAM during this time, if unable to visit the museum in-person when it reopens, attend HiSAM's online events or watch the recordings on their Instagram IGTV and Facebook pages. Future events and links to join them are posted on HiSAM's events calendar.