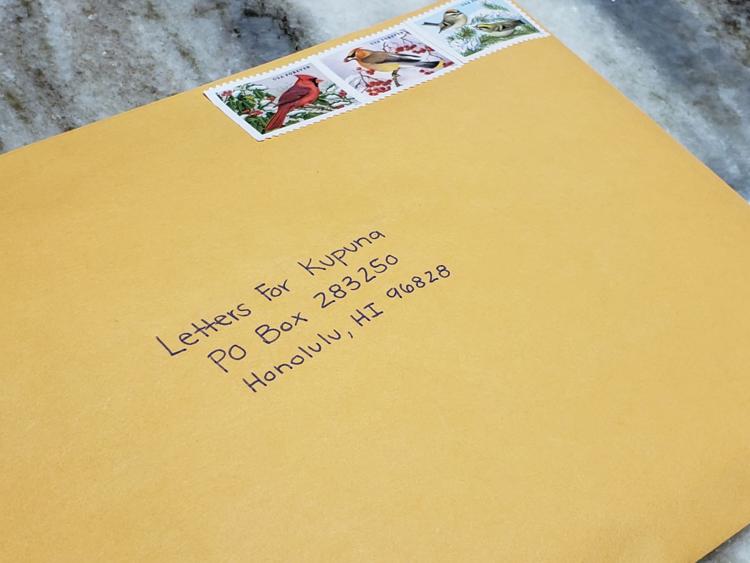 Over the years, Twitter has become one of the go-to apps for memes, news and the latest tweets from various politicians. 
For founder of "Devour Hawaii" and co-founder of the "coronavirushawaii.com" project Greg Hadley, the little blue bird inspired him to create and lead the "Letters for Kupuna" initiative, which aims to lessen feelings of social isolation among kupuna during the stay-at-home order by sending them handwritten letters.  
"I saw someone on Twitter talking about how the elderly would be facing the worst effects of social isolation and how they would be starting a letter writing initiative to help," Hadley explained in an email interview. "I thought we could do the same in Hawaii."
According to the initiative's tab on the "Coronavirus Hawaii" website, almost 60,000 seniors are living alone or in group housing, and many have been placed in strict isolation, as they are at high risk for COVID-19. This isolation, while understandable, exacerbates feelings of loneliness and depression; furthermore, these emotions can "contribute to the onset of Alzherimer's disease and … increased mortality." The tab further explains that when kupuna were younger, handwritten letters were one of the main means of communication, which "continues to represent a cherished medium for them." 
News of the project was first announced on "Coronavirus Hawaii"'s Instagram page on April 13. 
Sending support through letters
Anyone who is interested in participating can submit letters. When writing them, Hadley mentions that there are a few things to keep in mind. 
"Because some (kupuna) may get confused about the date, you should not use any reference to the day, month or year. Also try to avoid talking about God as we don't know their religious beliefs," Hadley said. "We're just trying to help them feel connected to the community, so even a simple story about the new recipes you've been learning or projects you've been working on would bring a smile to their face." 
Additionally, letters must be handwritten in legible, large print and placed in an envelope. Those who would like to send more than one letter may submit them unlabelled and unsealed in a larger envelope or box. There is no limit to how many letters a person can send. 
Letters can be sent to: PO Box 283250, Honolulu HI 96828. 
For those who may not have access to physical envelopes or stamps can still submit letters digitally. To do so, you may type your letter directly on the "Letters for Kupuna" tab with a donation of $5. This covers the cost of postage and converting the digital letter into a handwritten one.  Other guidelines for letters can be found here. 
During the initiative's duration, Hadley hopes to collect at least 5,000 letters. 
"While that seems like a lot, there are many more seniors than that in Hawaii," Hadley said. "There is no set deadline as we expect that even as Hawaii begins to gradually open again, the seniors who are most at risk will need to be isolated for a much longer time."
Since their last PO box check on May 6, they have collected 276 letters so far. 
When asked about how students can support this project, Hadley said submitting letters and using social media to share news about the initiative will help. 
"They can help spread the word about the project," Hadley said. "Get your friends involved, post on social media, tell your teachers so they can ask their other students to get involved."
Hadley also said that although these times are challenging, there are ways to be productive and make the best out of our time at home. 
"Don't squander your time. In addition to your regular classes, use this opportunity to learn a skill or look for ways to help people and businesses," Hadley said. "If you've always wanted to get into managing social media, for instance, offer to help a local restaurant for free."