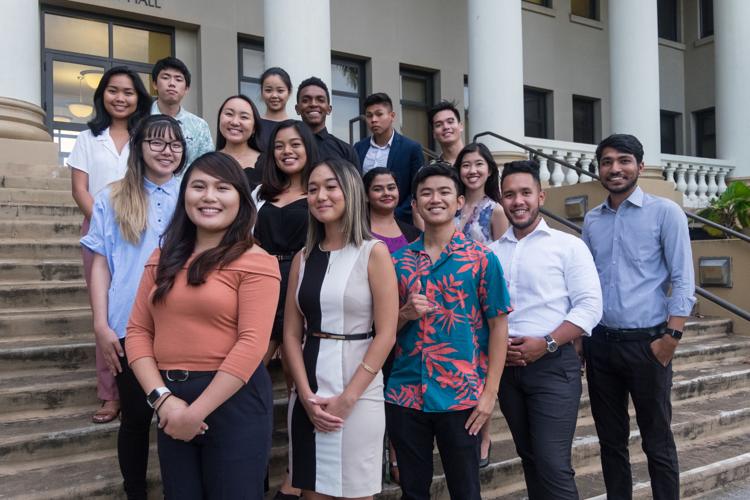 Moving to its 107th year of serving the full-time undergraduate population on campus is ASUH, the Associated Students of the University of Hawai'i at Mānoa.
The members of this year's senate say they joined ASUH to get involved, make an impact and represent students.
"ASUH is like a group of big brothers/sisters who looks after their little brothers/sisters which is the 10,000+ classified undergraduate students," Raiyan Rafid, senator for the College of Arts and Sciences, said in an email interview. "When the little ones are in trouble big ones protect them."
Rafid is also the chairperson of the Finance Committee, whose plans for this semester is to help fund student initiatives and ideas.
As for this year's student body President Landon Li, he wants to ensure that student input is ingrained into changes that will directly impact students.
"If you are not at the table, you are on the menu," Li said.
Vice President Starshine Chun plans to work on the various concerns brought up by students like mental health services and representing part-time students. She hopes to get funding from the State for the Counseling and Student Development Center. 
"The CSDC serves the mental health and career counseling needs of students, faculty, and staff at UH Mānoa and is composed of interrelated programs adhering to a whole-person, developmental philosophy and approach to service delivery and program planning," according to the CSDC about page.
Student government in college is different compared to student government in high school. In high school, student government is like a planning committee where members coordinate assemblies and prom. In college, greater things are involved.
"ASUH operates as an actual legislative body that has and creates its own budget, advocates on behalf of students to administrators, gives out funding to students, and also plan events," Li said. "In the ASUH you have an actual seat at the table with officials who want to gain insights on the student opinion."
Sheena Carmela Juliano, chairperson of the Undergraduate Academic Affairs Committee and senator for the College of Education, wants to spread attention to scholarship funding this semester. 
"We definitely plan to get our scholarships more heard throughout campus because we want to help fund you!" Juliano said in an email interview.