One of the most visible buildings here on campus at the University of Hawaiʻi can now legally rent a car in the United States. A landmark in and of itself, Hawaiʻi's Stan Sheriff Center celebrated its 25th birthday on Monday, Oct. 21.
History of the Stan Sheriff Center
After nearly four years of planning, construction of the stadium began in the spring of 1993. Understandably, the project created plenty of buzz within the community.
"The arena will create a more college-type atmosphere," then-basketball head coach Riley Wallace told Ka Leo in 1993. "More sports can have home games on campus."
Considered by many, both then and now, to be the jewel of the UH athletics program, the Stan Sheriff Center first opened its doors in 1994. After 21 years at the Klum Gym, the men and women's volleyball teams and the women's basketball team made the new venue, then known as the Special Events Arena, their new home starting with the 1994 season. They were joined by the men's basketball team, who had previously called the Blaisdell Center home.
Then-assistant athletic director Marilyn Moniz-Kahoʻohanohano agreed with Wallace's sentiment about the arena.
"By the end of the first year, we could set attendance records for both volleyball teams, and for women's basketball," Moniz-Kahoʻohanohano said in a 1993 interview with Ka Leo.
 Her prediction ultimately proved to be true, perhaps more quickly than anyone had ever expected.
On Oct. 21, 1994, the Rainbow Wahine volleyball team became the first team to compete in an official match at the new arena.
"It was a great honor for women's volleyball to open the arena," legendary former volleyball head coach Dave Shoji said. "There was some talk about them waiting for men's basketball. But the athletic director decided to go with us because the arena was ready to go in October. So we got the honor to open it. We were very honored that they would let us do that."
 Throughout the community, there were early concerns about the Wahine's ability to fill the arena after playing in the limited Klum Gym for so long. One of those who voiced their concerns was Dave Shoji.
"Originally, it was documented that I thought they should be building a smaller arena alongside the SSC for women's athletics," Shoji said. "I thought 4,000 seats would be adequate."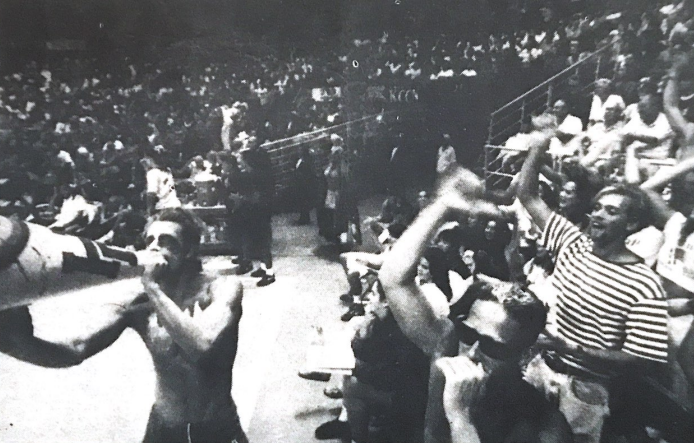 However, those concerns were quickly put to bed on opening night.
"After we found out we were going to open there, and the ticket sales started to happen, it was pretty apparent it was going to be sold out," Shoji said. "People wanted to be in the arena on that first night. It was just something we anticipated, and we were nervous about it. But again, we were very honored to be able to do that."
 In front of a sold out crowd of 10,031 on that very first night in the arena, the Rainbow Wahine christened the venue in style, sweeping the San Jose State Spartans. With an aloha ball opportunity to cap off the victory, 10,031 fans stood up on their feet and shook the arena as Angelica Ljungqvist served up an ace to finish off the Spartans. Ljungqvist, now an associate coach with the current edition of the Rainbow Wahine volleyball team, recalled that opening night game.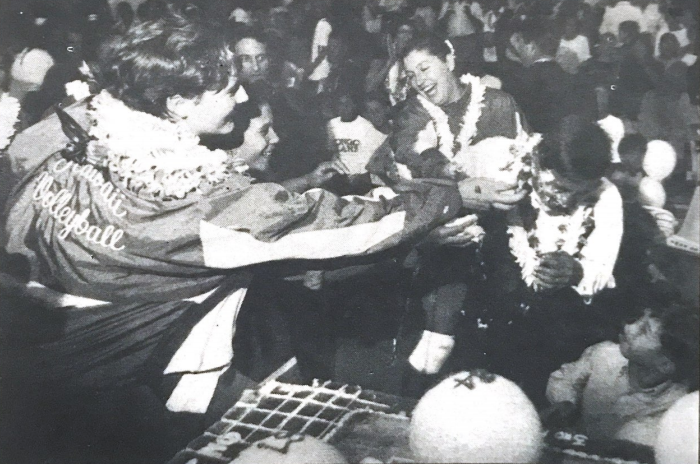 "It's one of my best volleyball memories of all time, hands down," Ljungqvist said. "It was such a special night, because we were the first team that got to be in there. We got to walk out to a packed arena. There were all these festivities and celebrations before, so we got to run out in front of 10,000 people. We always had good crowds, but it usually slowly fills up heading into the game. This time, we got to run out of the tunnel in front of a packed arena. It was amazing. It was great atmosphere. We ended up playing really well that game, I want to remember. It was very special to be a part of that."
The sellout crowd at that first game proved to be no fluke. The fans continued to pack the arena to watch their Wahine compete.
"The arena actually helped boost our program in the sense that there are more people able to watch and more people exposed to volleyball," Shoji said. "It was a boon to women's volleyball that we were able to put so many people in the arena. At first it was the newness of it, people just wanted to be in there. But then, off of that, we developed a loyal following over the years."
The spotlight cast on the athletic program by the new arena was one of the many visions of former athletic director Stan Sheriff. The project's most vocal supporter, Sheriff lobbied and fought adamantly for the construction of the venue.
"We all give a lot of credit to Stan for pushing for this arena," Shoji said. "There was a lot of opposition, and of course the cost was the main thing. But he knew we needed to have a first-class arena if we wanted to be visible to the community and across the country. He fought tooth and nail for this, spending a lot of time down in legislature, talking to people. Also raising money for it. He was definitely the driving force behind the building of the arena." 
Unfortunately, Sheriff never had a chance to see the fruits of his hard work. On Jan. 16, 1993, at age 60, Stan Sheriff passed away after suffering a heart attack at Honolulu International Airport. His efforts were never forgotten however. In 1998, the decision was made to rename the arena after him, becoming the Stan Sheriff Center we know today.
"I was very pleased that the people in charge wanted to honor him that way," arena manager Richard Sheriff said. "I knew how hard he had worked to make the Stan Sheriff Center a reality on campus. Obviously, something of this magnitude can't be done by one man, but I think they recognized his efforts and how hard he pushed to get something that would be usable for our sports programs and the university."
Usable would prove to be an understatement. Under the management of Richard Sheriff, the youngest son of Stan Sheriff, the arena went on to host events such as NCAA Volleyball Championships, NBA preseason camps and even the Miss Universe Pageant.
"We get so much exposure from the mainland, and I think it's invaluable to get our venue out on TVs across the country," Richard Sheriff said. "You've got hours of viewing from people sitting at home in places like the east coast, midwest, and upper northwest, where it's -50 degrees or -20 degrees outside, and they're seeing the sunny beaches of Hawaiʻi on TV. I think that's worth quite a bit to the state and to the university."
The arena has become a vital part of the UH athletic identity. The facility certainly helps to provide a boost for the many athletes and coaches that roam its halls.
"It's that old adage of 'look like a champion, play like a champion,'" Wahine basketball coach Laura Beeman said. "We have a championship level arena. It is visible not only from campus but on the highway and from the air. It's one of the things that visitors see also. When you walk into an arena that has that feel, it helps you step into any environment and succeed. It gives you an added confidence."
The Stan Sheriff Center continues to be a pillar in the UH athletics community. In recent years, men's volleyball at the arena has led the nation in accumulated attendance 5 years in a row. The SSC also remains the second largest women's volleyball arena in the NCAA to this day, as well as fourth largest men's volleyball venue.
"Every time I see 10,300 fans at the arena going crazy, it puts a smile on my face," Richard Sheriff said. "It really is a testament to the vision my dad had."
Fond memories at the Stan Sheriff Center
In its 25 year run at the University of Hawaiʻi, the Stan Sheriff Center has seen many faces come and go. Each and every person that has passed through the arena has a story to tell. We reached out to some of the current coaches that occupy the SSC to find out their fondest memories at the Stan Sheriff Center.
"My fondest memory came during the 2014-15 season, when we clinched the conference title here at home on senior night and celebrated with our fans that night," Beeman said. "Senior night's always an amazing night and we always draw a good crowd. I don't remember how many people were here that night, but there were a few thousand. To be able to celebrate that moment with them definitely goes down as one of my great memories."
Beeman also reached an important career milestone at the Stan Sheriff Center. On Feb. 8, 2018, Beeman picked up her 100th career win as a coach at UH. The milestone was accomplished on the floor at the Stan Sheriff Center
 "It's always cool to hit milestones, but I don't get wrapped up in numbers," Beeman said. "I guess the good thing is that it happened here instead of on the road. To be able to celebrate with the fans, to have the ball presentation and the video of past players coming back and saying thanks for the memories, that was really special."
Men's basketball head coach Eran Ganot recalls the time the SSC crowd picked him and his team up following some devastating news.
"I'll never forget the Northern Iowa game to open the Diamond Head Classic in 2015," Ganot said. "We had just heard the news of the impending 2017 postseason ban and sanctions. We actually found out on the day of the Northern Iowa game. We didn't really know what to expect. But as always, the people of Hawaiʻi stepped up. When we came into the arena and walked onto the floor, we could tell it was more of an emotional crowd, that let us know they had our backs and they were there for us. The whole day was filled with a lot of emotion."
Men's volleyball coach Charlie Wade has been a part of many significant matches at the Stan Sheriff Center. However, his fondest memories came during a seemingly random game all the way back in 2010.
 "I remember one time (against BYU in 2010)," Wade said. "It wasn't that we had a huge crowd. We beat them on a Monday, after the match was pushed from Sunday after a tsunami. The crowd was absolutely a part of it. It was one of those games where it didn't need to be a full sellout crowd."
Significance of the Stan Sheriff Center
The significance of the venue is not lost on those involved in the athletic program. Coaches, players and other staff members alike recognize what the Stan Sheriff Center stands for.
"The first full year of the Stan Sheriff Center was my first full year working at the University of Hawaiʻi, with the women's volleyball program in 1995," Charlie Wade said. "I've been here for most of its life. It is, for volleyball in this country, the mecca. There are players, men and women all over the planet that their fondest memories of playing collegiate volleyball are in the Stan Sheriff Center in front of our fans."
"I've always referred to it as the crown jewel of Hawaiʻi," Eran Ganot said. "It's certainly the best arena in our league and I think it's the best in the west. At times, it rivals any other arena in the country when it can be electric like that. Our four arena teams are very fortunate to play there."
"I think that it has a certain spirituality, and it's a significant example of the volleyball culture here, and those who support our teams, each and every one of our athletic teams that compete in there," men's volleyball player Colton Cowell said. "We have a special group of fans, and it is truly the best place to play volleyball in the world. There isn't another arena I've ever visited nor seen on TV broadcast that resembles it or compares to it."
Angelica Ljungqvist, along with Wahine volleyball head coach Robyn Ah Mow, has a unique perspective of being part of both the team that christened the stadium and the one that celebrated its 25th year.
 "To be part of that is very special," Ljungqvist said. "We were part of that first team to play in there, and now we get to celebrate the anniversary, both coach Robyn and myself. It's truly special to be a part of."
Richard Sheriff, who has managed the arena since its opening in 1994, reflects on the SSC's continued significance to the UH community.
 "I think my dad would be very proud," Sheriff said. "Not from a standpoint of 'I told you so,' but as 'It's great for our programs.' Its allowed them to recruit better, have more fans at their games, and even host graduation twice a year. From a university standpoint, it's really one of the gems here on campus."