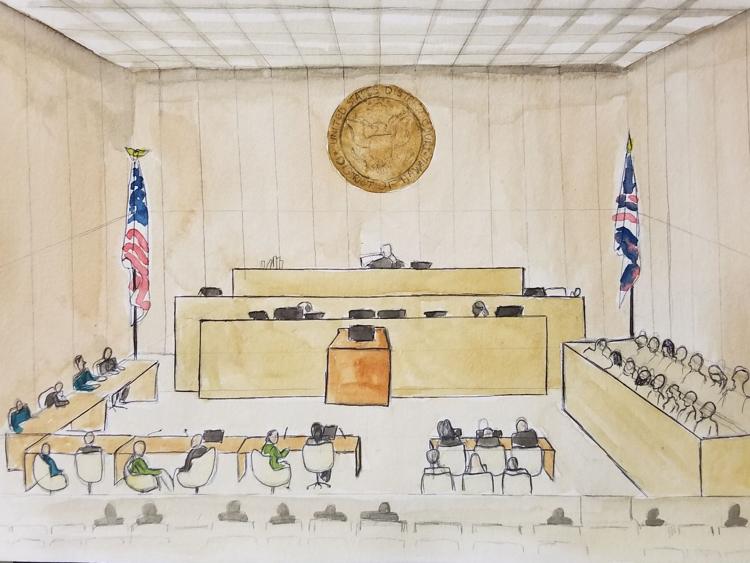 Two University of Hawai'i at Mānoa alumnae had no idea that court sketch artists still existed until they received a call to draw the notorious Kealoha trial.
"It's probably the most unexpected and best thing that's ever happened to us after college," Shimizu said.
Both artists recently graduated this past spring. Dannah Hidalgo graduated with a bachelors of fine arts and a Bachelors in Psychology, and Carley Shimizu graduated with a BFA. 
On June 27, former Honolulu Police Chief Louis Kealoha was found guilty of federal conspiracy along with his wife ex-deputy prosecutor Katherine Kealoha and two officers. The charges were for lying to federal authorities about conspiring to frame Katherine Kealoha's uncle, Gerard Puana, for the alleged theft of her mailbox.
Katherine Kealoha was detained the same day to await two more trials while Louis Keloha is waiting for his last one.
Since no cameras are allowed in federal court, media hire sketch artists to document the case.
It has been about two weeks since the verdict was announced for the month-long trial, and the sketch artists reflected on their experiences capturing every moment of the Kealoha case.
"We got some time off of it," Hidalgo said. "Maybe that day, it does affect us a little. We're just surprised on how corrupt people can be. But now that time has passed, even in a week, I feel like it's already something we look back on and be like..."
Shimizu jumped in the conversation and said, "We were a part of that."
"We got the pics to prove it," Hidalgo said.
Hidalgo sketches traditionally using a thick sketch pad and drawing utensils, while Shimizu uses her iPad. They both use a watercolor style to make their art pop.
The two would show up to court at 8 a.m. and would stay until 5 p.m. 
At the beginning of the trial, the public seating was near empty, with about 10 people. By the end, it was packed to where the room overflowed into the next room, according to Shimizu. 
The alumnae were free to sit in the general seating area with a clear view of Federal Judge Michael Seabright and the jurors, attorneys, defendants and prosecutors. Their heads were constantly nodding to catch every moment of the case.
"We just try to capture every moment that they're on whatever pose they're at," Hidalgo said. "If we feel like that's the pose they're going to be in for like two minutes rather than 30 seconds, you realize even if no one is doing anything people still move so much."
Hidalgo and Shimizu were focused on drawing but would tune in once in a while to listen to the case.
They saw Katherine Kealoha shaking her head most of the time in disagreement while Louis Kealoha looked stoic while covering his mouth like he's thinking.
But there were parts of the trial where they would catch some of the jurors falling asleep.
Hidalgo said that during the break, Judge Seabright passed around a jar full of Snickers to keep the jurors awake.
The mood of the courtroom changed when the recorded deposition of Katherine Kealoha's grandmother, Florence Puana, said, "I trusted her." Some of the jurors were left in tears, according to the alumnae. 
Florence Puana was Hidalgo's favorite subject to sketch because the recording was paused at some points to capture her likeness
"A lot of people refer to when they talk about which witness was impactful," Hidalgo said. "Hearing from her and how she felt about the whole thing was like 'dang how could you do that to your grandma?'"
Florence Puana gave her recorded testimony against Katherine Kealoha on the ninth day of trial, according to KITV. Puana lost her home in a reverse mortgage and stated that it was Kealoha's idea. 
The strangest event for Hidalgo was when she was taking the elevator with Katherine Kealoha. Kealoha complimented her sketches, while Hidalgo responded with an awkward thanks.
Hidalgo said she felt guilty after because she's reminded that the Kealohas are people who make a lot of mistakes.
Shimizu documented a wide-angle view of the case, but her favorite sketch was the side bar where the judge, jurors, attorneys, defendants and prosecutors were in conversation.
Though parts of the case were emotional rollercoasters, the alumnae stuck to their deadlines.
Shimizu averaged three minutes per drawing and would turn in nine drawings a day to Hawaii News Now. Hidalgo averaged 10 to 30 minutes per drawing and would turn in approximately eight to KITV.
This case took the jury a day to come up with the verdict, and the day the verdict was announced was the day the stations didn't need the alumnae.
"They didn't need us that day and they were not too sure if the verdict would be delivered that same day," Shimizu said.
Hidalgo and Shimizu were anxious to sketch that moment.
Shimizu said she was following the case on her reporter's Twitter. Shimizu added that it would have been good to draw the Kealohas' reactions to the verdict because Louis Kealoha's head was hung low while Katherine Kealoha covered her face.
Thought both artists were not there for the verdict, they said if given the opportunity they would do it again.
"It's a really good experience to draw people in a different setting," Shimizu said.
Both alumnae jokingly described their experience as the scene of Leanardo DiCaprio sketching Kate Winslet in the movie Titanic.