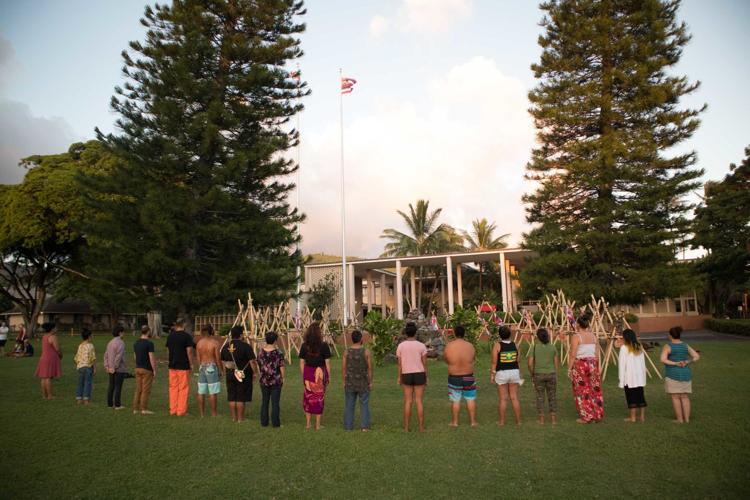 Their day starts at 8 a.m. with  an 'aha, an everyday ceremony to support the kia'i on Maunakea in opposition of the Thirty Meter Telescope. 
Four kia'i reflect on their experience of the sit-in. Some have occupied the building since day one, while others have joined later.
Tiele-Lauren Doudt, Jonathan Fisk and Beau Shishido have been part of the sit-in from the first day, and Kamalani Oshiro followed over a month ago. 
The longest sit-in in the history of the University of Hawai'i hasn't been a walk in the park for the kia'i. It's not just about sitting in the building; there's an emotional toll as well. The students occupying Bachman must balance school work, family matters, jobs and other expectations. Through rain and shine, the kia'i have spent the nights within the corridors of Bachman. 
"I can't wait until this whole thing's over so I can retire," Shishido joked. 
The kia'i and the administration have yet to come to an agreement, and it seems that this will not change anytime soon.
Just a few steps away from UH President David Lassner's office, it was a morning routine to see him walking in and out. Some kia'i said  that it is interesting while others say it is awkward.
"Kapu aloha always," Fisk said. "We greet him, we're nice to him, and not even like tongue-in-cheek kind nice to him. We are nice to him because part of kapu aloha is that it has to be genuine. You can't be fake nice because that's not actual aloha. That said, it really is uncomfortable, up until two weeks ago, they've been trying to get a meeting with him for ages since the occupation."
Through the draped clothing across the stairwell and the scattered placements of the bedding, and killing a couple centipedes here and there, the kia'i prepare themselves for another lock-in. 
"We knew from the start that this was going to be a long battle on how we can change the administration's mind, but we're still hopeful," Shishido said.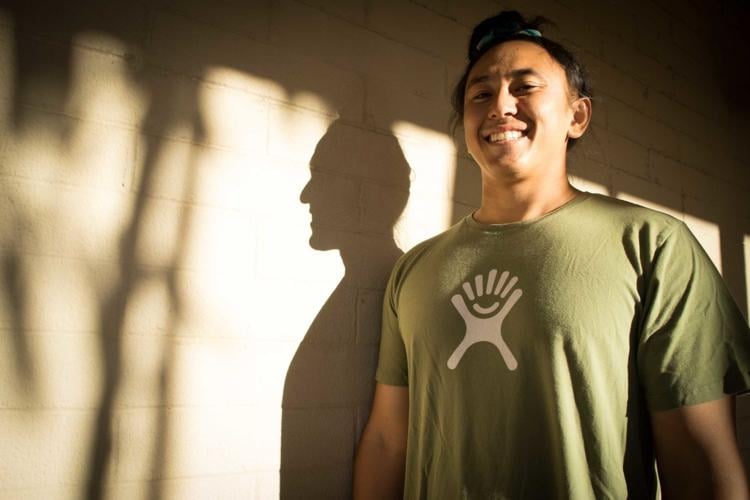 Beau Shishido | Graduate Student in Hawaiian Language 
Shishido described his childhood as a unique one. He grew up on the Hawaiian Home Lands of Papakolea. He said that his hometown felt more country, where kids played in the streets, the parks and with sticks.
He dreams of owning his own farm either on the Big Island or on O'ahu. This dream came from learning about his culture in high school. 
"I'm hoping after all of this is all done, I can make enough money to have my own farm," Shishido said. "It doesn't have to be big, it's just for sustainability purposes and have outreach programs for kids." 
He did not grow up learning the Hawaiian culture or language. His great grandfather was the last to learn the language, but never passed it down. 
"It was a big thing," he said. "A lot of Hawaiians grew up without learning the language." 
Shishido later attended UH learning more about the history and finally the language, but he holds his community close to him, making up for lost time away from it.
"I had to spend more time away from my community just because of how much time my school took and all the sports I played in high school," he said. "I think that was a change. Not a bad change,  but I've learned a lot to where I can bring back to my community."
Shishido kept that mentality during the sit-in, but as calm and collected as he appears, there was anger following the arrests of kupuna on Maunakea over the summer. 
He said that bringing anger into a space is toxic, but admitted that he was more nervous and scared going into the sit-in.
Though Shishido balances the sit-in and school work, he still has to go home to cut the grass for his mother. His mother supports him by visiting him and bringing over his dog. 
"She's pretty tough," he said. "She's not too much of crier. I think she only cries more for movies than she does for her kids, but I think she knows we can handle it."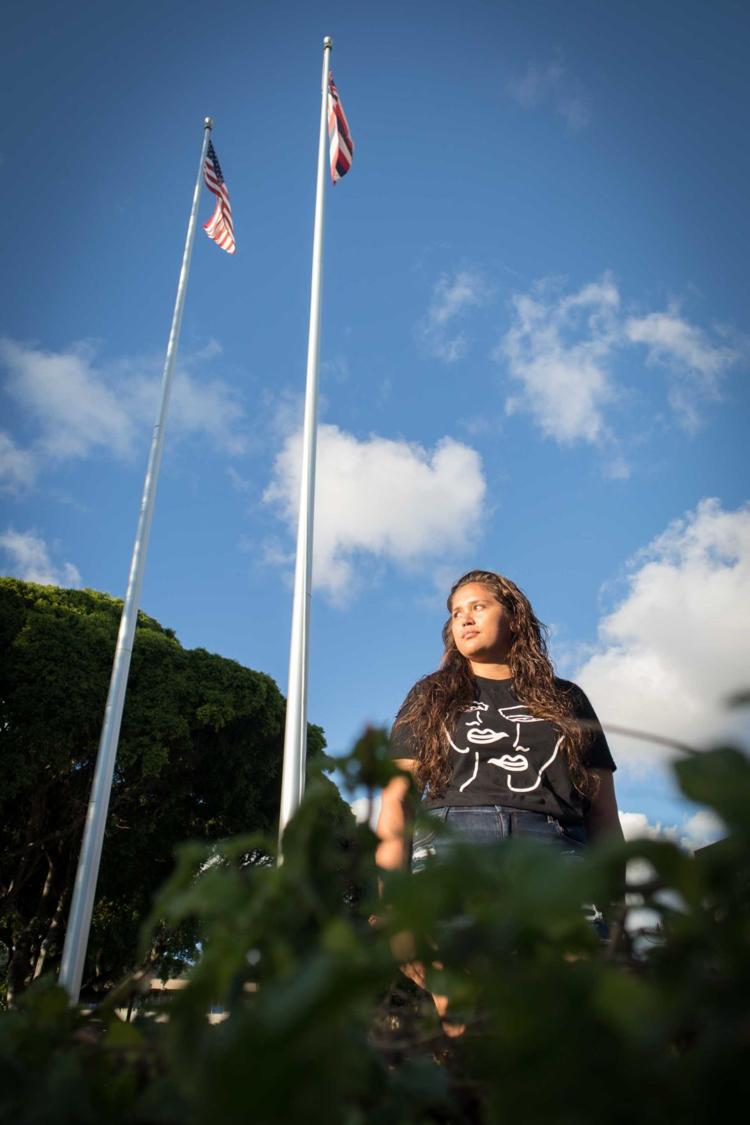 Tiele-Lauren Doudt | Graduate Student in Hawaiian Studies 
Doudt was taught to "never make waves," a saying that was passed down in her family in Kauai, where she spent approximately 11 years of her life. 
Mostly quiet and shy, Doudt found her voice once she got to UH. It was when Doubt and her classmates went to a Board of Regents meeting in Maui to speak up about their concerns over TMT. She said that she felt overwhelmed and cried most of the time in silence.
It wasn't until one of her professors pulled her to the side and said, "Your education, leaving your family at such a young age, and your scholarship. None of that means anything if you don't use your voice to speak up for the community that you serve." 
"That stuck with me," she said.
Doudt spends most of her time at the sit-in. She shows fierceness and assertion as she organizes meetings. 
Though Doudt disagrees with the UH administration, she said that she still loves the institution she attends. 
Though her family taught her the opposite, Doudt said that they were supportive of her decision to occupy Bachman Hall.
"I think that they've realized that Hawaiians have been quiet for too long, and that the only way we can change is if we do it ourselves. I think my family realized that they did nothing and played it safe their whole lives. Now their children have to carry the kuleana for them."
As she was in the lock-in, Doudt said that she dreamed of what Hawai'i would look like if TMT were to never be built. 
"Even if this was a failure, I will always have my community and my 'āina to return to," she said.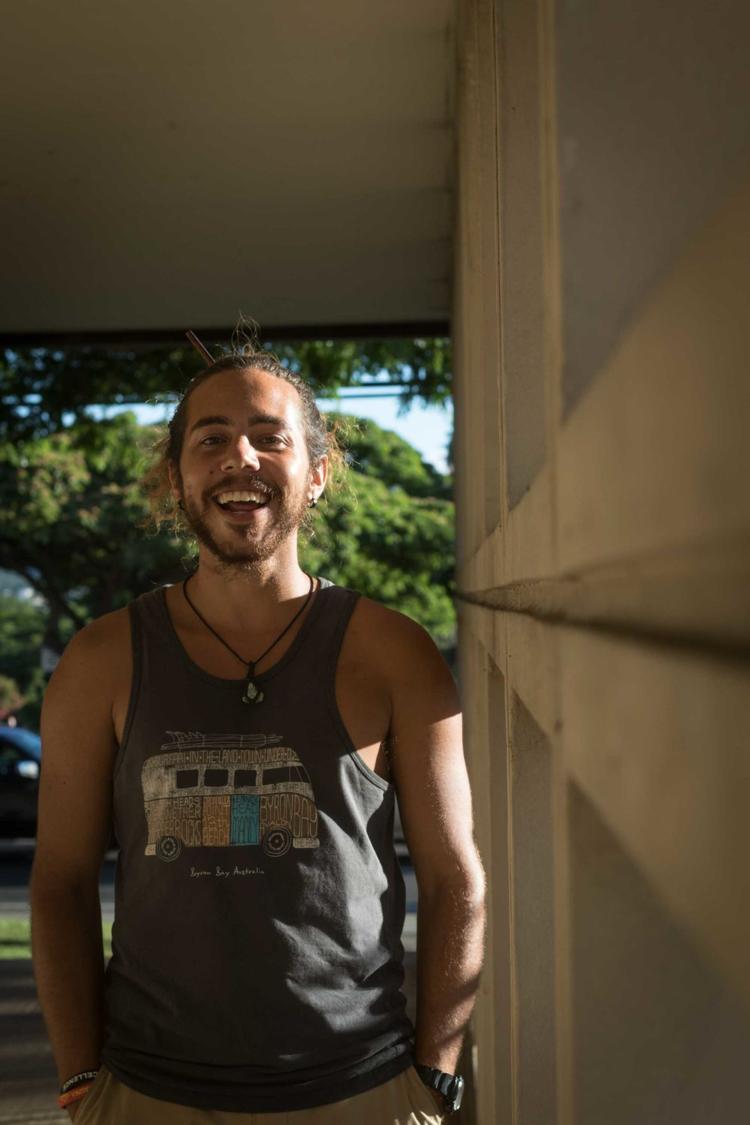 Jonathan Fisk | Graduate Student in Indigenous Food Systems and Food Sovereignty 
Fisk is of Puerto Rican descent from Long Beach, California. Fisk transferred from Stanford University to UH two years ago, two years after the 2015 arrests of 30 protesters on Maunakea. 
Fisk joined the sit-in from day one. He said his gut feeling told him where he needed to be. His outspoken and spunky personality will not go unnoticed. He can talk with sass, but it's "kapu aloha always," as he said.
"As an indigenous person, I understand the importance of land and the relationships we built with land," he said. "Therefore being on someone else's land, it's my responsibility to fight for that land. For me, it's a no brainer to be invested in this fight as I would be for my own lands."
During the weekdays, Fisk sleeps outside by the ahu outside the Bachman Hall entrance. He listens to the rain and admires the plants around him, but during the lock-in he does not have this luxury.
Though they support him, he said that he tries not to share a lot with his family so as not to stress them out.
"It gets really hot because this building does not have ventilation," he said. "We can't walk around and get fresh air. It is really uncomfortable, and  by the end of it we feel fatigued." 
"But my parents also know, even if I come out every weekend more and more tired, I'm not gonna fall apart and I'm not going to have a breakdown because we're all resolute in being steadfast. My parents know that so it stresses them out."
If you ask him what he's going to do after he graduates, he will reply with a chuckle.
"Who knows," he shrugged.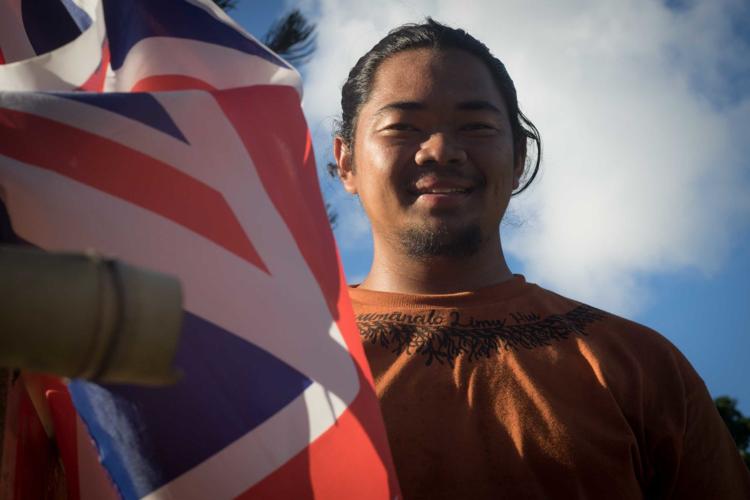 Kamalani Oshiro | Hawaiian Studies Language Major 
Oshiro grew up only knowing one Hawaiian family outside of his home in Southern California.
"My parents tried to raise me and my sister with Hawaiian culture and values, but there's so much you can't learn being so far and disconnected geographically from the 'āina," he said. 
His grandmother was the main caretaker, but the language was lost during her generation. This is because his great grandparents were trying to save the family from being shamed for speaking and practicing their culture during the time in which it was forbidden. 
When he attended UH last year, he followed a lesson from his professor, Jamaica Osorio, to write his own mo'olelo (story).
"It's that reassurance what I'm doing here isn't just affecting me, it's going to affect future generations to come," he said. 
Oshiro went to Maunakea over the summer to experience what has been happening. Because attending classes at UH Mānoa kept Oshiro from going to Maunakea, he wanted to show support by participating in the sit-in.
 "Ever since then that experience opened my eyes to what it's like to be kanaka and sort of kindle that fire in me," he said.