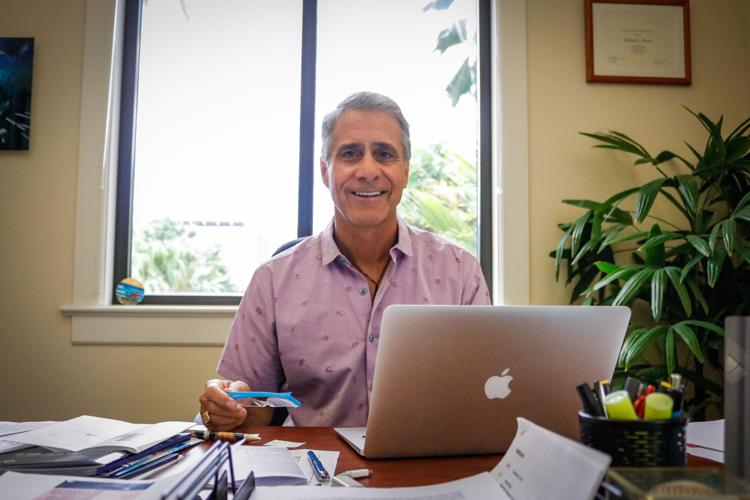 There is no such thing as a normal day for Michael Bruno. His day includes back-to-back meetings with deans, faculty senate, student leaders and other university leadership. This is ontop of being a scuba instructor.
Bruno juggles multiple responsibilities because he serves as provost at the University of Hawai'i at Mānoa, however, he doesn't take all of the credit.
"I have a fantastic team," Bruno said. "It really begins with that. We're really lucky to have an amazing group of deans that oversee the various colleges. I have never worked with a more professional group of deans, and I've been in academia now for 33 years."
After serving as Vice Chancellor for Research and Academic Affairs, Bruno began the provost position in April as a part of the university's reorganization called for new leadership. Under the new leadership structure, there is no chancellor for the college.
"My initial reaction was excitement at the prospect of helping to create something that had never existed here before, and working with a fantastic team of vice chancellors and deans to fashion out of this position a real opportunity to make a lasting change at the university," Bruno said. "Positive change that can really improve the student's experience on this campus so bring in a real way bring a world class research into the classroom and invite students from the classroom into the laboratory onto the ships, onto the field with our faculty—that has to be one of the real outcomes of this."
But a provost differs from his previous position–it's a complex role.
A provost is the top person in charge of education. Bruno's responsibilities deal with internal relations to the university, which include anything academic and budget affairs. One of the goals for a provost is to ensure that the university recruits and retain undergraduate and graduate students. 
Bruno will collaborate with not only the university's president, but academic deans, faculty senate, vice chancellors, student leadership and other academic leadership. 
He's in charge of academic priorities for the university and allocating funds to carry the priorities forward. 
Bruno would summarize it as "the provost oversees all aspects of academic pursuits including both teaching, research, scholarships and the academic environment."
Goals in play
It's a short-term goal, but Bruno said breaking down barriers at the university will lead to long-term success. 
"We're embarking now on trying to break down those barriers because the reality is that in today's world we're talking about the arts and humanities or any of the sciences and engineering," Bruno said "Real progress happens at the boundaries between disciplines not with any one discipline. When we talk about design, we can't just talk about architecture and engineering. We have to look at the arts and some of the sciences. We have psychology and other departments that can come to design from a human perspective and human behaviors."
Though he is provost, Bruno's previous work while he was vice chancellor of research and academic affairs continues the four overarching goals: to become a native Hawaiian place of learning and an indigenous serving institution, raise student success, advance research and build a sustainable and resilient campus environment. 
The draft that was presented in January at UH Mānoa's townhall meeting, is going through a new draft that in near completion. The next town hall meeting will be sometime in September.
Trading one island for another
Bruno grew up in an Italian neighborhood of northern New Jersey. His father came from an Italian heritage, while his mother originated from Ireland. 
The English language was not primary in his household, which made it unique for Bruno because he started learning new languages as one of his hobbies.
He is one of five siblings, while his father is one of 13. 
"I had a very special childhood," Bruno said. "By the time we were growing up, we had 100-plus cousins. All of them living in the same neighborhood. We grew up with ready-made baseball and basketball team–anything anybody wanted to do."
Not only is he a first generation American, he is also a first college graduate, which he relates to many students at UH. 
"I know we have a lot of students here who are in the same position," Bruno said. "Immediately for me coming here was a special thing for me to recognize. I appreciate that and the responsibilities that come with that."
When he met his wife, who was a professional opera singer, they easily connected because of their strong relationship with family values.
"That was another thing that struck us when we moved to Hawaii is that in a lot of ways the Hawai'i emphasis on family and extended family. It's kind of a throwback to the kind of childhood I had."