Miriam Stark and James Bayman met more than 30 years ago when they were doing archaeological field research in Tucson, Arizona.
"I liked her energy and her spirit," said Bayman, now a professor and undergraduate chair for the Department of Anthropology at the University of Hawaiʻi at Mānoa. 
Stark, an anthropological archaeologist and educator at the same institute, was similarly impressed with Bayman, who said "I liked his sense of humor and outlook on life." 
It would be another five years before the two professors eventually got married and moved to Hawaiʻi to teach at UHM. The couple is one example whose romance was catalyzed by their love for archaeology.
"We would make more money if we did not work at an academic setting, but we like the autonomy, we like the flexibility, and we both really like to do research," Stark said.
February 14 marks 27 years that Stark and Bayman have been married. They have been working in the same department teaching numerous courses in anthropology and archaeology since 1995. This semester, Bayman teaches an Introduction to Archaeology course, but also helps students with anything from how to write a paper to directed reading and building professional experience.
"Archaeology is a lot of one-on-one and is very tutorial driven and apprenticeship driven," Stark said. "So we take students in the field with us and then that's how they learn and get better. You have to use your brain and body so it's sort of a holistic field."
But the couple have different research interests, which they both say is a good thing.
"She works in South East Asia and I work in the Pacific so we work in adjacent regions, but they're not overlapping so our projects are not integrated much," Bayman said.
"I think if we had studied the same area there would be a lot of competition," Stark added. "Marriage is a give and take, it's a series of compromises so it's good that we work in different areas… I can't imagine us both working in the same part of the world and on the same projects."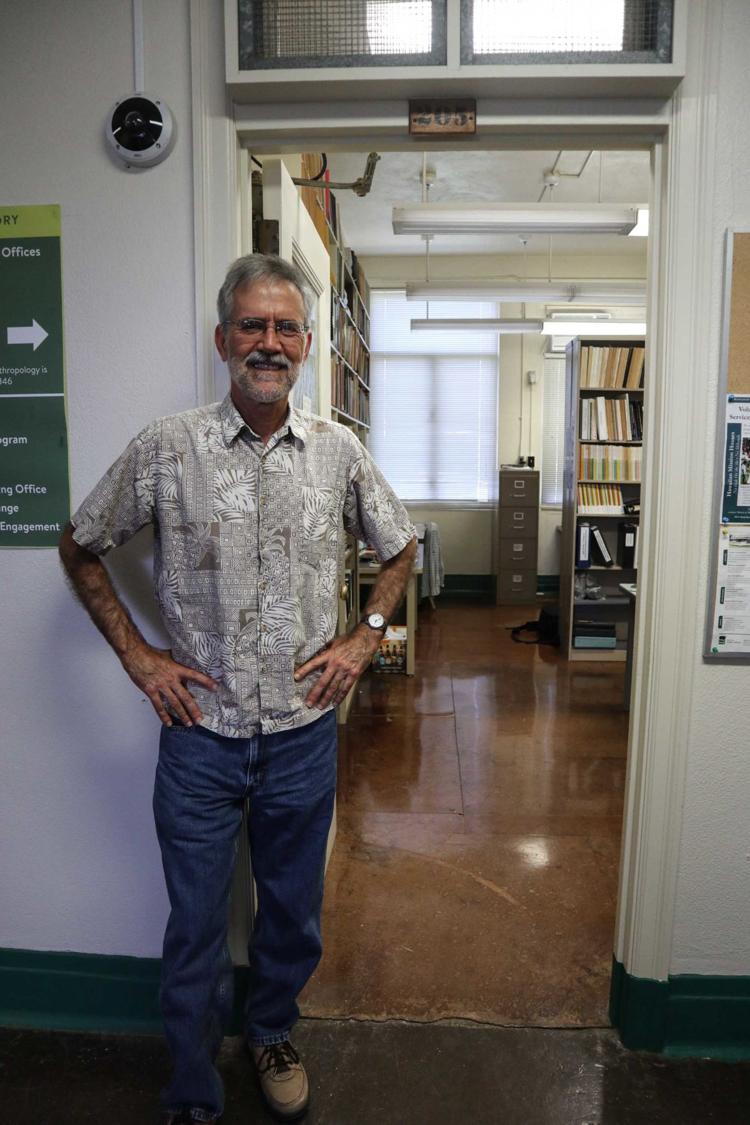 When asked what it was like being married and having a family while also having offices two doors down from each other, Stark allowed Bayman to answer first, watching him give his answer with a smile saying, "Being at home is like being at work, we talk about work all of the time." 
They both laughed hysterically while Stark continued with, "we have to sometimes just have a moratorium. We literally say we're not going to talk about work now, right Jim?"
Both, Stark and Bayman, eye gazed and smiled at each other, respecting the honesty and cleverness in their answers.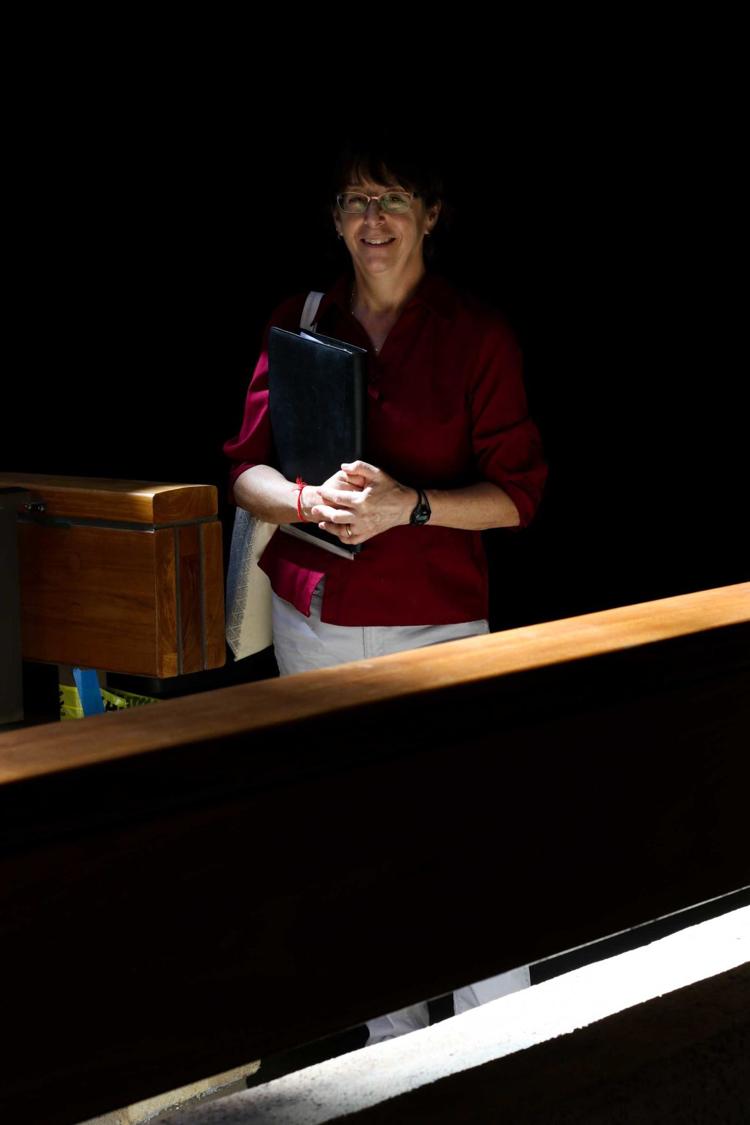 "We try not to take our work home with us and there are the occasional rants, but see, when we met the one thing that was great to me," said Stark. "Was that we'd go on long hikes and we'd just talk archaeology the whole time and it was great!"
When Stark and Bayman met in the mid-1980's, they were both graduate students in different master degree programs studying anthropology with a focus on archaeology. Bayman was at Northern Arizona University and Stark was at University of Arizona. They both started working in Tucson on an archeological project where they would go out into the desert and find sites that had not been discovered before. Bayman had been brought in as a crew chief and was in his thesis portion of his masters program working on the project full-time while Stark was part-time and still taking courses. 
"Our friends said we should meet; that they thought we had a similar sense of humor," Stark said.
The two officially met at a New Year's Eve party when Stark was deciding at midnight to ride her friend's horse and Bayman came out to watch. Stark rode the horse commenting that "parties don't usually have horses so I thought it would be fun!"
"We have a passionate appreciation for life that we share," Bayman said. 
Stark Agreed.
Their love for research, travelling and experiencing something new seemed to be the seed that grew into a fruitful marriage and eventually a family; having a 17-year-old daughter in their lives.
"I'm really flexible and tolerant and patient and she's really decisive," Bayman said about Stark. 
"He comes up with good ideas and then I implement, I think he's fundamentally more creative than me," Stark said.
Retaining a life together outside of work is a challenge that Stark and Bayman both agree requires flexibility, understanding and team work.
"Part of keeping the spark going is respecting each other's space… so it's good for us to have time apart as well," Stark said.
The two do not usually eat lunch together because they have dinner with each other all of the time and use lunchtime to catch up with colleagues and work. 
Since both are on an academic salary of nine months out of the year, Bayman has been going on roadtrips with his brother to Big Bend, Texas and is also a dedicated UH Mānoa sports fan. Stark likes to travel and work in Cambodia often, saying that the nice thing about being married to an archaeologist is that they like the same travel destinations and that "he (Bayman) really likes going to Cambodia."
Bayman jokingly added, "also we exercise separately!"
Besides research, working with students and sharing ideas about the potential of a student and how they might be encouraged if needed are also at the root of what keeps the married couple involved in their everyday work lives.
"When I've had field trips with students," Bayman said. "I think they like to see the instructor with his or her spouse, because then they become like proto-parents or something like an 'Uncle and Auntie'."
Stark added, "They like that, it makes us very approachable."
Both professors came from parents who stayed married which Stark says was very helpful to have models on how serious a decision to have a life partner can be. Being married for numerous years can be easy for two people to fall out of touch with their own individuality, but they say it takes a level of temperament and stubbornness to remain your own person and allowing your spouse to make their own choices.
"I think people have a misconception about true love and life partners and I think complementarity and mutual respect are the keys, really," Stark said. "If you're too similar you can drive eachother crazy… Bayman would add flexibility… You can't be wedded to your own ideas."
"It's just internal energy, shared passion in the enterprise of archaeology and life," Bayman said.