In 2017, Hurricane Harvey was the first high-category storm to hit the U.S. since 2005. According to the nonprofit organization World Vision, an estimated 13 million people were affected and 135,000 homes were damaged or destroyed. The ensuing hurricane, Irma, was classified as a Category 5 hurricane, leaving many Caribbean Islands and southern U.S. states without power or homes. As these devastating events took place, Professor Mary Babcock's Fall Woven Structure (ART 237) students turned to weaving as a peaceful way to encourage discussion regarding global warming's contributions to sea level rise. Their work was then displayed at UH Mānoa's February art gallery, titled "When Waters Rise."
"Instead of thinking of boundaries as political boundaries that tend to highlight our separateness and divisions, we highlighted something that we all share, which is the need for water. But what happens when water goes the other way too?" said Babcock.
The process of weaving over a loom is slow and gradual, allowing the students to absorb an issue for a long period of time and get lost in its emotional process. Professor Babcock wanted her students to explore various areas of the world where an excess or inadequate amount of water has not been publicized to emphasize that sea level rise is threatening the livelihood of many around the world.
The students chose music that would allow them to connect with people living in areas affected by water and understand how these natural disasters are impacting their daily lives. Babcock stated that the melody of the music chosen was a sort of translation of one art form of music into another: weaving.
Professor Babcock disclosed that the title of the art gallery, "When Waters Rise," is presented as a question to motivate the audience to have an open discussion pertaining to the rising sea level and ways to combat global warming.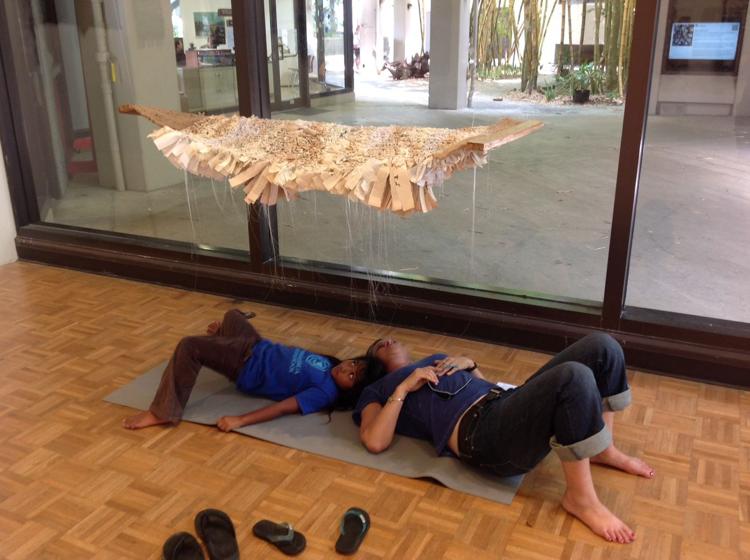 "I think there is a preventative measure that can be taken towards [global warming]. Although it wouldn't pay off as easily as a beach clean up ... it's something that has to be taken into account everywhere like the whole burning of trash and the way we dispose of it," said student Catherina Guerero.
If you would like to see more of UH Mānoa's art galleries, visit "The Extended Hawaiian Body," where students portray the metaphorical extension of the collective Hawaiian body and its response to colonialism. "The Extended Hawaiian Body" will be on display at the John Young Museum of Art from March 4 to May 4, Monday to Friday from 1 - 4 p.m.