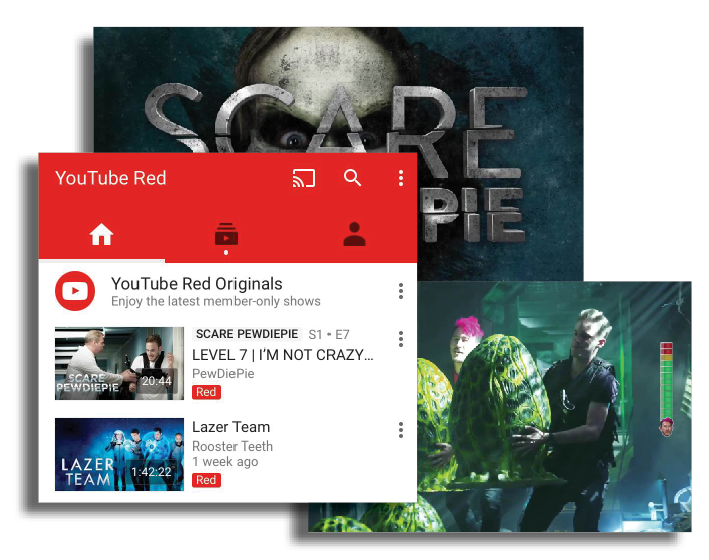 The evolution of "YouTube" has finally begun with its newest premium service. 
"YouTube Red" emulates services like "Spotify Premium," where users have the ability to save content for offline viewing as well as eliminate the annoyance of ads. The offline viewing option comes in handy when traveling to a location without an internet connection. If you are camping and need to watch a fire making tutorial, you can download the video onto your device ahead of time. 
Other functions include background play, which allows users to use other apps without interrupting a video playing on a mobile device, as well as a subscription to Google Play Music.
Though this service was released in October 2015, the Feb. 9 launch of "YouTube Originals" includes YouTubers Meg DeAngelis, Lilly Singh and Rooster Teeth. Each YouTube Original is a full feature-length film that was funded directly by YouTube. As the year progresses, more films, as well as shows produced by other content creators, will be available.
PewDiePie, who holds a firm grasp as the top YouTuber with over 42,000,000 subscribers, is currently the only YouTuber with an Original series available to the public. "Scare PewDiePie" is a roughly 20-minute episodic series, in which PewDiePie is thrown into a realistic adaptation of horror games. His popularity came from his reactions to terrifying games such as "Amnesia" and "Slender" but now branched into other forms of entertainment on his channel. The series brings him back to his horror roots, where he is equipped with a camera and sent on various missions in which he encounters actors and props with one goal in mind: scare PewDiePie.  Having Robert Kirkman, creator of "The Walking Dead," as executive producer shows that YouTube is going all in to not only scare PewDiePie, but also entertain viewers.
The first episode, titled "Level 1: Let's play Doctor," was a genius attempt to catch PewDiePie off guard. Viewers joined the secret as it was revealed that his microphone also had a heart rate monitor, which was shown at the corner of the screen during pivotal moments. The set-up was to trick PewDiePie into believing he was going in for a basic health check-up, but the plan goes awry once a deranged patient is on the run from security.
For the most part, PewDiePie's reactions are real – as he's known for not being the best actor. Even though PewDiePie is the most subscribed YouTuber, he can be socially awkward, which can explain his uneasiness. This element can be a downfall for less familiar audiences. However, his fan base, the Bro Army, will surely understand his personality and enjoy. The budget of the show is one great aspect, which from the teaser trailer shows that fans will be in for a treat as PewDiePie will face some heart-pounding moments.
The $9.99 a month plan may not be ideal for most YouTubers, but it's a price to avoid time consuming ads and to view the YouTube Original content. All in all, the service really depends on an individual's interests and preferences.