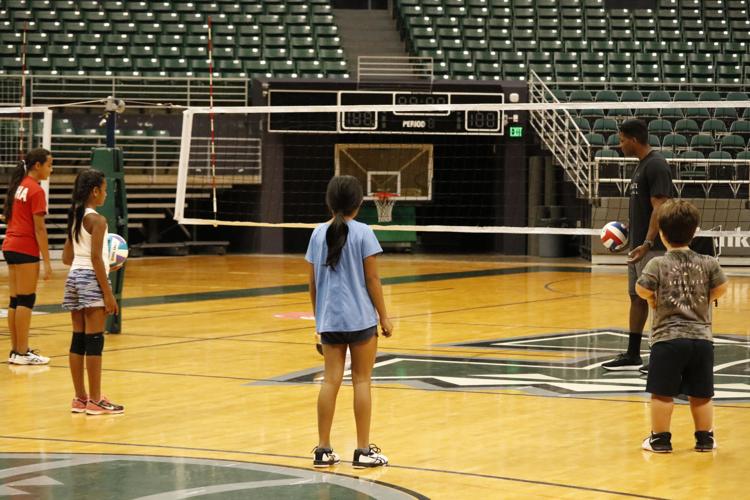 Watching their mother spike, set, and serve balls on the beach or court, children will naturally mimic their parent's behavior. This summer, Ozzie and Surfia Grounds are spending their time at the Stan Sheriff Center with other children learning new skills on how to play volleyball. The Warrior Volleyball Camp inspires young athletes to learn the basic volleyball skills taught by the Rainbow Warriors. 
Assistant coach Josh Walker and senior middle blocker Dalton Solbrig are volunteering this summer to teach and facilitate the camp. The Rainbow Warriors introduced the basic skills for the upcoming players. From an introduction to offense and defense to learning how to spike the ball, Walker and Solbrig also teach individual techniques for the junior players.
"You have to evaluate what a good goal for them [the campers] would be. For some of the younger kids, just getting the ball over the net is good. For the older kids, they might have something they want to work on," Walker said. 
Surfia Grounds, a 7-year-old player on the Warrior Volleyball Camp is excited to learn new skills. She was amazed by the sport when her mother would play it with her friends. Learning and developing this skill at a young age would aid her in becoming a player like her mother. 
"I hope to work on my left-hand hitting," Surfia Grounds said.
Summer and Daniel Grounds, parents of Surfia and Ozzie Grounds, believe that practice makes perfect and hopes that their children learn that each coach has a different point of view of the game. They would have never pushed their kids to play volleyball if it wasn't for their kid's interest in the sport.
"There are different techniques that they'll learn and also getting time with the ball," Daniel Grounds said. 
The last camp will be on August 24-25. Admission for the Youth Camp 3 will be $50 and Junior Camp 3 will be $75.