The Native Hawaiian Student Services at the University of Hawai'i at Mānoa and student-led group, Kiaʻi ke Kahaukani, sponsored a Mauna Majority event on Oct. 2.
The opening ceremony took place in front of Bachman Hall and moved to to the Campus Center Courtyard. 
"We realize the university's position in the desecration of our sacred mountain and in the arrests of our kupuna, and we stand against it," an anonymous graduate student said on behalf of Kiaʻi ke Kahaukani, "This event is to engage more students in the movement. We want them to know that we're friendly, and this is something that affects all of us, not just Hawaiians."
Activities at the event included a free shirt screening, where students were encouraged to bring their own shirts to get custom Mauna apparel. 
Students and faculty from diverse scholarly backgrounds also gave speeches on the TMT issue at the event.
"I think it's very good that the students at the mauna and at Bachman are raising awareness that this issue has not gone away," ASUH president Landon Li said. 
Li spoke about his experience visiting Maunakea and of ASUH's intention to integrate Maunakea into the education of students. According to Li, ASUH is talking to other departments on campus to inquire about potential service learning opportunities on the mountain. He also said that when UH students at Maunakea were asked what they needed, they did not ask for Wi-Fi access – but merely a support system.
"You're surrounded by kapu aloha up there and you come back here and it's very different," Li said. "It's kind of a shock to be in a place of such high emotion, intensity, power and feeling there then coming back here and it's like nothing happened. So they (Kiaʻi ) wanted a place to kind of talk about their experiences and just decompress with what they saw and felt there."
Political science professor, activist and slam poet Jamaica Osorio performed slam poetry and spoke on behalf of the Kiaʻi (protectors) of the mauna (mountain).
"I believe we are in a time of what many will say is the greatest contemporary activation of our people in our contemporary history, probably since the annexation petitions," she said, describing the recent acts of TMT protests as the demonstration of a "genealogy of resistance."
According to Osorio, a significant argument that is made in opposition to the Kiaʻi is that their argument against TMT construction is too emotionally based, and that this makes their argument illogical. 
"It is not logic that inspired people to chain themselves to a cattle guard," Osorio said.. "So when people come to you and tell you that's an emotional argument, your aloha is an emotional argument, you are not being logical, remind them that their inability to feel their way through what the future of Maunakea should look like demonstrates their lack of connection to that place."
UH Manoa Oceanography professor Rosie Alegado brought up the argument of science versus culture that often comes up when discussing the TMT issue. 
"I have great admiration for the discoveries that UH astronomers have made. It is one hundred percent true that the telescopes on Maunakea have advanced our understanding of how the universe works, how it's structured, more than any other location on earth," she said. "But the problem is ... just because we can doesn't mean we should."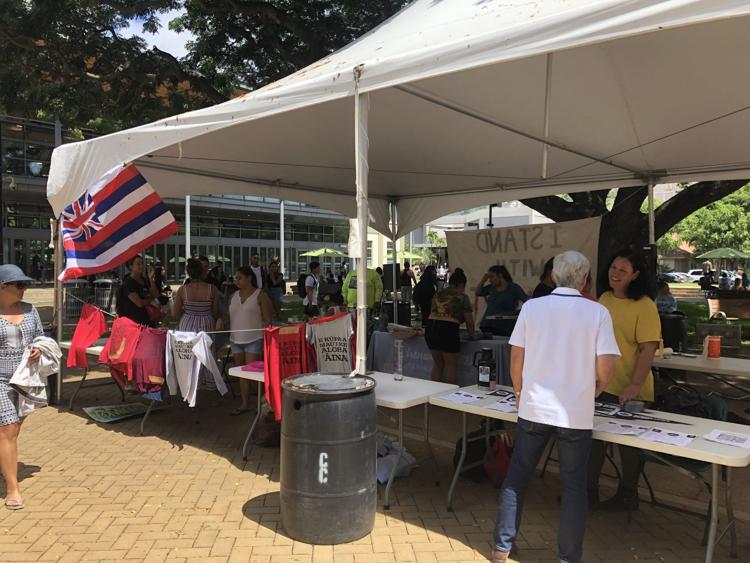 Alegado calls for what she calls "pono science," referring to ethical scientific practices, which consider the communities their research may affect. According to Alegado, the TMT issue is not at all a conflict between science and culture, but is instead a conflict between science that considers indigenous communities and science which is "biased by the systems in which they are practiced."
The Mauna Majority event was just one of many events that are taking place in order to spread awareness on the TMT issue. Students, faculty and staff that want to support the movement are encouraged to participate in the Aloha 'Aina Unity March, which will go from Ala Moana Beach Park to Kapiolani Park on Saturday from 2 p.m. - 5:30 p.m.