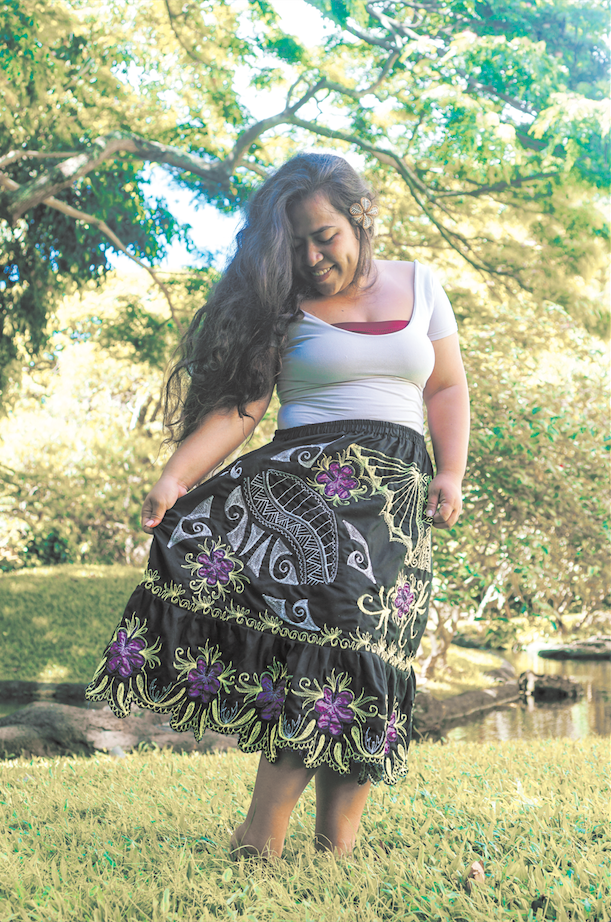 Carolann Carl was about to walk outside the house wearing her Pohnpeian attire when her cousin yelled, "Are you trying to get shot? Take it off." While growing up, it was always a joke to them, but in Hawai'i it's their reality.
"Maybe not shot with a gun, but shot with all of the discrimination that comes with being openly Micronesian, like it's a crime to own your identity," Carl said.
In Pohnpei, it's traditional to wear an "urohs" and "mwaramwar." An "urohs" is a black skirt with threaded floral patterns, and a "mwaramwar" is a floral headpiece. 
Carl is a University of Hawai'i at Mānoa student majoring in biochemistry. She works on campus on the fifth floor of Hamilton Library. Carl grew up moving back and forth between Hawai'i and Pohnpei, and made a promise to wear her urohs every Friday – but it came with a price.
"I do feel that it's different when I walk into work with my urohs on," Carl said. "I have coworkers who I have been working with for two years now, and they know that I'm Micronesian, and they know I'm Pohnpeian."
"The moment I show out as a Micronesian, and I come to work with my urohs and my mwarmwar on, they see me and there's this expression like 'whoa she actually wore that to work.' It's not blatant discrimination, but you can tell that there's a stereotype with me showing out as a Micronesian."
Research shows that Carl's case is not unique. A study by the Myron B. Thompson School of Social Work at UH Mānoa revealed one in four Micronesians experienced discrimination at work. In addition, one in 10 reported being victims of discrimination in medical and social services because they are Micronesian.
The project started in January 2017, and included over 500 respondents in collaboration with Josie Howard from We Are Oceania, an organization that supports the Micronesian community. There are approximately 40 Micronesian students enrolled at UH, according to the Fall 2018 enrollment trend report. Rebecca Stotzer, who was the main investigator for the survey, said approximately 25 of the 517 participants were UH students. 
The study came about as a response to a call from the National Institute of Justice for research looking at bias crimes, and one of their areas of importance was in immigrant populations. It marks the first study of discrimination against Micronesians in the state. The study focused its research on Compact of Free Association migrants, which consist of people from the Marshall Islands, the Federated States of Micronesia and the Republic of Palau.
One of the challenges for Stotzer and other participants of the research was the language barrier. In partnership with We Are Oceania, the research was able to be conducted. "Any time you're dealing with a population that's come from somewhere else, there's been language concerns," Stotzer said. "Even though we talk about Micronesians as they're one group of people, there are actually dozens of ethnicities." 
If students feel they have experienced or become victims of discrimination at UH, Stotzer said there are student advocates, counseling centers and a civil rights office that can help. But some Micronesian students feel more comfortable confiding in other Micronesians. Carl said she gets her support from the Micronesian Connections Club and the Center of Pacific Islands Studies. "It's always easier to speak with another Micronesian," Carl said.
Carl said she's not sure if UH Mānoa is aware that there are Micronesians on campus. "If you look at any of the banners, you don't see a Micronesian on those banners," Carl said. 
According to Carl, Micronesian Connections was established to help other Micronesians bond and feel comfortable on campus. 
"For the Micronesian students that come here, I want them to know that there is strength in their culture," Carl said. "Despite decades of foreign power, we still practice our culture, we still speak the language, and we haven't needed revitalization. The superheroes of tomorrow are the Micronesians of today."