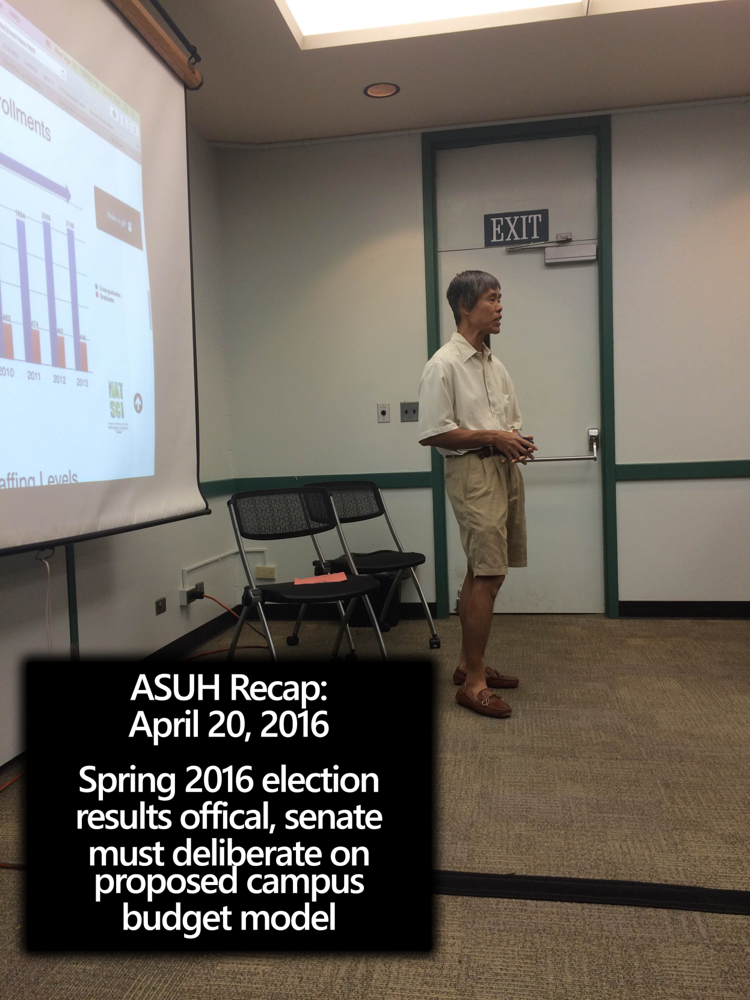 The Associated Students of the University of Hawai'i (ASUH) have ratified the results for their Spring 2016 general elections.
President-elect: Roxie-Anne Kamoshida
Vice President-elect: Jannah Lyn Dela Cruz
Treasurer-elect: Maggie Hinshaw
Secretary-elect: Scott Nishihara
Senator-at-Large-elects: Jessica Chen, David Enriquez, Daniel Willis and Sierra Callihan
ASUH will codify these results upon the acceptance of the senate minutes on Monday. The ratified list of winners can be viewed here.
---
In other ASUH news:
David Chin, a University of Hawai'i at Mānoa faculty senate member, presented to ASUH regarding the faculty senate's proposed budget plan. Chin detailed how budget issues have been affecting the College of Natural Sciences.
Chin referenced the math department in particular and said that it has experienced loss of faculty and increases class sizes. He contended that the latter leads to a worsening of the quality of learning.
"They're simply too full for students to learn in," Chin said. "When my college teaches more students we get absolutely no more money to do that."
Chin broke down how UH Mānoa gets its money and outlined some of the faculty senate's proposals. Among them was the idea of allocating utilities costs proportional to a department's actual usage and to the square footage of shared buildings. Click here for more details.
ASUH completed its AS(You)H week of engagement activities with their student constituents. They plan to hold the event every semester from now on, possible earlier in the semester.
This year's ASUH senate, the 103rd, will conclude on May 4, 2016 and the newly elected senators and executive officers will commence the 104th senate the same day.