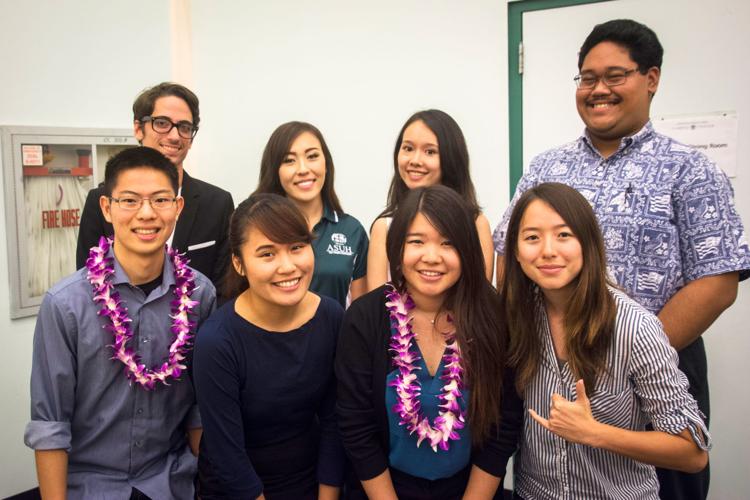 Emotions ran high as the 103rd senate of the Associated Students of the University of Hawai'i (ASUH) closed and the 104th senate began.
On May 4, 2016, the 103rd senate held its final general senate meeting and the 104th ASUH senate held its first. ASUH advisors honored graduating seniors and outgoing President Kelly Zakimi commemorated the 103rd senate's accomplishments.
"As I look at all of you, I'm just really hit with the profound sense of gratefulness and the way that some of you have taken ownership of initiatives and have fearlessly pursued advocacy," Zakimi said.
Reminiscing on the 103rd
Jessica Chen, former ASUH senator and incoming Senator-at-Large, said the highlight of the 103rd senate was getting to know the "great people" that she got to work with.
"I honestly think it's everything Kelly did to promote advocacy and pushing everybody to pushout resolutions," outgoing senator Froilan Garma said regarding his highlight of the 103rd senate.
Former senator Todd Simeroth said that even though one of the state house bills ASUH's highly supported this year, HB1703, did not get passed, he was pleased with the positive reception it got from the state legislature.
Looking to the future
"I pledge that as the 104th Senate, together, we will begin our own chapter in ASUH; together, we will work together to continue advocating on behalf of our constituency; together, we will lead," Roxie-Anne Kamoshida, incoming ASUH president, said.
Narumi Utashiro, an incoming senator, said she wants to focus on tuition and how money is allocated at the University of Hawai'i at Mānoa.
"[I'm looking forward to] not only student advocation but pushing forward our current transparency initiatives," Shanda Delos Reyes, an incoming senator said. "For me personally, I'm focused on inter-campus communications and initiatives."
Landon Negrillo, an incoming senator, said he wants to bring what he learned from serving with with ASUH Kaua'i Community College. He said that in the 104th senate he wants to focus on increasing ASUH awareness and student involvement in ASUH.   
ASUH will be hosting its Sinclair Study Nights during finals week where they will be serving malasadas and pizza to late-night studiers at Sinclair Library. Musubis will be served to students who have to leave campus early.