University of Hawai'i at Mānoa students and faculty have been conducting a sit-in protest at Bachman Hall in opposition to the construction of the Thirty Meter Telescope on Maunakea.
These students and faculty have taken shifts, occupying the lobby of the UH administration building 24/7 since the first day of school as a means of nonviolent protest.
Basic necessities ranging from futons to snacks are sprawled out along the outer wall of the Bachman Hall entrance. Participants can be seen in the entryway among signs of protest and Hawaiian flags, sitting at tables to share information about the TMT issue.
"UH is still carrying through with the Thirty Meter Telescope project in the midst of global protests. So us as students thought it would be necessary to engage in a nonviolent, direct action," Tiele-aluran Doudt, a Hawaiian studies master's student and sit-in participant, said. "It's just to remind Bachman Hall, which is where all the head administration takes place, to remind them of what their actions have done and also that we hold them accountable for the actions that they're taking upon our elders."
Video by Ethan Weil / Ka Leo O Hawai'i
'Aha (Ceremony)
Along with Bachman Hall being the setting of other historic sit-ins for issues such as the Vietnam war, Doudt said that the significance of the location of the sit-in, Bachman Hall, simply stems from the accessibility that the building gives students to the ahu (altar) outside where they can perform pule (prayer). 
"A big part of the sit-in is hosting pule three times a day at the same times as pule being held on Maunakea," she said. "By opening up the space it allows people ... a cultural outlet for them to be able to connect because it's really emotionally challenging to be away from Maunakea, especially when our parents are there, our classmates are there."
According to the Hawaiʻinuiākea School of Hawaiian Knowledge website, an ahu is "a Hawaiian altar, shrine, or cairn utilized for spiritual and ceremonial purposes in both the past and the present." Multiple stone structures of this type were built on campus throughout the school's history, with the one in front of Bachman Hall being the most recent addition. This ahu, built in 2015, was erected with the explicit purpose "to protect Maunakea," according to the website, and is continuing to serve this purpose today as a site for prayer and protocol.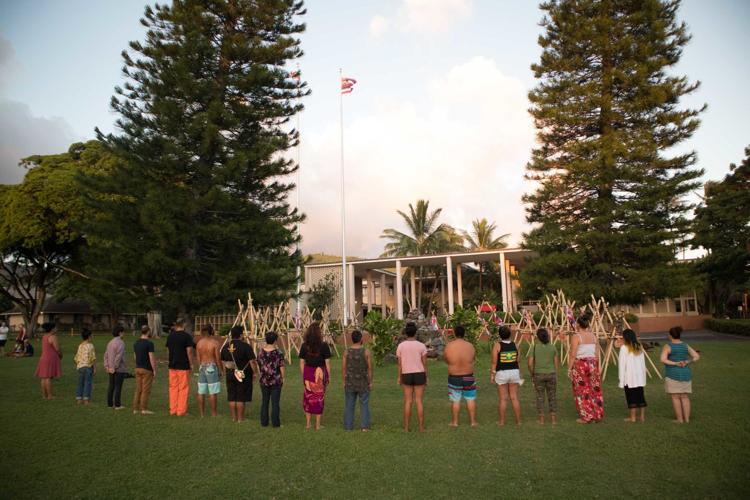 Koa Rain Yokota, a UH Mānoa senior majoring in interdisciplinary studies with a focus on sustainability, described the importance of these daily 'aha in front of Bachman Hall.
"I try to come every day that I'm at school … just to stand in solidarity [with] the Kia'i on the Mauna and to keep that sacred space," he said. 
To Yokota, it is vital to stay connected to those at Maunakea at a time of cultural and political turmoil.
The pule ceremonies are open to all students and faculty and take place around the ahu structure daily at 8 a.m, 12 p.m. and 6 p.m. 
Administrative reception of the sit-in
The ongoing sit-in at Bachman Hall has so far had little effect on administrative decisions over TMT construction. However, protesters continue to remain there morning through night until further action is taken. 
Although participants of the sit-in acknowledge positive encounters with many people coming to contribute with food and support, negative encounters have been mentioned by the protesters as well. 
Not wanting to disclose these encounters in detail, Hawaiian language graduate student Beau Shishido voiced his concern with his participation in the sit-in. 
"The biggest problem is that there's a handful of administrators that don't acknowledge our presence," he said.
Doudt agrees with this lack of acknowledgement. 
"It's like another layer of institutional racism. You see ... students that are coming into your space under peaceful protest and refuse to acknowledge them," she said, referring to a few of the administrators in the building. According to Doudt, this phenomenon "reflects on how this university views native Hawaian students. And not only native Haawaiian students but other minority students as well."
UH Vice President for Administration Jan Gouveia, whose office is located in Bachman Hall, gave her take on what might be the cause of this lack of acknowledgement. 
She explained that to some of the administrators in the building, the living room-like state of the Bachman Hall entrance may be considered "unprofessional" when handling official business in the building. 
However, Gouveia expressed an overall positive perspective on the sit-in.
"It takes courage and it takes strength, personal strength, to endure those types of living conditions … So the fact that our university is able to support this type of development and growth, that's beyond the classroom that goes to the core values and integrity of our students, very happy and proud that we're able to nurture that," Gouveia said.
UH spokesman Dan Meisenzahl also articulated an appreciation for the opportunity for administrators to come into close contact with these participants of the sit-in.
"Not everybody in this building deals with Maunakea. But for those of us that do, I think that it reminds us that this issue touches people, and sometimes if you're just dealing with something from a distance you don't realize that what a personal impact it's having on members of our own state community," he said.
Meisenzahl expressed pride in the passion of these students. 
"Who knows if the next governor is sitting there right now, or the next congressional representative one day… You can't help but feel pride," he said.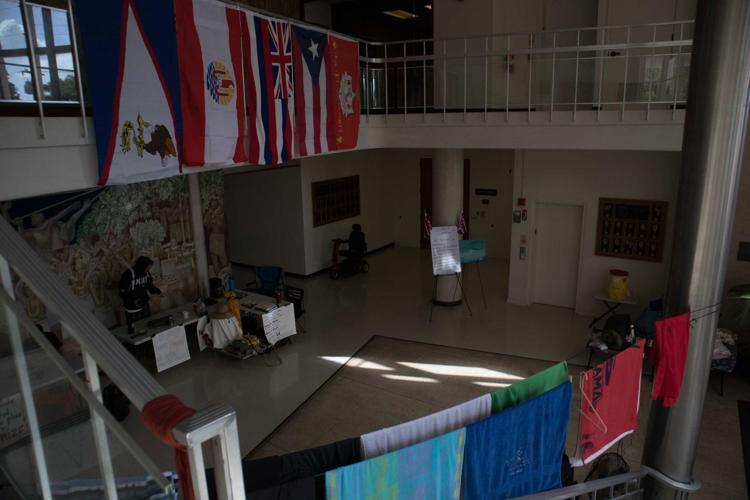 A white board that is propped up at the building's entrance reads a statement which encompasses their goal: 
"We, the Kia'i (protectors), are maintaining a presence at Bachman to physically remind the university of its kuleana to its students. We will remain until D. Lassner announces that the university no longer supports the TMT."
A collective protest began at 8 a.m. on Aug. 26 with University of Hawai'i at Mānoa students, faculty and staff starting off the first day bac…