2018 campus dining increase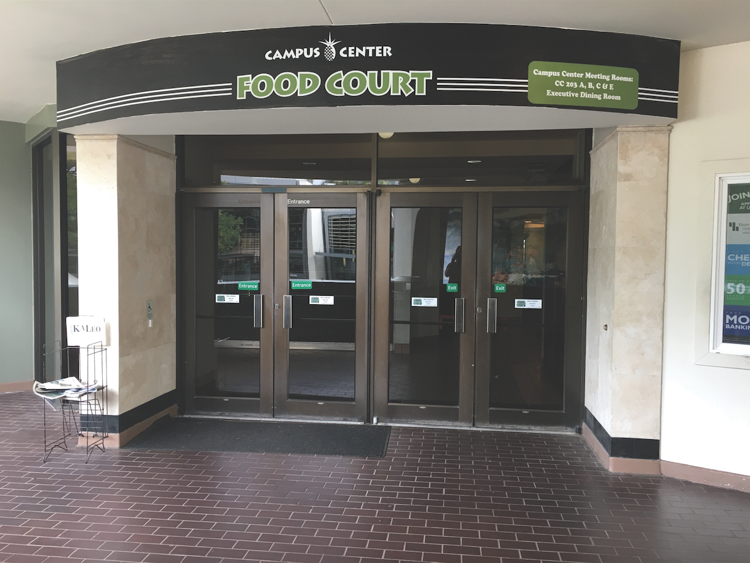 The cost of dining services at the University of Hawai'i at Mānoa that are managed by Sodexo have increased for the fall semester to keep up with increasing operational costs.
Sodexo, a multinational corporation that controls food management in colleges around the world, increased an average of 3 percent in food items cost across its 10 locations on campus. 
Its residential dining locations are Gateway Cafe and Hale Aloha Cafe, which are located near the student dorms on campus. Sodexo's retail dining locations are Ba-Le, the Campus Center Food Court, Jamba Juice, Pizza Hut Express, Simply To Go, Starbucks, Stir Fresh and The Market.
Donna Ojiri, the general manager for Sodexo at UH Mānoa and a registered dietician, said that the price increases were necessary because operational costs have increased over the years. These include rising costs of food products, repairing aging facilities and increasing minimum wages and employee benefits.
"This is to cover our expenses in our ten locations [on campus], which includes labor and food and maintenance and everything," she said.
The price of meal plans for students also increased by 3 percent. Students living in the resident halls on campus are required to purchase a meal plan; optional for students in apartment halls. 
The cheapest meal plan for students in the resident halls, known as the "Basic 7", is $1,783 for the fall semester, up from $1,731. This plan includes seven meals per week at residential dining locations and $250 a semester in meal points that can be used at retail dining locations.
The most expensive plan, the "Prime 19", is $2,756, which is up from $2,676 last semester. This plan includes 19 meals per week and $100 in meal points each semester.
Meals can also be used to dine at the residential dining locations on campus, but they are worth only $5.50 per meal at retail locations.
The price of food items sold at retail locations also increased by an average of 3 percent. The price increases vary but Ojiri explained that they range from 0 to  around 5 percent overall compared to last year. 
The Market, Stir Fresh, Simply To Go and the Campus Center Food Court, changed their item costs via competitive pricing, which takes into account what other restaurants sell similar food items for.
Ojiri said that the price for the plate lunches at the food court are based on plate lunch prices from L&L's Hawaiian Barbecue and the salad prices are based on those sold at Aloha Salads. Ojiri also said that the restaurants were chosen as campus retailers because their food items were similar to the items Sodexo sells.
"We use these as a guideline so we know what customers in this area are expecting to pay for similar items," she said.
Additionally, Sodexo is in charge of the labor and facilities for UH Mānoa's Starbucks, Jamba Juice and Pizza Hut, but it does not control those locations' prices.
Ojiri proposed the price increases to the Associated Students of the University of Hawaii, the Graduate Student Organization, the Campus Center Board and the Resident Housing Association in March. She justified the price increase because it would allow Sodexo to be "self-sufficient."
"Our prices are calculated mainly to cover the operations," she said. "We don't get any money from student fees … That's the goal."